Disclosure of Material Connection: Some of the links in this post may be "affiliate links." This means if you click on the link and purchase an item, I will receive an affiliate commission. Disclosure in accordance with the Federal Trade Commission's 16 CFR, Part 255. This site is a participant in the Amazon Services LLC Associates Program, an affiliate advertising program designed to provide a means for sites to earn advertising fees by advertising and linking to Amazon.
Whether you are welcoming a new teacher to the school, or a friend or family member is becoming a new teacher, it is a big moment and getting them a welcome gift is a great way to say congratulations! Check out some of these ideas to help them make their classroom more homey, functional, and enjoyable.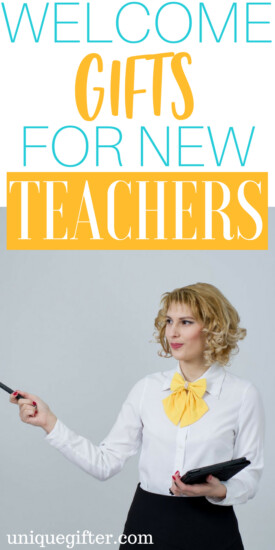 Welcome Gifts for New Teachers
Hall Pass Set
Every new teacher needs a set of hall passes for the kids! Don't leave them hanging without them.
"You got this" Wine Glass
Remind them "you got this" with a wine glass, they just might need it after the day is over.
"Hug" Scrabble Letter Desk Decor
They just might need a real or figurative hug as they get their bearings in their new classroom, and it is also a nice desk decoration too.
"Welcome to ______'s Classroom" Personalized Plaque
Help them welcome students into their classroom with a customized plaque they can hang on the door or wall, or almost anywhere.
"Coffee, because adulting is hard" Coffee Mug
Teaching is hard, adulting is hard. That's why the new teacher in your life needs this coffee mug! It just might give them the push they need each morning.
"Teachers create all other professions" Shirt
Teachers are the ones who teach everyone else. Remind them that their job is always important and that they make a difference. There will be some tough days, but the knowledge of this may help keep them going.
Personalized Stone
They can set this personalized stone on their desk as a decoration and source of inspiration.
"Coffee & crayons" Bracelet
Their life is full of coffee and crayons!
Skinny Floral Lanyard ID Badge Holder
If they have to wear their ID, a skinny floral lanyard ID badge holder will look nicer than just any lanyard.
"Hello." Vinyl Decal
Can go on their door to say hello to everyone entering and welcome them to their classroom.
"Teach love inspire" Wood Sign
Their life is now about teaching, loving, and inspiring their students.
Set of Expo Dry Erase Markers
They can never have enough of these! They always dry out in the worst possible moment.
"It's in the syllabus" Coffee Mug
The syllabus was pretty thorough, after all!
"Put your best foot forward" Necklace with Running Shoe Charm
For the new teacher who also loves to run, this "put your best foot forward" necklace with running shoe charm will remind them to keep moving forward and always do their best.
"Mermaid life" Tote Bag
They will have so many things to carry in and out of the school building, and a fun tote bag will make it easier!
"I have exactly 365 pencils this year" Shirt
Pencils are also another thing that they often run out of, but this shirt can mean many things.
"Teaching is a work of heart" Pencil Case
Teaching is a work of heart. Their heart has to be in it to keep coming to do their job every single day.
"I turn coffee into graded papers" Coffee Mug
Drinking coffee helps them grade papers, and there will be a lot of grading.
Personalized Unicorn Notebook
Every new teacher needs a fun personalized unicorn notebook for notes and lesson plans.
Cursive Diagram Fabric Pillow Cover
They can put this cursive diagram fabric pillow cover on a pillow that goes in the reading area, or is just a piece of decoration.
New teachers often don't have much when they first start teaching, but fun gifts usually make the best gifts. Functional gifts are awesome too and will help set them up for success. What are you going to choose for the new teacher in your life?