Disclosure of Material Connection: Some of the links in this post may be "affiliate links." This means if you click on the link and purchase an item, I will receive an affiliate commission. Disclosure in accordance with the Federal Trade Commission's 16 CFR, Part 255. This site is a participant in the Amazon Services LLC Associates Program, an affiliate advertising program designed to provide a means for sites to earn advertising fees by advertising and linking to Amazon.
It's impolite to show up without something in hand, but what to take? Here are a dozen hostess and host gifts, you can keep a few on hand, or just in mind, for the next gathering you attend.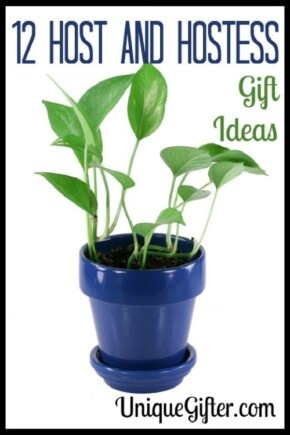 A Potted Plant
Even folks like me, who have the blackest thumbs of death, appreciate house plans. Best of all, they come in a huge variety of colours, costs and sizes to fit the tastes of your host or hostess and your budget.
Fancy Hand or Dish Soap
Most people have a backlog of body wash and bubble bath that will last them for ages and ages. Spice things up and provide something that they will use in the short run by bringing a fancy dish soap, like clementine dish soap from Method
or a nice hand soap pump, like this one from Avalon Organics
, .
Bottle of Cava
Sparkling wine has different names, based on where it comes from. Cava is the name for sparkling wine that comes from Spain, and it's my personal favourite, so obviously you should take a bottle of cava!
Nice Corkscrew
For this idea on the list of hostess gifts, you need to know your friends well. If you know that they are still surviving on a dollar store corkscrew, or a corkscrew that conveniently came free with the purchase of a bottle of wine, then bring them an upgrade. In Canada, watch for sales at Canadian Tire on single motion corkscrews, or alternatively, pick one up from Amazon
.

An Antique Map
Maybe you have to know the person quite well for this one, and it does take some pre-planning, but it's a sure-fire hit if you play your cards right! We have done this one twice, once for a cousin's wife with a map of the East Coast, where she's from, and once for a friend who lived in the Canadian North, with a map of the pole!
A Music Playlist
This is a trickier one to do, but putting together a playlist of different-style music, like modern jazz or world music, that would work well in the future as a dinner playlist is a fun and personalized twist on hostess gifts.
Truffle or another Fancy Oil
Did you know you can get an Olive Oil of the Month Club
subscription? Ya, I didn't until recently either! You can skip that step, but pick up a more unique oil
from the grocery store, that store that the foodies love, or an Italian market.
Flowers
This one is an old standby, but with the prevalence of non-traditional gifts, flowers have been taking a back seat. Some people really light up when they receive flowers because it is such a rarity.
Cute Printed Napkins
If your host is hosting, they are probably going through napkins, cloth or paper. Paper napkins come in a huge range of prices
, sizes and prints. Depending on the price point, pick up two or three packages in different sizes, pop them in a gift bag, and add a nice card.

A Bracelet or Necklace
You know your friend and hostess. Pick out a unique piece of jewelry which suits their taste, and give it as a hostess gift.
Fancy Drinks
You know those delightful sounding pops and spritzers, or gourmet sodas, that you can find on the shelf in the grocery store? Use this as an occasion to splurge and pick up some delicious drinks. If you're lucky, the hostess will crack some open while you're there (but don't expect it!).
Wine
When all else fails, show up with the timeless standard: a bottle of wine. You can pick from a huge selection of price points, you can grab one off of your own shelf and go, or you can pick one out specifically for a hostess gift.
Hostess gifts are really wide open to interpretation and price point, from thanking someone for having you over for dinner to thanking someone to hosting a party in your honour, there is a huge range of price points, tastes and longevity-goals for your gift giving.
What are your favourite hostess gifts?