Disclosure of Material Connection: Some of the links in this post may be "affiliate links." This means if you click on the link and purchase an item, I will receive an affiliate commission. Disclosure in accordance with the Federal Trade Commission's 16 CFR, Part 255. This site is a participant in the Amazon Services LLC Associates Program, an affiliate advertising program designed to provide a means for sites to earn advertising fees by advertising and linking to Amazon.
There are many things that you can get in the mail, and no, we're not talking about that plasma TV from UPS. Little treats in the mail can be both practical and put a smile on your face. If you want to send that special someone something to make their day that much better, take a look at our 20 best treats in the mail.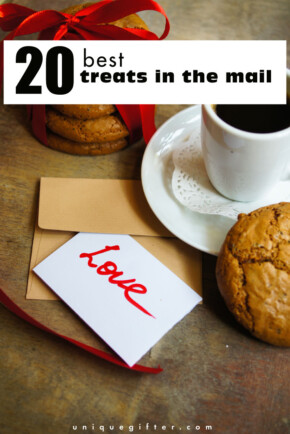 Minx Slipper Socks
We all love to feel warm and cozy. When Jack Frost is nipping at your heels, it's time to hide away with the friendly cat, a warm fire, and hot chocolate. Whatever gets you ready for a night in, send along a pair of cozy socks.
100% Pure Dead Sea Bath Salts
When Christmas is getting stressful and your dealer is out of town, just…we're joking. Cleanse and purify your skin with this little tub of Dead Sea bath salts. They will keep your skin looking radiant for weeks to come.
Leonidas Belgian Chocolates
Nothing says you appreciate someone like the creamy, smooth taste of the Land of Chocolate. A box of Belgian chocolates may be pricey, but the person getting them is guaranteed to love you forever.
The Complete Sherlock Holmes
Get your read on with this classic box-set. Of course, you can substitute this with any genre. But there's nothing like curling up next to the fire with a smoking pipe on a cold winter's evening.
The Healthy Smoothie Bible
You can hardly call sending a smoothie machine through the mail 'a little treat'. Instead, show the health freak in your life how to create something new. The Smoothie Bibles comes with literally hundreds of recipes.
Fresh Flowers
Sometimes you don't need to break the bank to send a little gift of appreciation. Flowers will always brighten up someone's day.
Kid in a Candy Store Care Package
They say chocolate heals all wounds. Buddha said that thousands of years ago, don't you know?
Red Mountain Wine
Break out the booze (and hope they'll share some of it with you). This Red Mountain vintage will keep spirits high this holiday season.
Big Betty Jumbo Wine Glass
Send this bad boy along with the wine. This Big Betty glass will hold an entire bottle of wine in one. Now you can look sophisticated whilst getting absolutely sozzled.
Queen Odelia Hand Cream
Feel silky smooth with a combination of cactus oil and Dead Sea salts. This hand cream is ideal for keeping your skin energized and ready to face the day.
Porcelain Chocolate Fondue Set
Because who doesn't love fruit and chocolate together? This is a way to get type 2 diabetes, whilst boosting the number of antioxidants inside you. How fantastic is that?
Stainless Steel Manicure Set
For no-nonsense nails, this stainless steel manicure set will keep your claws in check. It comes with everything necessary to shape your nails the right way.
Foot Doctor Pedicure Kit
Why should your hands get all the love, whilst your feet are left with cracked and hard skin?
Cosmetic Makeup Brush Set
Stop looking like a clown caught out in the rain and give your makeup a professional edge at the Christmas party. This 24-brush cosmetic makeup brush set will get you the perfect look.
BR Makeup Set
Rather than refining what you already have, try something new. Rip out a new color and see whether it fits in. With lots of colors and lots of options, you'll be playing with this thing for the whole year.
Us Weekly (or another magazine of choice)
Take some time to yourself and soak up all the week's celebrity gossip with a subscription in the mail. Get the magazine delivered to your door on release day and enjoy concerning yourself with other people's business!
Cookie Monster Mug
Cookie time will never be the same again with this face mug. Steal your favorite chocolate treat out of someone else's mouth with this cute novelty item.
Thumb Piano
Want to play music but not musically talented enough to play an actual piano? Break out the thumb pianos. Perfect for annoying family members of all ages!
Owl Eyeglasses Holder
Oh yes, now we're really upping the sophistication levels. This eyeglass holder in the shape of an owl can fit into any décor. And nobody need ever know you paid barely $30 for it.
Why You're So Awesome Journal
Finally, sometimes the best gifts are those that come from the heart. Tell someone why you think they're so awesome with this handy journal.