Disclosure of Material Connection: Some of the links in this post may be "affiliate links." This means if you click on the link and purchase an item, I will receive an affiliate commission. Disclosure in accordance with the Federal Trade Commission's 16 CFR, Part 255. This site is a participant in the Amazon Services LLC Associates Program, an affiliate advertising program designed to provide a means for sites to earn advertising fees by advertising and linking to Amazon.
If you're looking for some of the most thrilling adrenaline junkie experience gifts in Central Florida, look no further! Seriously, these adrenaline gifts will give them an experience of a lifetime! These experiences make great gifts for that adrenaline junkie who's done it all.
Adrenaline Junkie Experience Gift Ideas in Central Florida
If you want to find the most exciting experiences to gift your favorite adrenaline junkie this year this guide is for you. These extreme adventures are some of Central Florida's most thrilling activities you could think of as a present for your favorite thrill seeker. Can't think of the perfect gift for that special adrenaline junkie in your life? These are the gift experiences you've been looking for.
For the seasoned skydiver and newbies alike, Skydive Deland offers a thrilling twist on every adrenaline junkie's favorite go to experience. A once in a lifetime jump for many, a Saturday afternoon for some, find out what jumping out of an airplane really feels like!
Need to know: Tandem skydiving, first-time jumpers courses, as well as jump packages and gift certificates, are all available with Skydive Deland. They've got just the right experience to satisfy your inner adrenaline junkie! Modern planes, facilities, and certified trainers mean that you can have peace of mind with your jump.
Where is it: Located smack dab in Central Florida and widely accessible, your drive to this dive is way closer than you think! Whether you're coming in from Jacksonville, Orlando, or you're a Gainesville local you're only a stone's throw away.
The adrenaline experience: Skydive Deland offers thrill-seekers a jump they'll never forget, featuring a variety of skydiving options for the beginner to the experienced skydiver. Fear not, while their jumps are sure to get your blood pumping and your adrenaline rising, you're in good hands. Skydiving is an exhilarating experience you can knock off of your bucket list, you'll even have the option of hiring a professional videographer.
Click for more details: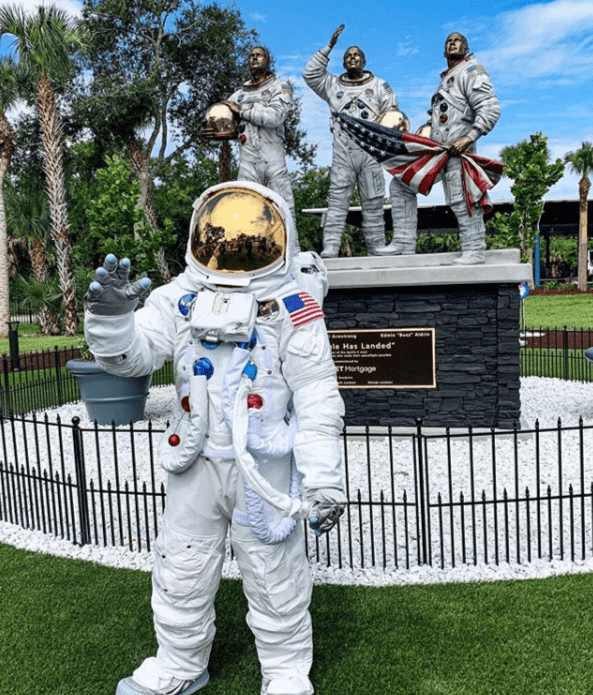 Your next thrill-seeking experience is going to be totally out of this world. Extraterrestrial is just one of the words that describe this totally unique adrenaline gift experience.
Need to know: Make sure to book ahead when picking up this once in a lifetime experience. Tickets come in a wide range of all-inclusive experiences for the thrill-seeking armchair astronaut. Not only that, there are experiences for kids too so nobody needs to feel left out of the action.
Where is it: The Kennedy Space Center, Cape Canaveral. Their website also provides a trip planner detailing your experience as well as admission access info.
The adrenaline experience: This thrilling experience makes the perfect gift for your favorite amateur astronaut! Managing the Base Operations Center, solving problems and programming robots are just the tip of the iceberg. Cap it all off with an immersive astronaut training simulation in microgravity.
Click for more details: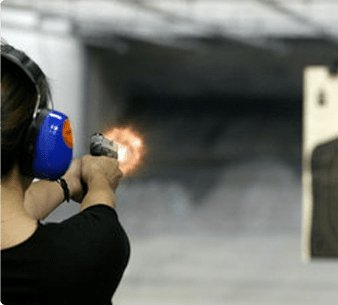 Lock and load thrill seeker! Experience the rush of adrenaline while handling a variety of firearms at Orlando Gun Club. With access to a rifle and handgun range, you'll be shooting all day long! What makes a better thrill seeker's gift than sending a barrel full of slugs downrange at targets? Not a lot!
Need to know: As per OGC Safety Policy, two adults over 21 are required to be present for any firearm rentals. Additional handling courses are offered, and the facility is sound-proof and well ventilated for a clean, worry-free day of shooting.
Where is it: Two locations, one on the East side of town in Millenia, and one on the Westside in Ocoee.
The adrenaline experience: Suppressed weapons, full-sized rifles, shotguns, and machine guns are all available in a wide variety of shooting packages. Gifting for your favorite high-adrenaline thrill seeker just got easier.
Click for more details: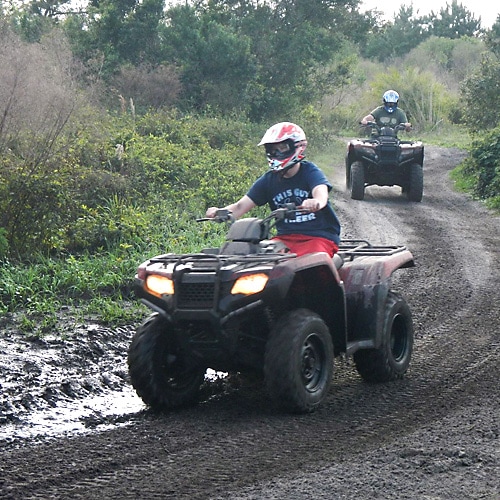 There isn't one thrill seeker, adrenaline junkie or adventure seekers out there who would turn down a day of ATV's, amphibious 8-wheelers and clay pigeon shooting! Consider their experience packages for the ideal gift for your favorite adrenaline junkie.
Need to know: "Be prepared to get dirty, maybe very dirty" as they would say! Group events and gift packages are available for off-road and shooting experiences.
Where is it: Centrally located between Tampa and Orlando, you can easily make this a part of your Florida thrill-seeking vacation itinerary.
The adrenaline experience: Mud-splashing, clay-shooting, arrow slinging and much, much more! Gear up to tear it up with some off-road ATV driving, a gift that special thrill seeker in your life with a day they'll never forget!
Click for more details:
Adrenaline seekers will never pass up a chance to do some extreme rock climbing! Beginner friendly, and with a variety of different climbing styles available this thrilling climbing experience is great for gifting!
Need to know: Safety is key, and the professional and knowledgeable guides at Aiguille Rock Climbing Center give you an unforgettable worry-free climbing experience.
Where is it: North, just on the outside of Atlanta.
The adrenaline experience: Climbers can experience all of the thrill and heart-pumping action of bouldering, top-roping and lead climbing all in one place. Day passes, equipment rentals and memberships make Aiguille Rock Climbing center a go to experience to gift to your favorite adrenaline junkie!
Click for more details:
Needless to say, Central Florida is a great place for thrill-seekers to really cut loose! Experience some truly unique outings, get your marksman on in the range or fly high and parachute out of the side of a plane. What are your favorite adrenaline junkie experiences in Central Florida? Leave a comment and let us know what other thrilling experiences you've had!
Find More Experience Gift Near Me