Disclosure of Material Connection: Some of the links in this post may be "affiliate links." This means if you click on the link and purchase an item, I will receive an affiliate commission. Disclosure in accordance with the Federal Trade Commission's 16 CFR, Part 255. This site is a participant in the Amazon Services LLC Associates Program, an affiliate advertising program designed to provide a means for sites to earn advertising fees by advertising and linking to Amazon.
Are you the kind of parent that loves to create awesome projects and customize everything? I'm betting you're no stranger to the world of DIY but have you considered DIYing gifts for your kids? Here's a list of 12 DIY Gifts for Children to get your creative juices flowing.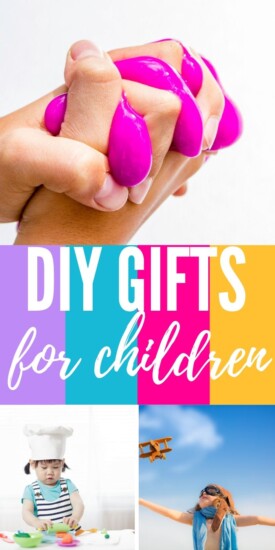 The Best (And Easiest!) DIY Gifts for Children
We'll go through some of our favorite DIY projects that will knock their socks off regardless of the occasion. Plus, we'll provide you with some crucial DIY supply suggestions to keep you on budget!
Play Kitchen
I'm sure you've seen this on pinterest. Find an old piece of furniture and turn it into a play kitchen. Give it a fresh coat of paint and check thrift stores for real life kitchen utensils your kids can play with. If you're feeling really ambitious sew a chefs hat and a child sized oven mitt to go with it.
Wooden Blocks
This is very simple to do. Buy a few pieces of lumber from your local hardware and cut them up into blocks of all shapes and sizes. Don't forget to sand down the edges. Finish them with stain or paint and seal them with polyurethane. They could last for generations.
Playhouse
If you're particularly handy put together a playhouse or tree house for your kiddos. It doesn't have to be fancy but it does have to be safe. Don't attempt this if you're not confident.
Busy Boards
This project involves another trip to the hardware store – this time stock up on a variety of latches and hinges. (Or, check out our links below for some shop-from-home solutions) Little hands will love hooking and unhooking, opening and closing. When you attach them to a board don't forget to sand down any sharp edges.
Dress Up Clothes
Scour several thrift stores for prom dresses, uniforms, hats, costume jewelry, high heels, boots and any other things children would enjoy playing with. Wash everything thoroughly before giving it to the kids. Find an old trunk or a large tote to store everything. This is a great DIY gift for those of us uncomfortable with power tools.
Homemade Playdough
A simple internet search can yield the complete recipe to homemade playdough and chances are you have all the ingredients you need in your pantry. Find a cute, airtight container to seal it in and color it with food coloring.
Slime
Just like the playdough, use the powers of the world wide web to find a good slime recipe. This could even be a fun project to do with the children in your life. Make it into a science experiment of sorts. The gift is the time spent together.
Sewn Apron/Toolbelt
If you're handy needle and thread consider making aprons or toolbelts for the kids you love. These simple sewing projects could foster hours of imaginative play.
Lego Table
If your little one is a lego collector this is the perfect DIY gift. Purchase or build a small coffee table and super glue a carpet of lego mats on the surface. Buy or build drawers or bins to store all the lego pieces in. Now your child has a designated place for all their little plastic building blocks.
Play Tent
Create your own folding tent by using fabric, yard sticks, and rope. If you need more instructions there are plenty to be found, just use that handy search engine.
Outdoor Play Table
It's like a gardening bench but not. Create a space that fosters creative play by using an outdoor play space that invites kids to explore texture. Hit the thrift stores again to find things like strainers, pitchers, molds, cake pans and wooden spoons and add them to the outdoor play table for kids to play with.
Felt Board
Glue a large piece of felt to a board and voila! a felt board. Have fun cutting roads, mountains, vehicles, animals, barns and people out of felt. Add layers to your objects by using a hot glue gun for googly eyes and other extras.
Hopefully these easy to make DIY gift ideas for children have you beaming with inspiration! As an added bonus, it isn't hard to find a homemade project that you and your kids can make together. Which one of these project are you most excited to make with your child?