Disclosure of Material Connection: Some of the links in this post may be "affiliate links." This means if you click on the link and purchase an item, I will receive an affiliate commission. Disclosure in accordance with the Federal Trade Commission's 16 CFR, Part 255. This site is a participant in the Amazon Services LLC Associates Program, an affiliate advertising program designed to provide a means for sites to earn advertising fees by advertising and linking to Amazon.
Giving someone a gift is much more than just a nice gesture, it is also the opportunity to communicate a message.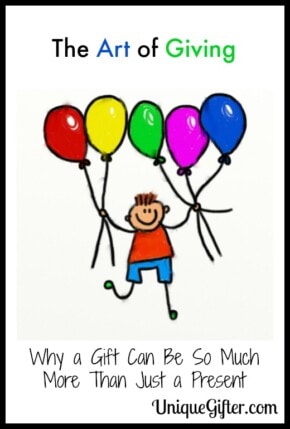 Finding an item that you know the intended recipient will love the moment they see it, is a great feeling for you the idea way of telling someone that you love them or value their friendship.
So much more
The true art of present giving goes well beyond the simple act of exchanging physical objects with another person, it is the chance to speak to them and convey your thoughts through the gift that you are giving.
When you buy a gift that has the ability to say something to the receiver, they will understand and appreciate your message and the present will take on an extra special meaning.
Gifts should not really be about the price tag or the prestige of the contents. The art of giving is finding a present that has a value to the recipient that goes beyond its cost and shows that you understand and know what they are like and what they like too.
Choosing that perfect gift
No one said it was going to be easy finding that perfect gift, but there are certainly ways in which you can increase your odds of success.
Consider taking the person you are buying for on a shopping trip or search out resources like CamdenMarket.com which will help you to find some of the unique gifts available and give you the chance to see what they are interested in before you buy anything.
Markets and independent outlets are often real treasure troves of great and unusual gifts and you are quite likely to find something that the person you are buying for, will really enjoy and appreciate. Try to drop a few hints if you are not sure, so you can focus your attention on jewellery on whatever your friend or loved one really wants.
Reasons for buying
Many of us heard the phrase "it's the thought that counts" but sometimes in a negative context, if the gift is not what the person really wanted or likes.
Well, it is actually the thought that counts, but you just need to take the time to think about what the person you are buying for really likes, and what would suit their personality or lifestyle. If you manage to find something that is truly well received, the thought will be positive.
Take the time to select a gift that definitely suits their style and personality based on what you know about them as a friend or a loved one. If they are really into vintage items for example, there is little point buying something urban or chic in the hope that they might like it or change their opinion just because it is you that bought it for them.
The art of giving really is much more than just buying someone a present, so that the time to choose carefully and you will be rewarded with a smile of pleasure when they open the wrapping.