Disclosure of Material Connection: Some of the links in this post may be "affiliate links." This means if you click on the link and purchase an item, I will receive an affiliate commission. Disclosure in accordance with the Federal Trade Commission's 16 CFR, Part 255. This site is a participant in the Amazon Services LLC Associates Program, an affiliate advertising program designed to provide a means for sites to earn advertising fees by advertising and linking to Amazon.
The men in our lives can be tricky to shop for. There are tons of pure clutter gifts available that we all turn to when we can't figure out the perfect thing to buy. Lets get real though, your dad doesn't need another tacky tie or coffee mug. Fortunately you were smart enough to google clutter free gifts for men and miracle of miracles you landed on this page. You can thank me later for giving you these ideas for 12 Clutter Free Gifts for Men.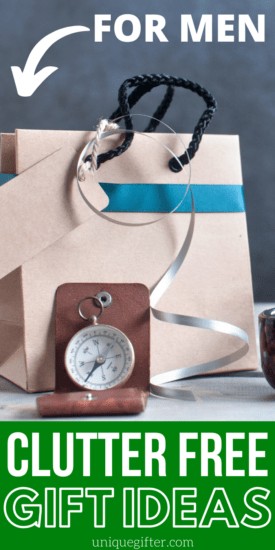 Sports Tickets
If he loves sports this will be a treasured gift. You can choose to get tickets for one game or a season pass depending on your budget.
Craft Beer Sampler Pack
Find a local brewery and get a six-pack of different brews he might like. He'll get to try new flavors and you can rest easy knowing the gift is consumable and recyclable.
Sports Bar Gift Card
If you live too far from your guys favorite team give him a gift card he can use at his favorite sports bar to watch the game with his buddies.
Guys Weekend
This would be a fun one to coordinate with the other wives. Team up and send your men on a fun weekend trip they will love. Ideas: camping, fishing, skiing, tailgating.
Phone Case
We all know fellas can be tough on stuff (so can the ladies, I'm not judging). Particularly stuff they use all day every day. If you really want to impress look into a phone case that has an extra battery pack or is completely waterproof.
Rental Car
How fun will it be for him to drive a sports car around town for a day or two? If he's a car enthusiast he will definitely love this gift.
Car Detailing
If he's the kind of guy who is meticulous about his car consider gifting him an appointment to get his car detailed. He'll be impressed you thought of it.
Meat Processing
Know a hunter? He will love this gift. It means next time he downs a big buck he's already got the processing paid for. The thoughtfulness of it will impress him.
Ammo
Do the men in your life like guns? Give them ammo so they have plenty of bullets for target practice. You might have to do a little prodding to find out what kind to get but that's better than buying the wrong thing.
Beard Grooming Supplies
For the man who loves his facial fur, this will be a welcome present. There are all kinds of products for beards these days. Be careful not to cross into clutter territory by assessing whether or not the guy you're buying for will actually use a comb specifically for his beard.
A round of Golf
This is the perfect gift for a guy that loves to get out on the green. If there are several men in your family considering buying everyone a round so they can all go together.
Arcade Date
If you know a guy who loves arcades give him the gift of time spent doing his favorite thing together. You can spend a few hours shooting aliens, playing laser tag, or playing pin-ball and on the way home you can grab a pizza.