Giving gifts in Korea is a sign of respect, shows that you are courteous, and helps maintain a comfortable mindset. Most Asian cultures value modesty and graciousness. That is true in Korea as well. Gifts can make a great impact and show gratitude. It is a good way to thank someone for showing you kindness or hospitality. There are some things you may want to know about giving gifts in Korea.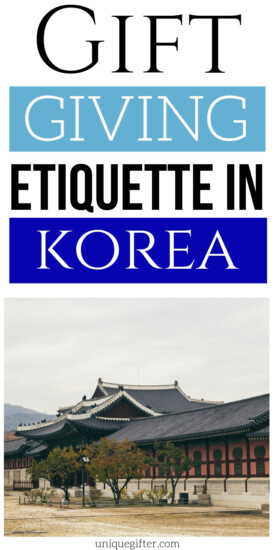 Read more in our gift giving etiquette series:
Korean Gift Giving Customs
Candles and a box of matches, or laundry detergent, are customary for a housewarming gift.
Gifts are given and received with both hands.
Gifts are not opened in front of the person who gave them.
If you receive a gift, it is customary to give a similar type of gift in the future.
Giving Gifts to Koreans
Make sure that your gifts are wrapped nicely and look good. This part matters nearly as much as giving the gift and the type of gift it is.
Gifts that come from your own country or town make good gifts and add a nice touch to the gesture.
It is important to remember that the main purpose for giving gifts is to give thanks and show respect.
Business Gift Giving Customs & Etiquette in Korea
It is common to give gifts in business settings in order to gain favors or build relationships with others, and then to reciprocate.
For a first meeting, your gift should be something with your company's logo on it or something that demonstrates your home country. These gifts should be of good quality, but not expensive.
Give gifts that have a higher value to the senior person. The gifts to those in lower positions should be of a lesser value, even if they are similar to the one you gave to the senior person.
Gift Giving Occasions in Korea
Valentine's Day
Housewarming
Weddings
Chuseok
New Year's Day
Christmas
Gift Giving Tips in Korea
Wrap gifts in green or yellow striped gift wrapping paper as that is the tradition there.
Food makes a great gift when in doubt, such as cookies, cupcakes, and fine chocolates, as well as wine.
Cash is a good gift for newlyweds who are getting married and for New Year's Day.
Alcoholic beverages or cigarettes can be given to those who drink or smoke.
Monetary gifts should be given in a white envelope.
The number 7 is viewed as lucky, therefore giving 7 of something is lucky.
Gift Giving Don'ts in Korea
Avoid red and dark-colored wrapping paper, as it is seen as unpleasant.
Don't give sharp objects, as it will mean that you are ending your friendship or relationship.
The number 4 is viewed as unlucky.
Don't send notes of thanks after receiving hospitality, the gift was your thanks.