Disclosure of Material Connection: Some of the links in this post may be "affiliate links." This means if you click on the link and purchase an item, I will receive an affiliate commission. Disclosure in accordance with the Federal Trade Commission's 16 CFR, Part 255. This site is a participant in the Amazon Services LLC Associates Program, an affiliate advertising program designed to provide a means for sites to earn advertising fees by advertising and linking to Amazon.
There are so many fun things about Mexico, from activities to places and festivities. It is also a place where traditions are important to know before you go and to remember once you get there. Therefore, you want to be aware of those traditions when it comes to gift giving as well for any gift giving you may take part in while in Mexico. You want to make sure you are giving gifts on the right occasions so that you are not offending anyone.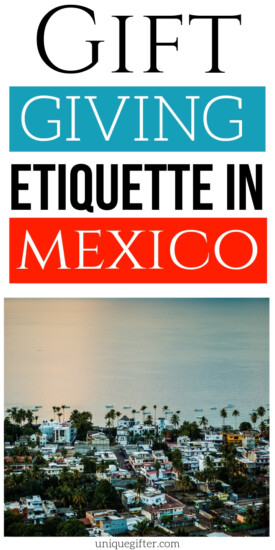 Read more in our gift giving etiquette series:
Mexico Gift Giving Customs
When invited into a Mexican home, you should bring a gift. The best gift is flowers, wine, gourmet desserts, chocolates, or a small gift from your country.
If the home you are invited to has children, bring a toy for them from your country or perhaps an electronic item that they can't purchase there in Mexico. Giving them a gift shows respect for the family.
There are no customs when it comes to wrapping your gifts.
Gifts are opened in front of the giver. If you receive a gift, show enthusiasm for it.
Giving Gifts to Mexicans
White flowers are seen as uplifting.
Ask general questions if you choose to ask what the host or their children would like. If you ask directly, it will be seen as impolite or even offensive.
Business Gift Giving Customs & Etiquette in Mexico
Gift giving in business settings is not required, but appreciated and will be seen as a gesture of goodwill.
A good gift for a first meeting is a gift with your company's logo on it, but at other meetings, it's a good idea to bring wine or scotch.
If you are a man giving a gift to a woman business associate, say it is from your wife or female relative to avoid giving the wrong impression.
Gift Giving Occasions in Mexico
Housewarming
Birthdays
Anniversaries
Dia De Los Muertos- a holiday for honoring the dead
Valentine's Day
Baptisms
Quinceanera
Christmas
Dia de Reyes- King's Day
Gift Giving Tips in Mexico
A souvenir or other item from your own country makes a great gift.
Food and wine are great choices for gifts as well.
Clothes or other items from international brands are enjoyed.
Gift Giving Don'ts in Mexico
Avoid yellow flowers because they are reserved for death, purple flowers because they are only for funerals, and red flowers because they are seen as negative.
Don't give gifts that you bought at any tourist attraction in Mexico.
Avoid gifts made of silver because they take pride in the silver from Mexico.
Don't ask them what kind of gifts they or their children would like. It is seen as impolite.
Avoid expensive gifts unless you know that the situation or setting calls for it, as they are not always appropriate.