Disclosure of Material Connection: Some of the links in this post may be "affiliate links." This means if you click on the link and purchase an item, I will receive an affiliate commission. Disclosure in accordance with the Federal Trade Commission's 16 CFR, Part 255. This site is a participant in the Amazon Services LLC Associates Program, an affiliate advertising program designed to provide a means for sites to earn advertising fees by advertising and linking to Amazon.
Cavs fans are coming off of one of the best runs in recent years! Celebrate their victories, and soothe their defeats with these truly one of a kind fan gift ideas. From the practical to the cozy, the obscure and the downright funny. You'll find some great inspiration in these Cleveland Cavaliers fan gift ideas!
Our Favorite Cleveland Cavaliers Fan Gift Ideas
Celebrate Cleveland's pride and joy with these all-star gift ideas for your favorite fan!
Cleveland Cavaliers Face Mask
Not just for global pandemics, this mask is the perfect accessory for bike riding, and mild colds! Grab one for the quirkiest Cavs gift idea out there!
NBA Cavaliers Holiday Sports Jacket
Quite literally a sports jacket, this piece is the ultimate fan gear for the Cavs lover who can't get enough holiday spirit! Deck them out with something that's beyond eye-catching, so they can let everyone know who their favorite team is!
Lebron James Bobblehead
Great for the dashboard, or the home office this Lebron James figurine is the ultimate piece of fan décor! Lighten up the office, or deck out your fan cave in style with this unique bobblehead!
NBA Cavs Men's Joggers
All Cleveland Cavalier fans need these super cozy jogger sweatpants to lounge in while watching the game!
Mockup Championship Ring
This NBA World Championship ring is modeled after the official NBA ring that players received in the Cavs all-star comeback! This makes the perfect gift idea for the fan who loves collectibles!
LeBron James Figurine
This LeBron James action figure is modeled so well you might not want to take it out of the box!
Vintage Cavaliers Shorts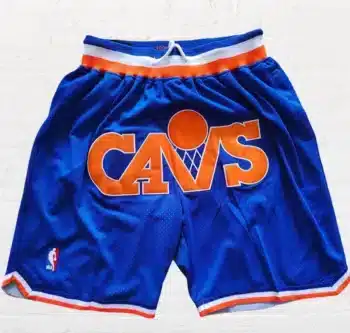 This is an authentic piece of fan memorabilia you can actually wear! These 90's era shorts aren't just practical, but they feature the iconic orange on blue design!
Cavaliers Enamel Pin
An enamel pin is perfect for a Cleveland Cavaliers themed gift basket, or DIY gift project! This is truly something you won't find anywhere else.
All-Star Cufflinks
These aren't just any pair of cufflinks, they're actually game used! How, you ask? The basketball design comes from an actual regulation All-Star Game, the 2014 New Orleans one to be exact!
Cleveland Cavaliers Lebron James Portrait
Prints make an easy, and memorable piece of sport décor that basketball fans will absolutely love! Deck out your favorite fan's man cave, or home office with this iconic styled print!
Cleveland Canvas Set
This Cleveland canvas set would compliment any Cleveland Cavaliers fans home, office, or sports den.
Cleveland Cavaliers Backpack
This stylish Cleveland Cavaliers backpack would make the perfect gift for students, gym goers, or fans that like to travel.
Straight Out Of Cleveland Hoodie
This Straight out of Cleveland hoodie will turn heads with its bold saying! Everyone will know where you are from and what teams you cheer for.
Cleveland Magnet
3D printed magnets in historic Cavaliers colors make for a great addition to any Cleveland Cavaliers fan gift baskets!
Cleveland Cavaliers Car Mats
Think you're the biggest Cavaliers fan? Prove it with these awesome, high quality car mats featuring the iconic Cleveland Cavaliers team logo in the center!
Cavs Wedding Garter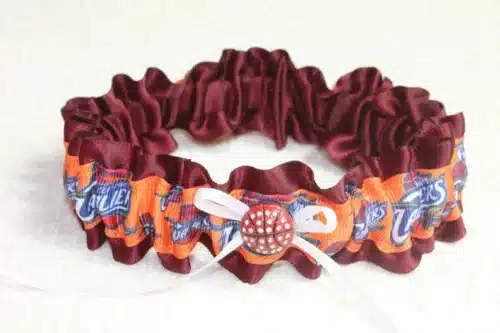 Really into the Cavs? I get it. This garter set is the perfect way to 'invite' the Cavs into your wedding, in truly unique fashion of course.
Cleveland Sports Teams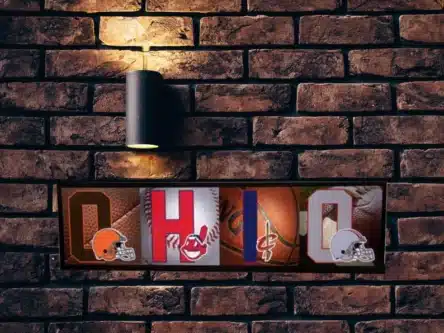 This awesome handmade canvas sign features four of Cleveland's most renowned, and well-loved sports franchises! For the fan who loves em' all!
Cleveland Cavaliers Snoopy Shirt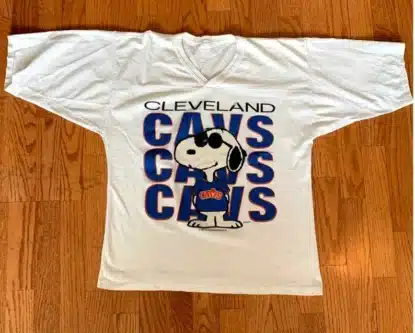 What fan wouldn't want this adorable Cleveland Cavs snoopy t-shirt! This super cool shirt will impress all fans.
Cleveland Skyline Cufflinks
Celebrate the city you love, in a seriously fashionable set of cufflinks. Great gifts for cubicle warriors and groomsmen alike, these links are handmade and high-quality pieces of fan gear.
Basketball Embossing Rolling Pin
Need something sweet for gameday? Not only is this a great DIY basketball fan gift, but you can use it to gift some memorable and sweet Cleveland Cavaliers treats!
Cleveland Cavaliers Tumbler
This 20 oz stainless steel Cleveland Cavaliers tumbler would make a great stocking stuffer or added to a basket for the fan in your life.
Cleveland Cavaliers Socks
Who doesn't love getting socks? This two pack of Cleveland Cavilers socks would make the perfect gift for any fan.
Next time the Cavaliers hit the court, be ready with something really unique! Hopefully you've found something perfect for your favorite Cavs fan. What's the most interesting Cavaliers themed gift you've ever seen? Let me know! Until next time, see you later and go Cavs!