Disclosure of Material Connection: Some of the links in this post may be "affiliate links." This means if you click on the link and purchase an item, I will receive an affiliate commission. Disclosure in accordance with the Federal Trade Commission's 16 CFR, Part 255. This site is a participant in the Amazon Services LLC Associates Program, an affiliate advertising program designed to provide a means for sites to earn advertising fees by advertising and linking to Amazon.
Nationals fans still celebrating after their world series championship victory? They should be! These fans are just breaking out into the MLB world yet, but they deserve some unique gear and gifts too. These are the best Washington Nationals fan gift ideas to celebrate some of the most passionate fans in the league. If you're not sure what to choose for your favorite MLB fan, these gift ideas are a great place to start. Give them some unique pieces of gear to style it up at the next home game!
Our Favorite Washington Nationals Fan Gift Ideas
Hit a homerun in your favorite Nationals fan's heart with these sincere and awesome gifts that will turn some heads at the stadium and downtown DC!
Washington Nationals Embroidered Golf Towel
This is a nice piece of fan gear for the Nat's fan who loves to golf! Suit them up with this highly practical golf towel so they can hit the course with everything they need.
Washington Nationals Golf Bag
This golf bag also includes a cooler pocket to keep your drinks cold! Show off your 2019 World Series Champions with this practical and stylish piece of fan gear.
Washington Nationals Shoes
These stylish shoes are the perfect addition to any Washington Nationals fan gear collection.
MLB Men's Shorts
The Nats logo comes to life in these ultra comfortable and breezy game shorts! Hit the local court with these to show off your favorite team, or wear them to the next game as a comfortable piece of gear!
MLB Nationals Pen Holder
What Washington Nationals fan wouldn't want this pen holder? This unique gift would look great in any home or office.
MLB Double Play Throw
This awesome blanket makes a great throw for a stylish piece of living room décor! Throw it on the couch during MLB season for added enjoyment to cheer on your favorite team, the Nats!
Dr. Anthony Fauci Opening Day Pitch Card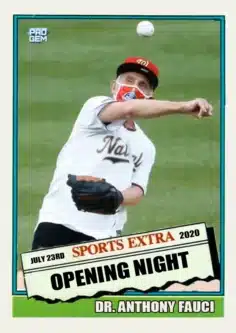 Buy Now
This is a trading card celebrating the somewhat infamous, and definitely patriotic opening pitch ceremony where Dr. Fauci threw out the first pitch of the season for the Nats! 2020 was a rough year for everyone, but the country was able to honor the doctors and nurses with this momentous occasion.
Frosted Mug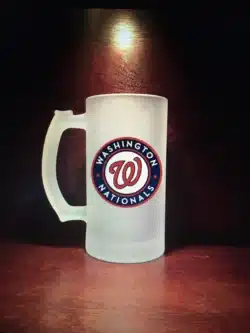 This Frosted mug is custom made with the Washington Nationals name and logo, making it perfect for the fan who can't go a moment more without their brew! It keeps beer cold, and coffee warm, and is known as one of the best mugs out there!
Nationals Beaded Bracelet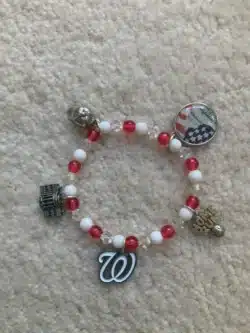 Commemorate their greatest season with this visually impressive bangle bracelet! It comes with a bunch of custom charms, as well as Nationals specific logo ones, making it the perfect baseball accessory gift for the next game!
Washington Nationals Wine Glass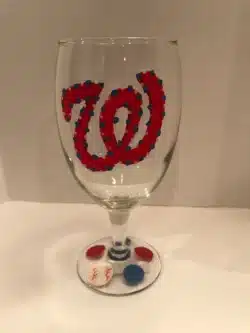 This custom hand painted wine glass is perfect for watching the game! Great for the fan with a home bar, or the wine lovers who don't miss a Washington Nationals baseball game on TV!
Nationals World Series Article
This is an official copy of the Washington Post the day the Nationals won the World Series Championship in 2019! It makes for the perfect piece of wall art when framed. And, it would look great next to your favorite player jerseys.
Washington Nationals World Series Ring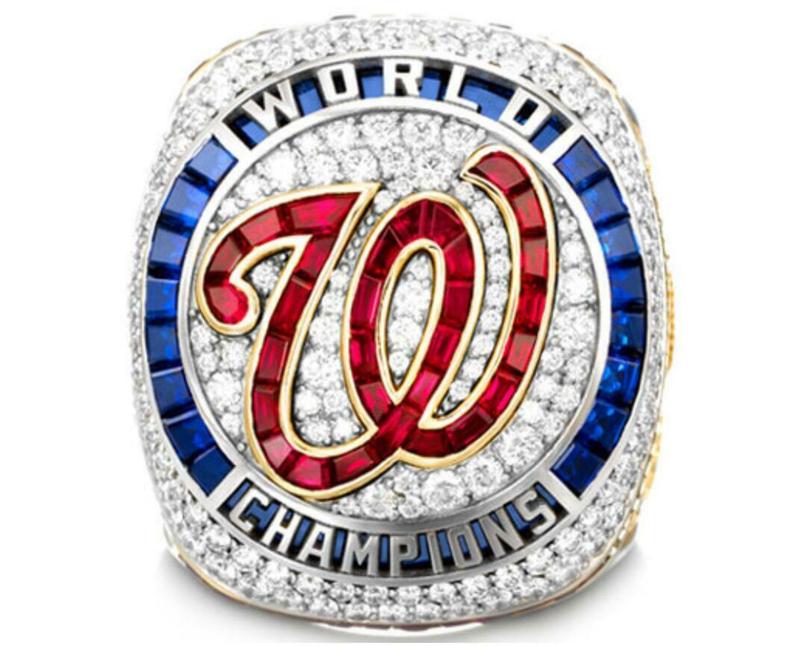 For the collector fans out there, this Washington Nationals mock world series Championship ring is just the ticket! It will make the centerpiece of their Nats memorabilia collection.
Nationals Face Mask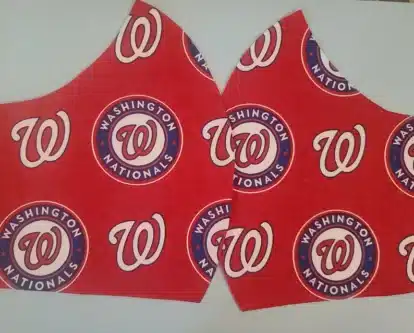 This mask doubles as a dust, safety and privacy mask for when you're out and about. Just because you're being safe, who said you couldn't show off your team pride?
Washington Nationals Park Vintage Print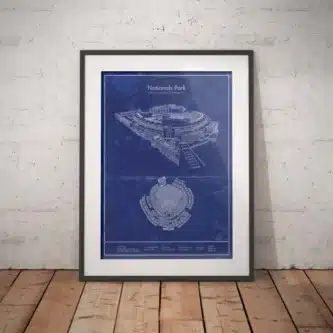 Honor the 2019 World Series champions with this classic styled art print! It has an awesome design, with a totally retro look and feel.
Best Jersey Display Frame with UV Protection
This is the classic jersey frame you see in bars and restaurants, except better! It comes with UV protection, so you can protect your most prized jerseys form damaging sunlight. Enjoy your collection, and show if off with these awesome frames!
Washington Nationals Car Cup Coasters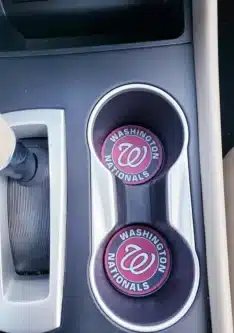 These little coasters make a big difference for your vehicle's interior! Protect your cup holders from swampy and smelly spills with these protective mats that feature your favorite MLB club's logo!
Washington Nationals Coffee Mug
This Washington Nationals coffee mug is the perfect addition to any fans morning. Enjoy a hot cup of coffee while showing off your favorite MLB team!
Washington Nationals 2019 Art Poster Print
This is a minimalist style art poster print that commemorates the Washington Nationals 2019 World Series victory! Hang it somewhere you want to remember the moment.
Washington Nationals World Series Baseball Cap
In case they haven't already found themselves some fan gear to celebrate the momentous win, hook up your friend or loved one with one of these iconic Championship win hats!
MLB Washington Nationals Golf Balls
These golf balls are awesome for decorating your home bar, or Washington Nationals game space in the house! Place them in shot glasses, or outfit your display cabinet with these collectible golf balls.
Washington Nationals fans will love these unique and baseball-inspired gift ideas! Make sure to let them throw the opening pitch at their very own MLB surprise party. Looking for more sports related gift ideas to capture their imagination? Check out our MLB, NFL and NHL gift ideas for more inspiration!