Disclosure of Material Connection: Some of the links in this post may be "affiliate links." This means if you click on the link and purchase an item, I will receive an affiliate commission. Disclosure in accordance with the Federal Trade Commission's 16 CFR, Part 255. This site is a participant in the Amazon Services LLC Associates Program, an affiliate advertising program designed to provide a means for sites to earn advertising fees by advertising and linking to Amazon.
Life may be a hurricane in Duckberg but I'd be willing to wager that finding a great gift for a fan is pretty comparable to one also. Ducktales has been a winning franchise since I was a kid and the mere mention of it instills feelings of nostalgia that can't be combated! When you've got a series this adored, you've really got to come correct with the presents.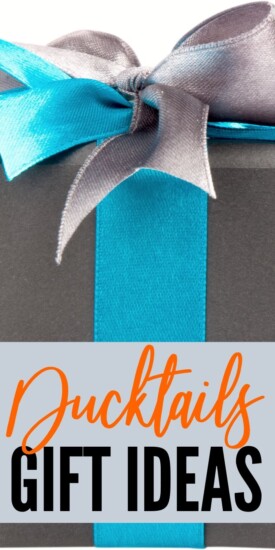 Solving The Mystery Of The Perfect Present! These Dynamite Ducktales Gifts Are What You Need
Ducktales has been a staple of cartoon viewing for multiple generations, so it's only logical that you'd come across a plethora of merchandise when it comes to this franchise. It's gonna be a daunting task when it comes to nailing down that great gift idea and I'm here to make it the easiest thing you're going to do all day. Relax and get your pick of the litter with these 20 dynamite Ducktales gifts!
Ducktales Collection (DVD)
You can't forget the obvious when it comes to gifts, right? If the fan in your life doesn't have the entirety of the classic series on DVD, you need to solve that quickly.
Ducktales 5 Piece Figurine Set
The entire gang from the series in one gift? It's more likely than you'd think. These are sure to look fantastic on any fan or collector's shelf!
Team Ducktales T-Shirt
Who wouldn't love to get one of these as a gift? Featuring the main cast of the show, you really can't beat nostalgia and a comfortable t-shirt.
Ducktales: Treasure Trove (Paperback)
If the series and films aren't enough for the fan in your life, I've come across these fantastic comics! These pick up where the series left off and this will start off your fan's collection nicely.
Ducktales Pajama Shorts
Guys my age need comfortable stuff to wear around the house. Nostalgia and comfort mix beautifully with these cartoonishly stylish sleep shorts!
Ducktales Doodles
It's not just a coloring book. It's a doodle book! You can color and redesign different adventures featuring the Ducktales crew.
Ducktales Money Bin Playset
Scrooge's vault is a thing of legend. This playset features the man…err duck himself with his prized vault, packed with his riches!
Scrooge And The Boys Sock Set
What a wonderfully adult item! These socks are a snazzy way of keeping your fan's feet warm. Featuring Mr. McDuck and his nephews, they're sure to be a hit.
Ducktales Plane Vehicle Set
Launchpad and his plane have a ton of fond memories in your fan's heart, I'm sure. What better way to keep those lovely feelings within reach than with this cool vehicle set?
Huey Plush
Definitely one of the fan favorites when it comes to Scrooge's nephews, this plush is made with quality and is going to look incredible wherever your fan has it on display.
Ducktales Woo-oo Blanket
If anyone you know has ever seen the show, you can't even say the word "Ducktales" without there being an immediate "Woo-oo" resounding in their mind. This sweet blanket displays that ultimate line while they stay warm and cozy.
Scrooge McDuck Funko Figure
It's Scrooge with an adorable Funko makeover! You really can't go wrong when it comes to gifts for your fan with this cute fella here.
Ducktales Ornament
Ducktales is good for any time or place and that includes Christmas and Christmas trees. Even if your fan just wants it for collection purposes, it's an amazing piece either way!
Dewey Sunstaches
Whether it's for a kid that loves the series and odd accessories, or it's a goofball adult that is looking for stylish new sunglasses, these are a winner!
Lifegoals T-Shirt
Who doesn't have the wish of being as rich as Scrooge though? This t-shirt allows everyone to not only see that your fan loves the series, but has some serious ambition.
Family Is Priceless Bank
There are some things you can't put a price on and Scrooge always keeps that in mind with his cheeky nephews in tow. How fitting that an item that holds currency features a priceless addition?
Ducktales Lunchbox With Thermos
A retro gift that is sure to conjure up childhood memories in even the pickiest fan! This cool lunchbox looks like something an adult would have carried in their childhood and even comes included with a thermos.
Duckberg Map Poster
Duckberg. Where life is like a hurricane and people are constantly solving mysteries. But, seriously, it's an awesome poster and any fan worth their salt is going to cherish this one.
Ducktales Mug
Who says that you can't have a heaping spoonful of nostalgia with your coffee? Your fan is sure to have a smile on their face every morning with their daily dose of caffeine.
Ducktales: Lost Treasure Lamp (DVD) With Bonus Collectible Figures
Not only does this gift include a timeless adventure with Team Ducktales, it even includes a set of collectible figurines! You really can't go wrong with this gift.
We've made it to the end of the guide and while you may shell out some cash for some of these gifts, I'm sure that the look on your fan's face is going to be priceless! With all of these fine selections, I'm sure that you've come across at least a couple of gifts that you had to snag for them, right? Maybe you're a secret Ducktales fan and you found something for yourself? Let us know on Twitter (@ugifter) or Instagram (@uniquegifter) and thanks for checking out 20 Dynamite Ducktales Gifts!