Disclosure of Material Connection: Some of the links in this post may be "affiliate links." This means if you click on the link and purchase an item, I will receive an affiliate commission. Disclosure in accordance with the Federal Trade Commission's 16 CFR, Part 255. This site is a participant in the Amazon Services LLC Associates Program, an affiliate advertising program designed to provide a means for sites to earn advertising fees by advertising and linking to Amazon.
The Tron franchise was unleashed on the world back in 1982 and gained a massive cult following nearly immediately after being released. Spawning video games, comic books, series and a couple of feature films, Tron has a lion's share of fans and if you're here looking for gifts, you know and love one!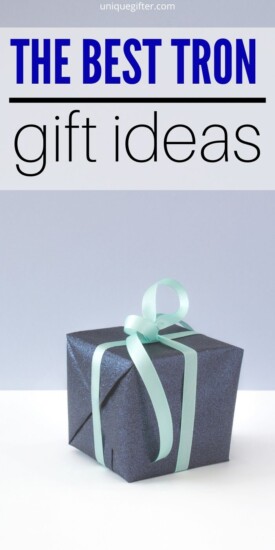 Teleporting To A World Of Perfect Presents With These Tron Gifts
Much like Flynn going into the ENCOM mainframe, I'm about to take you into a virtual world of the perfect presents. Online retail is a massive universe and I've gone far and wide to snake some of the greatest gifts that you're likely to come across. Since you have a Tron fan in your midsts and you're likely sweating over what you're going to get them, I've compiled this ultimate list of gits for you, so here we go with 20 terrific Tron gifts!
Tron/Tron Legacy (Blu-Ray)
Obviously, the fan in your life has seen the Tron films but do they own them on Blu-Ray? This double pack is sure to fill them with glee!
Tron Lightcycle Lego Set
Lightcycles are some of the coolest things to ever grace the silver screen and nearly everyone who has seen the film has dreamed of owning one of them. While it's not lifesized and rideable, it's a Lightcycle and it's Lego!
Flynn Identity Disk
These disks are some of the raddest things in films and I'll bet my bottom dollar that any fan has fantasized about having one laying around. It's time to make dreams come true, gift giver!
Impulse Projection Sam Figure
These figures are going to knock the socks off of any fan or collector. Not only do they light up and are fully poseable but they also project the figure's face onto the visor!
Tron Visor Glasses
Cosplay or just all-around fun? It doesn't even matter. Any fan would be happy to wear these things around.
Sam Flynn Hoodie
Tron: Legacy had some of the coolest visuals in any film, so it stands to reason that a ton of fans would love to have one of these. Crafted to look like the suits from Tron, this hoodie is sure to be your fan's favorite.
Tron Funko Pop
Tron himself gets a Funko Makeover! The program becomes a cute addition to any fan's shelf and this one even includes a Funko Pop protector.
Black Guard Action Figure
The Black Guard was one of the most intimidating characters in the Tron: Legacy film. How does it manage to carry over into action figures? I don't know but I know it's gonna look snazzy in your fan's collection!
Tron Cycling Shirt And Shorts Set
If you've got a fan in your life that's also a cyclist, they're really going to appreciate this. Featuring that cool, sleek look from Tron, they'll feel like they're riding a Lightcycle around!
Electroluminescent Tape Strip
Do you think the fan in your life would love to have neon blue adorning things around the house? I do and that's why I've included this snazzy tape!
Tron Arcade Flight Stick
Whether your loved one has an actual Tron arcade cabinet to stick this on or would just like it as an awesome collection piece, it's sure to be cherished when you gift it to them.
Tron: Legacy Soundtrack
Daft Punk really outdid themselves with the Tron: Legacy soundtrack. No matter how many times I've watched the film, I can't get over how good the music is and music is always an ideal gift.
Flynn's Arcade T-Shirt
Such an iconic location in the films! Your loved one can show off their love for the franchise with this cool, retro-styled shirt!
LED Suspenders
Light-up suspenders? They're just crazy enough to be awesome! These are guaranteed to be a hit to anyone drawn to the neon lights of the Tron universe.
Tron: Legacy Silk Poster
Why give a regular poster when you can give a silk one? The cool graphics from Tron: Legacy have come to your fan's wall!
Flynn's Arcade Poster
Flynn's Arcade returns! The memorable location is presented in all of its glory with this sweet poster showcasing that classic corner building.
Tron: Legacy Minicell Film Cell
Want to give the fan in your life a really cool gift? This is an actual piece of the Tron: Legacy film presented in this awesome shadow box.
Lightcycle Power Run Coffee Mug
What an awesome coffee mug! The cool colors from Tron: Legacy have come to your fan's morning coffee. The sleek black and blue colors look amazing and the mug even includes a lid!
Tron Umbrella
What?! A Tron umbrella? That's right. The cool style and designs from the movie even managed to make a boring umbrella look outstanding!
Lightcycle Baton
Do you think the fan in your life wants one of those awesome Lightcycle batons? Uh, yeah they do. Let's be honest: Who wouldn't want one of these?
While it's not as thrilling as having a Lightcycle duel, it was a fun ride, right? With all of these outstanding selections, I feel pretty confident that you've found that perfect gift and all the presents from others are going to pale in comparison. How much did they love what you got them? Maybe you're a Tron fan and found something for yourself? You've gotta let us know on Twitter (@Ugifter) or maybe Instagram (@uniquegifter) and thanks for checking out 20 Terrific Tron Gifts!