Disclosure of Material Connection: Some of the links in this post may be "affiliate links." This means if you click on the link and purchase an item, I will receive an affiliate commission. Disclosure in accordance with the Federal Trade Commission's 16 CFR, Part 255. This site is a participant in the Amazon Services LLC Associates Program, an affiliate advertising program designed to provide a means for sites to earn advertising fees by advertising and linking to Amazon.
Who doesn't love Toy Story? With the fourth movie having just come out, it's back to being popular for a new generation. That means that there's plenty of Toy Story gift ideas to choose from out there.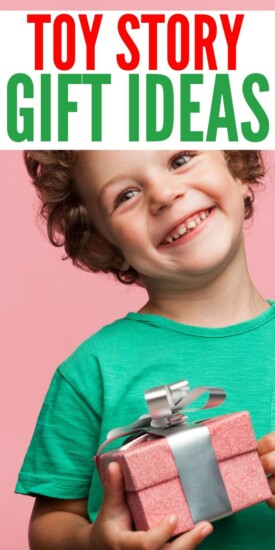 20 Toy Story Gift ideas
Here's our best idea to give to a Toy Story fan, young and old. After all, many of us who grew up with the series are adults who are still obsessed!
Classic Slinky Dog
Great for collectors and kids alike! This retro Slinky Dog toy is perfect for Toy Story fans. He looks just like the one in the movies, too!
Toy Story Matching Shirt Set
So cute for siblings, twins, couples, or parents and their kids to wear together! These matching shirts have the classic Toy Story quote with Woody and Buzz Lightyear designs.
Toy Story 4 Minis
Great for kids, especially as a small gift idea, or a stocking stuffer. These little blind bag packs have one of their favorite characters from Toy Story 4 inside.
Forky Phone Case
Who's trash? Forky's trash, but we can relate so hard.
Loungefly Bag
Toy Story themed stuff isn't just for little kids. This stylish Loungefly bag is a perfect everyday purse for the Toy Story fan who doesn't want to grow up too hard.
"You've Got a Friend in Me" Keychain
Sometimes it's the little things that make the biggest impacts. This keychain isn't just a Toy Story reference, it will also remind them how you feel.
Pizza Planet Shirt
Styled after the pizza place that you see in the Toy Story series, this Pizza Planet shirt is perfect for Toy Story fans who want to have a more subtle reference in their apparel.
Cloud Wall Pattern
Perfect for someone having a baby or to redo a kid's room. Paint the wall blue then apply these cloud decals on top to make it look just like Andy's room from the movies.
Al's Toy Barn Mug
Although Al turned out to be not such a great guy, this Toy Barn is still a huge part of Toy Story 2 and the Toy Story universe. Fans are definitely going to love this mug!
Forky Creativity Set
Forky was handmade in the movie and little Toy Story 4 fans are going to love making their very own, custom Forky! A cute gift and activity all in one and great for kids' birthday parties.
Duke Caboom Toy
Finally, Canada got the respect it deserves in the Toy Story universe! This toy of the amazing stuntman Duke Caboom walks when you push his head down. Fun for kids and collectors.
Jesse Backpack
Oh so cute! Gift this to little ones to carry all their Toy Story gear in or as a great backpack for preschool or daycare.
Toy Story Sheep Plush
This plush is of Bo Peep's sheep: Billy, Goat, and Gruff. So cute and cuddly and not made of porcelain-like in the movies.
Woody and Buzz Costume Pjs
If you have kids who are obsessed with Toy Story you know that they also love to dress up as their favorite characters all the time. Now you might actually get them to get changed for bed!
Toy Story 4 Mr. and Mrs. Potato Head Set
Little kids love Mr. Potato head and little Toy Story 4 fans are going to love playing with their favorite characters. You can mix and match the accessories and there are tiny figures to play with too. These would also be cute for collectors.
Buzz and Woody Keychains
This set of two keychains would be a great friendship gift or something to give a Toy Story loving couple. They have Buzz and Woody's shoes with Andy's name on them, just like the movie.
To Infinity and Beyond Love Gift
A great gift idea for your partner! Inside the jar is an infinity symbol and it says "Love you to infinity and beyond". You can personalize it with their name!
Toy Story Tree Ornaments
You get a five-piece set when you order this gift idea: Woody, Buzz Lightyear, Rex, Forky, Bo Peep. Toy Story fans young and old will love hanging these on their Christmas tree.
Buzz Lightyear Hoodie
Another Toy Story great gift idea for a young fan. They'll love pretending to be Buzz Lightyear while also getting tricked into staying warm, win-win!
Toy Story Chair
This chair will be the highlight of their gifts because it's awesome! 
These Toy Story gift ideas are going to delight them to infinity, and beyond! Or at the very least, they're going to make someone's childhood (or childhood memories) a lot more fun.