Disclosure of Material Connection: Some of the links in this post may be "affiliate links." This means if you click on the link and purchase an item, I will receive an affiliate commission. Disclosure in accordance with the Federal Trade Commission's 16 CFR, Part 255. This site is a participant in the Amazon Services LLC Associates Program, an affiliate advertising program designed to provide a means for sites to earn advertising fees by advertising and linking to Amazon.
Extraordinary X-Men Gifts
One of the oldest and popular series in the Marvel Universe is still going strong over 30 years since its initial release! Obviously, with such an iconic franchise, there is bound to be a multitude of fans and with fans comes merchandise! With millions of different things to choose from when it comes to X-Men related gifts, it's a veritable retail minefield out there!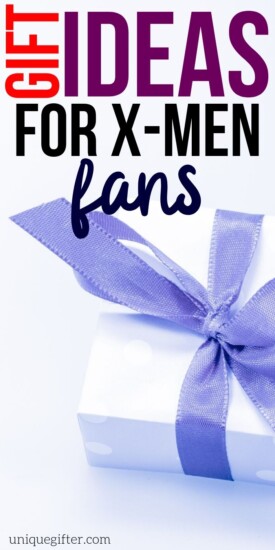 Marvel At These Amazing Gifts!
So what are you to do when it comes to snagging that perfect gift for the X-Men lover in your life when you have an infinite amount of options? Well, you can either search forever and deal with the frustration that comes with not being able to choose or you can let us do the work for you! While we aren't mutants, you'll swear that we have the ultimate in retail superpowers so rest assured that we have you covered with the perfect presents with these extraordinary X-Men gifts!
Xavier's School Hoodie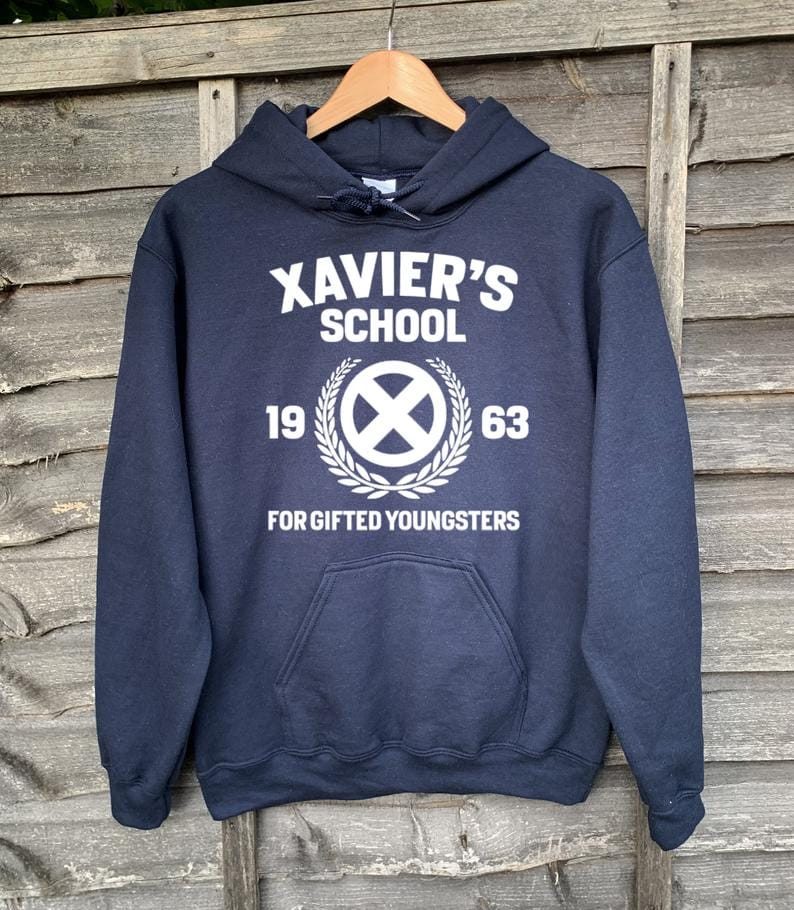 Anyone that is a fan of the X-Men has dreamed of having mutant powers themselves and while we can't offer that gift, unfortunately, we can offer something similar! This hoodie proudly announces that the wearer is a member of Xavier's School For Gifted Youngsters!
Cyclops Costume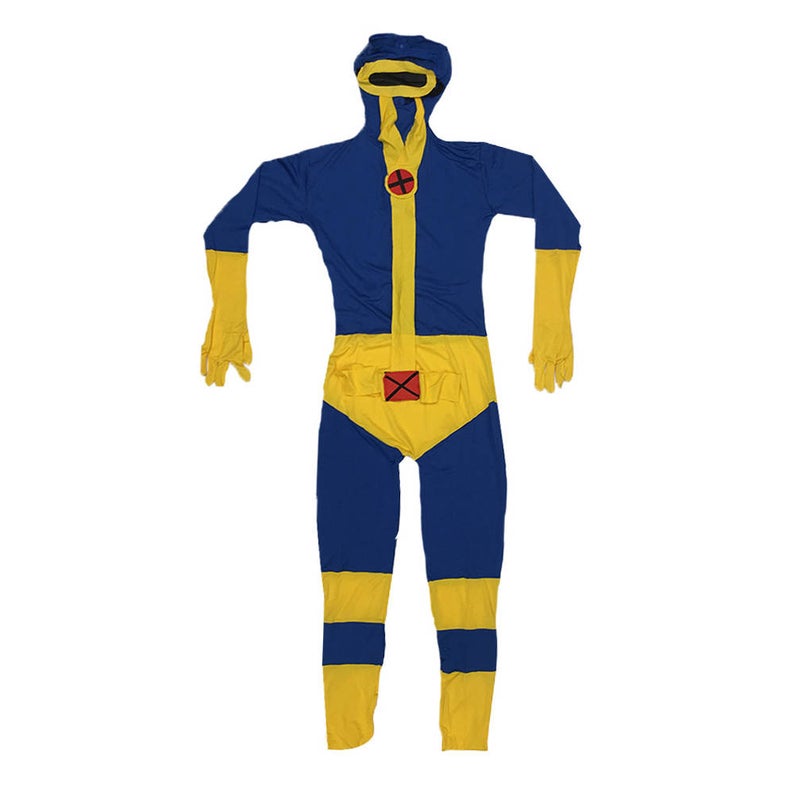 Cyclops is the unofficial leader of the team and definitely one of the most popular X-Men in existence. With so many fans, we have no doubt that there is more than a handful out there that would love being able to run in this handmade spandex suit, imitating the eye-blasting mutant!
X-Men Desk Mat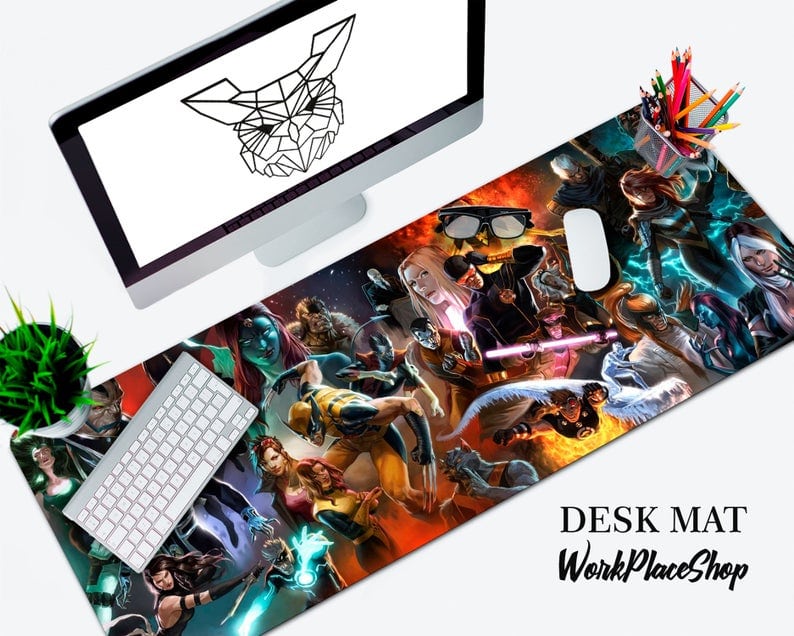 Any fan that spends extended periods at their desk are sure to enjoy a little style at their workspace! Whether it's on the job or at home, this X-Men desk mat is sure to scratch that geeky decor itch!
Gambit Playing Card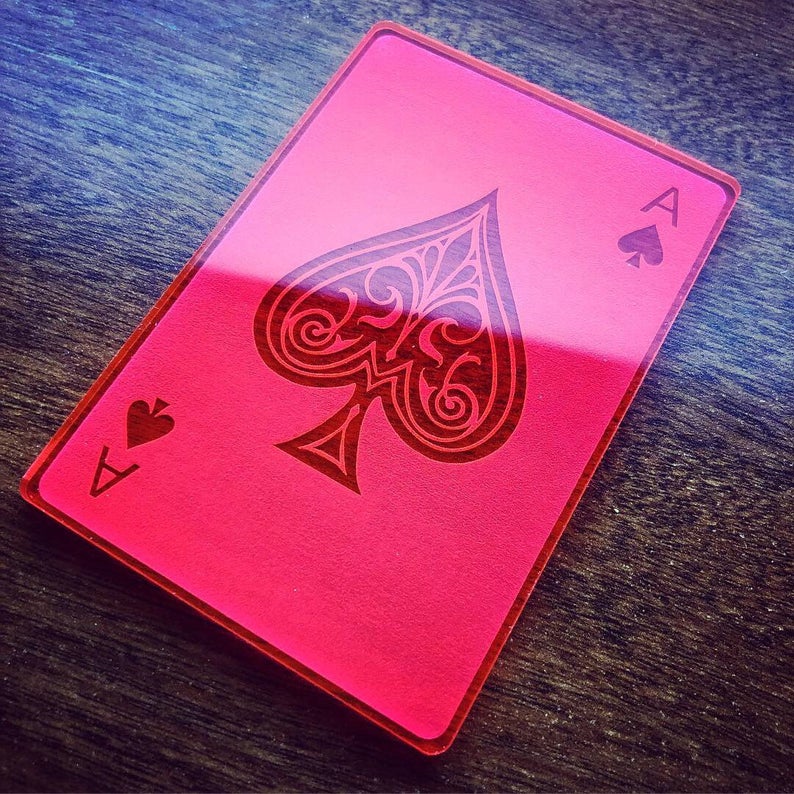 X-Men lovers everywhere know that cool cajun that's famous for slinging kinetic playing cards! This custom made, neon playing card gives off the appearance that it's glowing with energy and ready to explode into the nearest wall. Very cool!
Zombie Wolverine Bust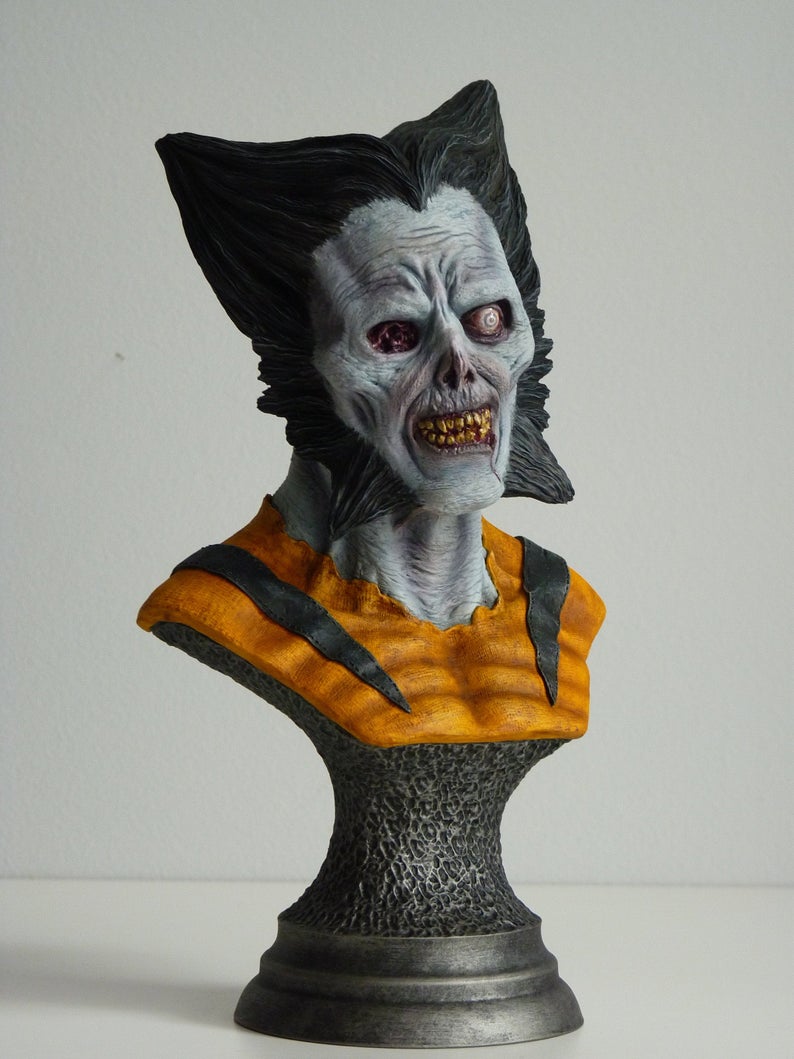 Wolverine and zombies? Yes, please! This is one righteous collector's piece! Handmade with high quality resin and painted by hand with acrylic paints, it's sure to be the cornerstone of any fan's X-Men treasure trove!
Gambit And Rogue Coffee Cup
Most X-Men fans are also fans of these two southern sweeties! This coffee cup features some cool watercolor style art of the popular X-Men and would be perfect when bought in a set for that geeky couple in your life!
X-Men Patch
Got a friend that would love to be part of the X-Men team? Give them the gift of being an honorary member with this cool gift! These patches come in assorted colors so they'll be sure to keep things stylish with whatever they decide to stick it on!
X-Men License Plate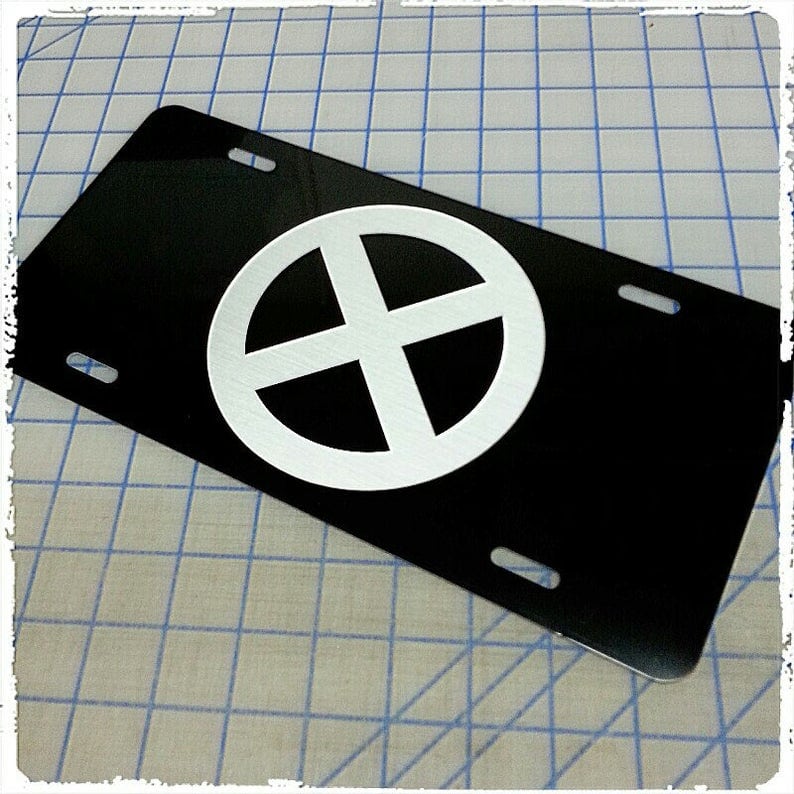 Got someone that enjoys showing off their adoration for the comic series even when they're driving around town? You've got them covered with this nifty license plate! Dropping the blue and yellow color scheme for a more low-key and subdued black and white, this license plate is definitely a stylish addition to their vehicle.
X-Men Cookie Cutter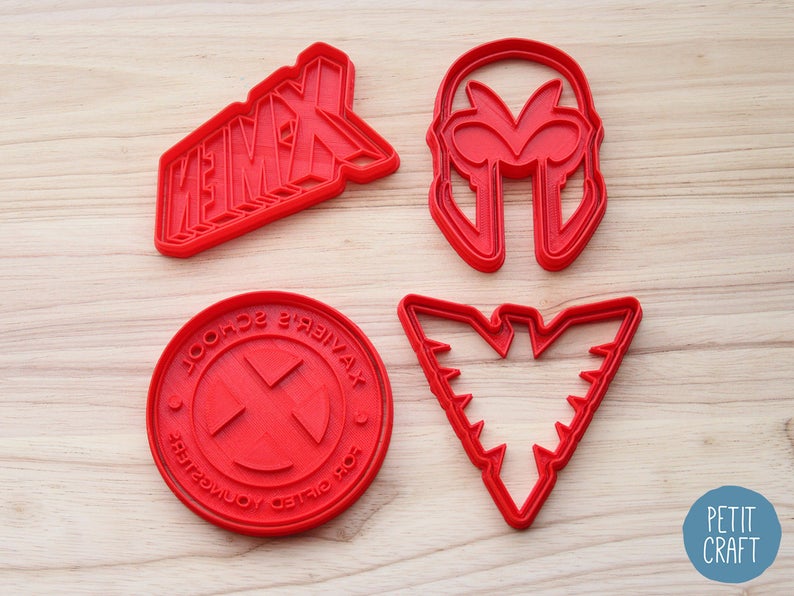 Got a friend that has a superpower when it comes to baking? This one is for them! Choose between four different cutters or combine them all so they'll have a full arsenal for delicious mutant cookies.
X-Men Pendant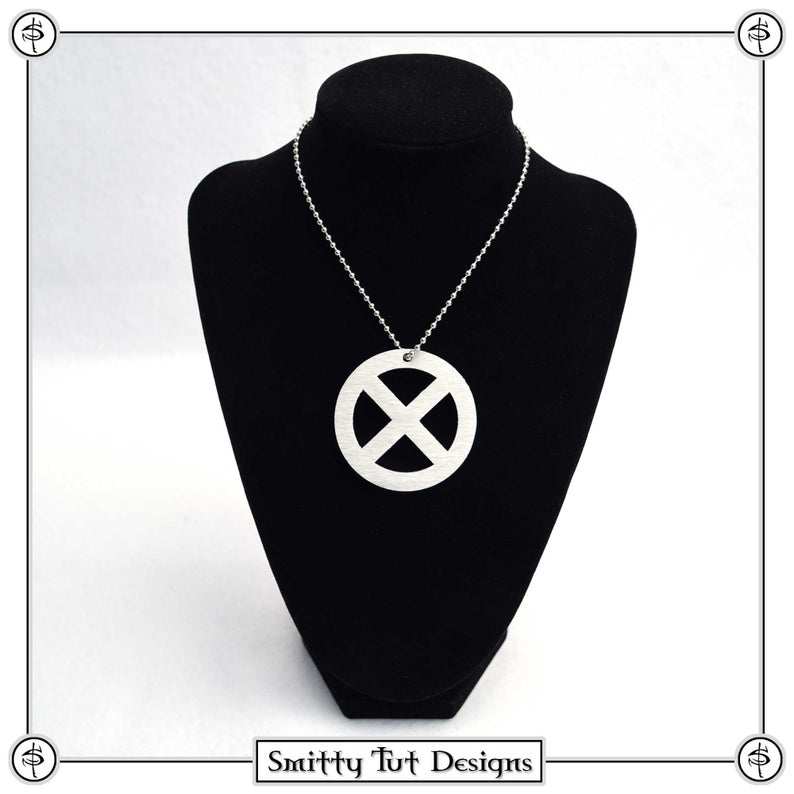 This stylish yet subtle pendant is bound to be the staple of any comic geek's jewelry collection! Available as a pendant or a keychain version, this handmade X-Men symbol is sure to excite!
Deadpool And Beast T-Shirt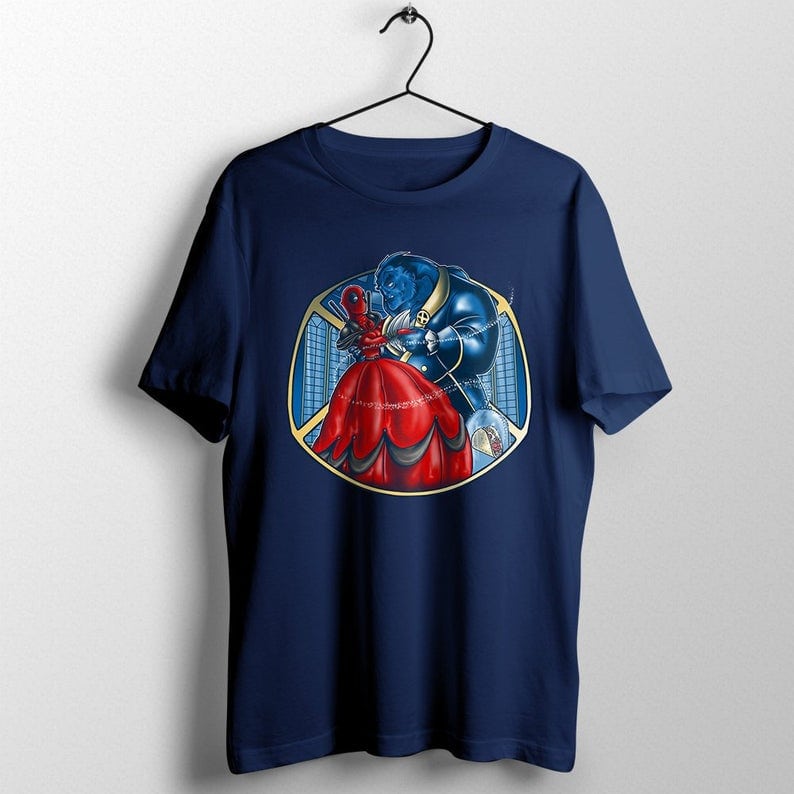 So, we're not exactly prepared to call Deadpool a "beauty" but this shirt is guaranteed to crack up anyone who knows the two figures. Locked in an embrace imitating the dance from the film "Beauty And The Beast", this shirt is perfect for any X-Men fan with a sense of humor!
Logan Movie Print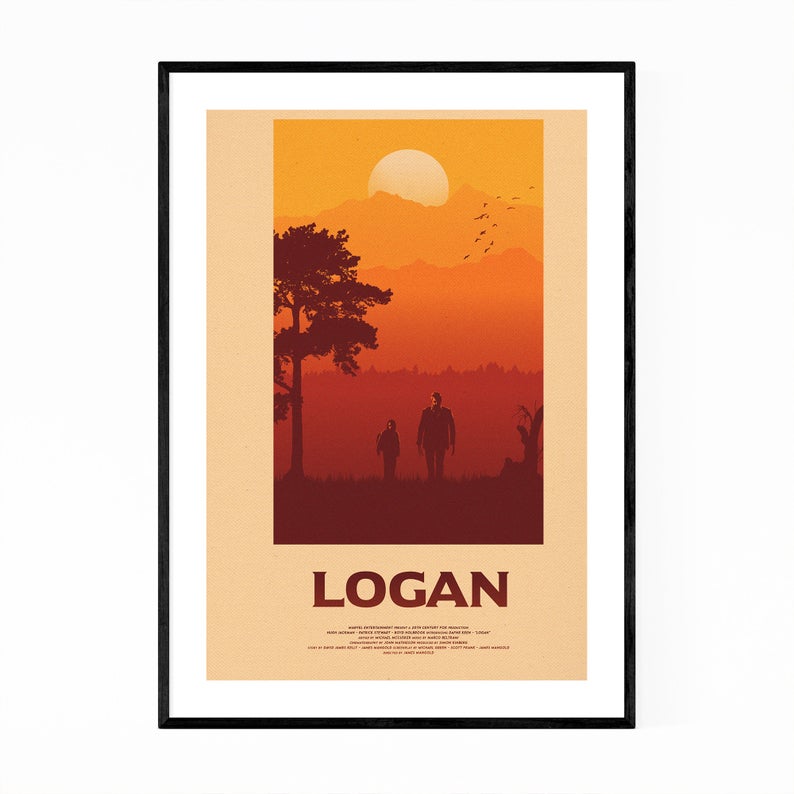 Logan was one of the most wildly successful and critically acclaimed movies that the Marvel Universe has spawned outside of The Avengers and what better way to commemorate such an amazing movie than with this Japanese-style movie poster?
X-Men Charm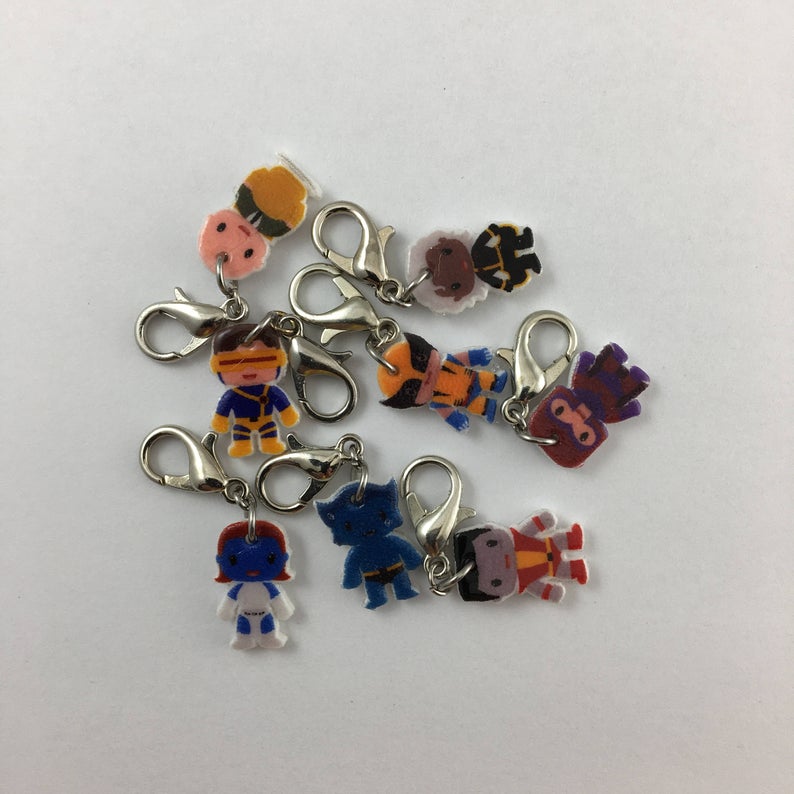 These charms are as cool as they are cute! With eight choices ranging from Wolverine to Colossus, these charms can be used to decorate things like a backpack or even just used as a keychain!
Wolverine Funko Pop X-Men Figurine
Add this adorable collectible figurine to an X-Men fan's collection for a delightful surprise! Wolverine is easily one of the most widely loved members of the team, and this vinyl bobble-head commemorates his original costume.
X-Men: Days Of Future Past – Rogue Cut (Blu-Ray)
If you've got a lover of the film series (and, honestly, who doesn't love the rebooted versions?) and they haven't seen this yet, you really need to take care of that for them! Adding 17 minutes to the original film, it fleshes the storyline out and adds Rogue into the plot!
Professor X Statue
What better way to end this list than commemorating the man who made it all happen? Professor Charles Xavier! This statue is a sculpture created in the likeness of Professor X from the animated series that we mentioned earlier. Done in a more comic rather than realistic style, this is sure to be beloved in any fan's collection!
X-Men: The Art and Making of The Animated Series
This two-in-one collectible and thoughtful gift is a great way for your favorite X-Men fan to celebrate their love for the superhero cadre. It takes an insider look at the art and production process behind the well loved animated series.
Marvel Wolverine Neon Retro T-Shirt
This sensational retro-style tee is exactly the kind of superhero apparel your favorite superfan is looking for! Suit them up with this undeniably cool neon Wolverine shirt.
After braving evil mutants and sentinels, we've brought you back these awesome gifts that are sure to please any X-Men fan and we can't help but think that you're likely to agree at this point. Find anything that you couldn't live without? Think that we nailed it with this list? Go ahead and let us know on Twitter (@ugifter) or Instagram (@uniquegifter) and thanks for checking out 20 Extraordinary X-Men Gifts!