Disclosure of Material Connection: Some of the links in this post may be "affiliate links." This means if you click on the link and purchase an item, I will receive an affiliate commission. Disclosure in accordance with the Federal Trade Commission's 16 CFR, Part 255. This site is a participant in the Amazon Services LLC Associates Program, an affiliate advertising program designed to provide a means for sites to earn advertising fees by advertising and linking to Amazon.
What is an otaku? In Japan, an otaku is a young person who's obsessed with an aspect of pop culture or computers. In the west, though, otaku has come to define those who are obsessed with Japanese culture or anime. Here are some gift ideas for an otaku that will be perfect for your anime and Japanese culture-loving family and friends.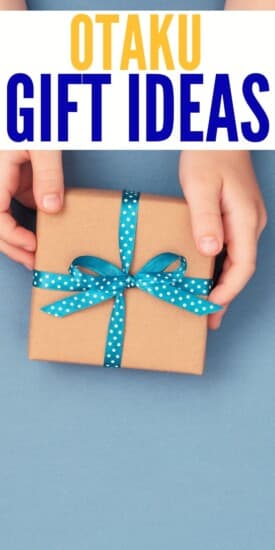 Gift ideas for an otaku
These great otaku gift ideas were picked to be general things otaku will love, which is great when you don't know an otaku's specific interests.
Baka Pop Socket
"Baka" is Japanese for "idiot" and a super popular in anime. This Pop Socket secures to the back of their phone and works as a grip and stand.
Taiyaki Magnets
These Japanese fish snacks are all the rage right now in Japan. They come filled with custard and are a common street food. These ones, though, are just really cute magnets.
The Otaku Encyclopedia
Perfect for aspiring otaku or those who want to learn more about the culture and its origins. It even breaks down the history starting in 80s about how the word became defined in the west.
Bananya Candle
What otaku doesn't love bananya? This cute banana cat candle smells like banana bread: banana, cinnamon, and vanilla.
Senpai Will Never Notice You Shirt
Ouch. Harsh words for the otaku who only wants to be noticed by senpai. Perfect for those cynical anime lovers in your life.
Funny Mug
This funny otaku mug is perfect on its own, or with a dash of irony, you call. Don't "otaku" to me is pretty darn hilarious.
Waifu Keychain
Are you a waifu? Or maybe you want to gift this to your waifu? Either way, waifus everywhere will love this nerdy keychain.
Koi Fish T-Shirt
This shirt is perfect for the otaku who loves Japanese culture and not just anime. It has the Japanese koi fish on it and says "Japan Rising Sun" in both English and Japanese. Plus, it's designed like traditional Japanese art!
Ramen Otaku Book
Remember how otaku can mean nerd about anything? Well, give the ramen otaku some love by helping them make the most of this tasty Japanese dish. Anyone obsessed with Japanese culture is going to love this book.
Sailor Moon Bracelet
Most oktaku love anime, most anime fans love Sailor Moon, and most Sailor Moon fans will love this minimalist hand stamped bracelet with the characters' names on it.
Manga Style Colored Pencils
Perfect for artists or fans of the adult coloring books! This set of high-quality pencils has the perfect colors for manga art.
Senpai Pin
A perfect gift idea to make senpai notice you or for someone to just show off how much of an otaku they are.
I Love Anime Shirt
What makes this one of the best gift ideas for an otaku is not only is it about anime, it's also written in Japanese so they can be even more of a lovable geek.
Otaku Magazine Subscription
Did you know there was an otaku magazine? Well, they probably did, so let them enjoy reading it every month so you can gift them a subscription.
Pocky Notebook
Inside this recycled Pocky box isn't tasty snacks, but it something an otaku will still love: a notebook! Fine, gift it with some real Pocky so they can have both.
Otaku Culture Book
This book is perfect for someone who wants to delve deep into the growth and change of otaku culture in the digital world. It explores a variety of otaku culture from different perspectives, making it an interesting read for those who are into more scholarly literature.
Sushi Sneakers
This super kawaii high top sneakers are perfect for an otaku or Japanese culture lover. They're in women's sizes, so keep that in mind when ordering.
Japanese Snack Box
Literally one of the coolest gift ideas for an otaku! This monthly subscription box is filled with Japanese snacks. It would make a great gift idea for someone who lives far away or who's at college.
Hopefully, your senpai, waifu, husbando, or aniki will love these gift ideas for an otaku! Sayonara!