Disclosure of Material Connection: Some of the links in this post may be "affiliate links." This means if you click on the link and purchase an item, I will receive an affiliate commission. Disclosure in accordance with the Federal Trade Commission's 16 CFR, Part 255. This site is a participant in the Amazon Services LLC Associates Program, an affiliate advertising program designed to provide a means for sites to earn advertising fees by advertising and linking to Amazon.
Long long ago, I discovered the wonders of San Diego Comic Con and have been addicted to the annual event ever since. I learned what to bring by trial and error, especially as the Convention grew full to bursting from one year to the next, and am getting packing down to science. I'd better, I'll never live down forgetting to bring sneakers twice. Equipping your new con attendee with this list of must-haves will make for a much more comfortable and prepared convention.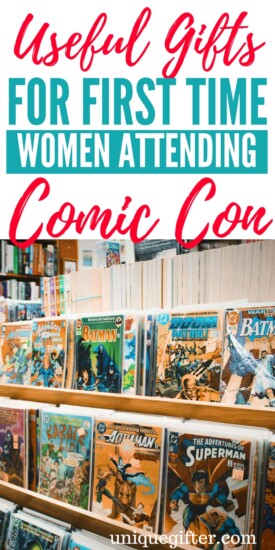 Useful Gifts for First Time Women Comic Con Attendees
Backpack
People bring all kinds of stuff to carry their gear – tote bags, purses, backpacks. I highly recommend going the backpack route for a slim crowd-navigating profile.
Really comfortable sneakers
Attending a comic convention? You're going to be on your feet a lot. Standing in lines, a lot. As well as being on your feet for long periods of time. You need the most comfortable running shoes you can get your feet into because they're going to be in there a good long while.
Wool socks
I cannot stress this enough – your feet want to be comfortable! They need to be comfortable! I've had great luck with wool socks. They keep you warm when you arrive way too early at the convention center, they're still comfy when you work up a sweat racing from one event to another.
Water bottle
Most kiosks sell water for $5 a pop. To stay a hydrated human with money still in your pockets, bring your own reliable non-leaky water bottle and keep it filled! I'd stick with a lightweight one, personally, no need for an insulated bottle when most rooms have cold water dispensers.
Charging pack
Some convention centers are amply equipped with outlets, many aren't. You don't want to run out of juice in the middle of taking a picture with your favorite creator, or while texting friends about plans to meet up.
Extra charging cables
This falls under "be prepared". Sometimes you can help someone out who forgot their charging cables, sometimes someone else can help you. I always bring an extra in case we have to charge off the same pack and run.
Plastic or mesh folders
When you get that special issue that you've been waiting to find or dig up that TPB in the 50% booth, you don't want it to get all dinged up before you get home! Slide it into your folder, and it'll stay pristine in your backpack.
Wallet
I have a normal everyday wallet with everything. That stays at home. Then I have my Con wallet, that holds 2 credit cards, ID, and some cash. Keep it cheap and simple, save your cash for the Enfu booth. (But I'm always an advocate for the RFID safe wallets.)
Slim Sketchbook
I'm not an autograph junky but meeting some of my favorite creators, especially the artists, offers an opportunity to ask for (or buy) a quick sketch that I can't pass up. I don't want to lose the loose leaf sketches when I travel, though, so I bring my handy little sketch book to hold the memories.
Packing Cubes
Maybe this is a staple for everyone now, but I've just landed on the cubey bandwagon recently. Whether you're packing a whole lot of cosplay gear to the convention or a ton of souvenirs back, these are incredibly useful.
Hoodie
Whether you're waiting in line for a panel, or you're having lunch in a convenient hallway, odds are very good that it's going to get very cold at some point during the convention. Bonus: snuggle into the hood for privacy when you're done talking to people.
Earplugs
Sharing a room? I made the mistake of agreeing to room with someone I knew but didn't know. Turns out, he snored and was a jerk. He snored all night, then set up his computer at the desk by the window, and not so incidentally right next to my head. He was tap tapping away at 5 am. BLASPHEMY. We are no longer friends. Don't let a secret snorer ruin your friendship, pack the plugs.
Lanyard
Most conventions give out free lanyards but when you've been to as many of them as I have, it's nice to have your very own, perhaps nerdy, lanyard that goes to every convention. I personally like to go a bit old school with mine. Bonus for those of us who didn't go away to college and pick up this trick – between cons, the lanyard is actually a great way to make sure your keys don't go missing in your bag, backpack, tote bag, etc. My lanyard does double duty!
Scarf
I run cold, possibly coldblooded, so this is applicable for any friends in the same boat. If you get cold easily, a scarf can be a bit of a lifesaver.
Hat with a brim
Keeps your head warm, shades your face from the sun – there's really no downside to having a hat in your back pocket. Especially in case you forgot to pack the next item.
Sunblock
It might seem odd to be focused on SPF when you're enjoying a convention that's hosted indoors but there's a lot of waiting in lines, inside and outside. It's really easy to forget and catch a sunburn when you're excited about the next panel or preview.
This section is special. If you're at the big doozy, you'll need these supplies for the overnighters.
Sleeping bag
For some folks, there are panels that you would camp overnight to ensure that you'll get in. We had to do it once to ensure that we'd get SDCC tickets for the following year. I'm too old for that anymore but it's kind of a rite of passage! We were totally unprepared – you shouldn't be.
Mittens
Even in always sunny San Diego, the temperatures can get right into your bones at night. Keeping your feet in wool and your hands in mittens are the best way to make sure you live to geek out another day.
Thermos
Whether your go-to is hot chocolate or coffee, we find it super handy to have a thermos for overnight stays. Usually at least one intrepid soul is willing to make a coffee run and it's nice to make it easier for them to fill a thermos and bring it back instead of balancing 15 to-go cups in a precarious stack of trays.
Travel Pillow
I don't know about you but if I'm like taking comfortable naps, and that means my head doesn't hit the concrete. An inflatable one saves space in your bag and protects your skull. Win-win!
Are you a veteran comic con attendee with a fantastic protip? Do you have any particular favorites that have saved your bacon when out and about at a convention?