Disclosure of Material Connection: Some of the links in this post may be "affiliate links." This means if you click on the link and purchase an item, I will receive an affiliate commission. Disclosure in accordance with the Federal Trade Commission's 16 CFR, Part 255. This site is a participant in the Amazon Services LLC Associates Program, an affiliate advertising program designed to provide a means for sites to earn advertising fees by advertising and linking to Amazon.
Merlin's beard! If you remember, they used to do a show at Walt Disney World where Merlin would come out and pick some adults to try and pull a sword out of a stone in front of the carousel. Or course none of them could get it out, and he would pick a special kid to help him. Lo and behold, the sword would come out of the stone. Quite a magical moment. And hopefully these sword in the stone gift ideas can bring some magic home!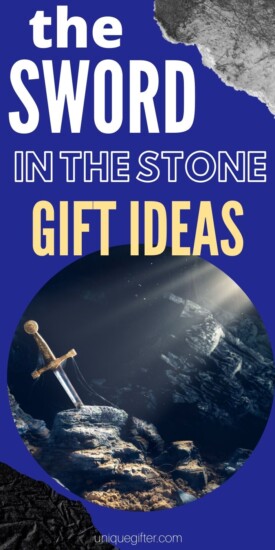 See also: Know someone in your life who's totally Disney obsessed? These are our favorite gift ideas for someone who can't get enough Disney in their life!
Our Favorite 'The Sword in the Stone' Gift Ideas
Share some of the magic from this well-loved Disney classic with some gift ideas to inspire you!
Merlin Spell T-Shirt
"Higitus Figitus Migitus Mum Prestidigitonium!" I have no idea what that means, but it comes in five colors.
Archimedes Iron On Patch
What a hoot! Add this inquisitive friend to a jacket or a bag.
Disney's Adventureland Book Featuring The Sword in the Stone
This is the perfect addition to a Sword in the Stone loving Disney fan's collection! It features a lot of the characters you can find reference to in the parks!
Inspired Key Fob and Charm
Featuring Merlin, Arthur, Madam Mim, and Archimedes. In case you don't have a magic spell to find your keys.
King Arthur Legend Tank Top
Great for reminding everyone at the gym you're a legend. A gorgeous graphic featuring song lyrics.
Disney Wisdom Merlin Ears
Based on the monthly Wisdom collection released by Disney. A lovely lilac pair of ears with color shifting sequins!
Vintage Movie Poster
This minimalist artist rendition of the movie is spectacular! Perfect for framing, comes in five sizes.
"It's Up To You How Far You Go" Necklace
A stunning silver piece for your jewelry collection! Add it to any outfit for a bit of whimsy.
Trinket Box Inspired by The Sword in the Stone
This little gold trinket box is a fun and eye catching gift to commemorate The Sword and The Stone! It's perfect for the fan who loves their collectibles, or has a bit of jewelry they want to keep safe.
Sword in the Stone Tri Fold Wallet
Truly one of a kind! The original theatrical release poster design- so adorable.
Madam Mim "I Hate the Sunshine" Shirt
Works for a trip to the parks or a sunny day. Definitely unlike any other shirt you will see at Disney World.
Merlin Spirit Jersey
A comfy way to show your favorite movie some love. Can be personalized with whatever color combination you wish!
Sword in the Stone High Tops
Comes in mens and womens size 5 through size 12. A gift they will never forget!
Disney Parks Sword in the Stone Mug
Part of a collection sold in the parks with a cute paintbrush handle. It's crying out to be added to your mug collection!
King Arthur Decal
Six different colors to choose from! Display that magical moment wherever you go.
Fun Merlin Accessory
This hilarious Merlin token is ideal for the creative Sword in the Stone fans out there! give them a whole new way to express themselves with this little guy.
The Sword in the Stone Little Golden Book
What better to add to someone's Disney collection than this lovely and nostalgic Little Golden Book about The Sword and the Stone? Bring some retro goodness into their life!
Archimedes Vinyl Clock
Made from an actual record and 12 inches in diameter. A unique way to personalize a space.
"He Shall Be Mine" Squirrels Button
A sweet gift for a significant other. Perfect for a jean jacket or a backpack.
This movie was the last film Walt Disney produced and that's part of what makes it so magical. I hope that we can all learn an important lesson from this movie; everyone has the potential to be great. Never underestimate those around you! I hope you enjoyed this list, please let us know which gift is your favorite in the comment below.