Disclosure of Material Connection: Some of the links in this post may be "affiliate links." This means if you click on the link and purchase an item, I will receive an affiliate commission. Disclosure in accordance with the Federal Trade Commission's 16 CFR, Part 255. This site is a participant in the Amazon Services LLC Associates Program, an affiliate advertising program designed to provide a means for sites to earn advertising fees by advertising and linking to Amazon.
We've scoured the plains for some of the most unique Safari themed gifts out there! These gift ideas for a Safari will both celebrate your friend or family member's love for African safari, as well as help them on their next trip!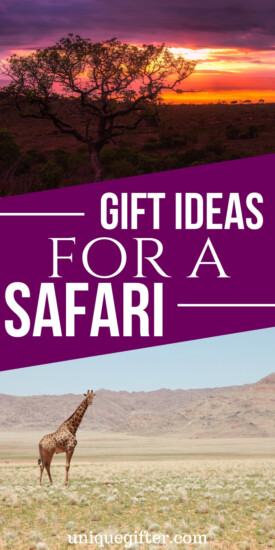 Check out these Gift Ideas for a Safari
These gifts range from the thoughtful to the practical, with lot's out there to explore dive right into our selection of safari themed gifts!
Mosquito Safari Hat
If you're headed out on a safari you'd better look the part! This sun hat features netting to protect you from small insects that call it their home. Versatile and trendy, this hate will really make you look the part!
African Antelope Horns
These authentic bone antelope horns are a really great alternative safari gift idea for lovers of the african wilderness. Adventure lovers will find a place for it in their den or study as a conversation starter!
Emergency First Aid Kit
You can never guess what's up ahead! Stay prepared on your next safari trip with this first aid kit! A handy tool that makes a great gift for any safari lover.
Camo Utility Vest
Camera gear, rations, and tools all need somewhere to go! Grab one of these camo utility vests to find a place for all of your safari gear! Looking the part is always important, and this trendy solution is a lifesaver on safari trips.
Africa Photo Frame
Photos make great memories, this picture frame features multiple spaces for cameos of your trip and some of the friends you made along the way. Use it to make a safari themed photo gift for your favorite safari lover as well!
Zoom Lens
Aspiring nature photographers headed out on a safari will be sure to pack their most coveted piece of gear, a zoom lens! Give the amateur safari enthusiast something to really make their trip special with this must have piece of kit!
Portable GPS/Radio
This handheld gadget is a top of the line device for those venturing out onto a safari trip. Featuring GPs, VHF calling, a light and a radio this baby has it all! Give a safari gift that is both practical and well loved like this nice piece of tech.
Mt. Kilimanjaro Wall Art
This map of the world famous mountain will grace the walls of your favorite safari traveler and makes a great decor gift! It will have them reminiscing about their travels when they're not out on a trip!
Rations
One thing you don't want to run short on a safari trip is food! These rations are designed for emergencies and pack a lot of calories in case you get lost. It also comes with drinking water pouches which are great for peace of mind. Going without is not something you should have to worry about on the trip of a lifetime.
Baby Safari Gifts
These bibs offer the best in a safari enthusiast's arsenal; practicality and style. Give the gift of the safari for young giraffe lovers with this set of 4 safari animal bibs.
Canvas Rucksack
No safari trip is complete without this timeless canvas backpack. It's where you'll house all of your essential supplies and look stylish doing it. It also makes a great gift to help your friends upgrade before their next trip.
Binoculars
This pair of binoculars is a somewhat underappreciated piece of safari gear! You'll need it to observe the vast landscapes offered by the natural beauty of the African wilderness. Grab one as a gift to give to your friend or family member for their next trip!
Mosquito Net
A hat isn't all you'll need to save yourself from the mosquitos! This net is the ultimate must-have for safari goers. Large enough to fit a sleeping bag and supplies underneath, it would make a great addition to a safari themed gift basket!
Camera Case
This compact camera case features multiple storage solutions in one package. A spot is included for a camera, phone, GPS and whichever other gadgets and batteries you might need along the way!
Safari Mug
Mugs are always a surefire gift for any fan of just about anything, and best believe there's a mug out there for them! This mug features a giraffe motif against a canvas colored and lovely detailed mug!
DJI Phone Mount for Photography
This is a sophisticated handstand stabilizer for cell phones. It's an amatuer photographers dream, and you'll be taking lots of photos on your safari! Great as a surprise gift for your friends or family heading out on their next journey.
Botswana Coin Earrings
These elegant coin earrings are a safari fan's dream come true! A stylish way to show off your love for the African wilderness and culture, they'd make a great gift for any safari enthusiast!
Handmade Model Safari Truck
A cute and functional toy, this handmade Safari truck is a recognizable and well loved image of any safari traveler's journey! Makes a great souvenir, desk ornament, or toy for any safari lover!
Stylish Tanzania Poster
This piece of wall art combines pop-style with a gorgeous and memorable Tanzania landscape. Featuring it's famous mountain and urban skyline, this makes a great piece of decor for any lover of African culture and travel!
Thanks for checking out our top gift ideas for a safari! Let us know if you picked up any pieces of gear as a gift or for your next trip, happy travels!