Disclosure of Material Connection: Some of the links in this post may be "affiliate links." This means if you click on the link and purchase an item, I will receive an affiliate commission. Disclosure in accordance with the Federal Trade Commission's 16 CFR, Part 255. This site is a participant in the Amazon Services LLC Associates Program, an affiliate advertising program designed to provide a means for sites to earn advertising fees by advertising and linking to Amazon.
20 Gift Ideas for Stargazers
In today's hustle and bustle, stargazing and astronomy are almost, dare I say, obsolete. However, there are still a few people out there who enjoy the act of stargazing and constellation hunting. If you know someone who fits that bill, here are 20 unique gift ideas to help them sustain their stargazing habits! These gift ideas for star gazers are thoughtful inspiration for those who just can't take their eyes off of the night sky.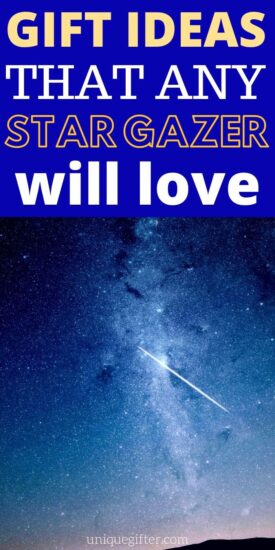 The 88 Astronomical Constellations Card Deck
These are a great starting point if they're looking to identify any specific constellations in the night sky!
Constellation Wall Hanging
Bring a little stargazing indoors as a simple home decor option.
Rechargeable Moon Light
Perfect for a bedside table or desk decoration.
Constellation Rocks Glass
Makes it so easy to enjoy their favorite beverage with their constellations.
BOOK: The Stargazer's Guide to the Night Sky by Dr. Jason Lisle
For the amateur astronomer, from age 10-100! A great resource for anyone looking to understand what they're seeing in the skies.
This "Stargaze More, Worry Less" T-Shirt
Sounds like a good life mantra – whether or not you consider yourself a stargazer.
A Star Map of a Specific Place & Time
Want to commemorate a special time in their life? Enter a specific date and location for a map of the night sky on that particular date!
The Celestron SkyMaster Binoculars
On the pricier side, these are powerful lenses with 25x magnification. Heavy duty, durable, and waterproof as well!
An "Astrophile" Print
A simple, black and white print that's easy to display anywhere in the home or office.
Brass Star & Moon Ring
This adjustable brass ring fits a more casual look, but could also go with a dressier outfit.
The Night Sky 20°-30°N Star Finder Map
A great starting tool for any astronomer or stargazer who wants to know what they're looking for in the cosmos!
A "Star Gazer Desert Patch" for a Backpack or Jacket
A colorful iron-on patch that's easy to attach to a backpack or other fabric.
This Night Sky: 50 Postcards Set
This set of postcards is a great gift to go in a stocking or as a small add-on to a larger gift.
A Phone Case of the Night Sky
They can take a little bit of the night sky with them everywhere they go!
Sky Projection Lamp
This lamp projects stars right on to your ceiling for your own personal view of the night sky. For the star gazer who can't always make it outside at night.
Glow in the Dark Constellation Blanket
This warm and cozy blanket glows in the dark to remind your favorite stargazer of the night sky above each and every time they snuggle up!
3D Glass Electric Galaxy Wax Melt
Nothing quite makes an impression like the smell of freshly melted scented wax! It envelopes the house in a warm and tantalizing smell, and this pedestal adds a fun 3D visual element as well.
Hardback Star Chart Journal
A memorable place for them to recount some of their favorite stargazing experiences.
Taking in the stars on a beautiful summer evening is one of life's most simple pleasures. Raise the stakes a little bit with one of these gifts and make your favorite stargazer's day (or night)!