Disclosure of Material Connection: Some of the links in this post may be "affiliate links." This means if you click on the link and purchase an item, I will receive an affiliate commission. Disclosure in accordance with the Federal Trade Commission's 16 CFR, Part 255. This site is a participant in the Amazon Services LLC Associates Program, an affiliate advertising program designed to provide a means for sites to earn advertising fees by advertising and linking to Amazon.
Most of us who love writing (myself included) got the bug at a pretty early age. I know I would have loved these gifts as a kid!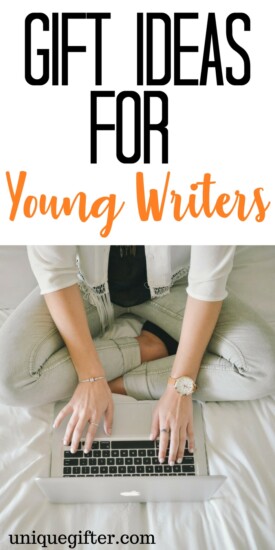 Gift Ideas for Young Writers
Me Journal
This journal is a great idea to get kids writing regularly. It prompts them to fill something out every day.
Young Writer's Handbook
Everything they need to know to get started writing is in this great, kid friendly reference guide.
Book Creating Kit
Kids can create their own story with this custom book creating kit. What child hasn't wanted to do this at some point?
Story Starter Journal
This journal has thousands of possible story combinations and gets budding young writers into the mindset of creating their own work of fiction.
Fun Pens
Having something fun to write with makes writing that much more fun!
642 Things to Write About
I actually own the adult version of this book so I can vouch for it being pretty cool. A great way to promote and inspire creativity.
A Writer's Notebook
This book is designed to help young writers use what they see around them as inspiration. That includes note taking and other useful writer skills.
Story Cubes
This is a fun game for aspiring writers or any kid that enjoys being creative. There's a tonne of different games you can do with them so the possibilities are endless.
Magnetic Poetry
Writing doesn't have to be a novel or even on paper. These fridge magnets are a great way to get the whole family involved in writing little stories, poems, and messages on the fridge.
Blank Comic Book
Graphic novels are still writing! If that's more their style, this book is a great gift.
How to Tell a Story Book
This book is great for walking young writers through the basics of how to tell a story in a kid-friendly way.
Future Bestselling Author
The perfect gift for young writers who have their sights set high. Sure, they're probably not drinking boatloads of coffee out of this thing like us grown up writers, but they'll still love having their very own mug.
Create Your Own Books
This one is for very young writers. Preschoolers and early elementary students will have a blast using this kit to create their very own hardcover books.
How to be a Young #Writer
This book, designed for older kids, has practical advice for becoming a writer. Topics include how to get over your fears and structuring your plot.
Once Upon a Time Game
This card game is great for writers of every age. You tell a story that contains elements that are in your cards and try and gear it towards your ending card. Very creative!
Pencil Case
Give them a place to store all their writing supplies with a cute pencil case. Pick something that fits their personality and, even better, fill it before you gift it.
Writer's Block
Help young authors break through writer's block with this creativity cube. The cards are kid-friendly.
Writing Shirt
Get them something silly to wear with this writing shirt.
Inspirational Art Print
This art print is great for young authors. Inspire creativity and get them writing what they want to read.
Chromebook
Add some technology to their writing arsenal with a lightweight, inexpensive netbook. They're perfect for writing.
It's great to encourage writing in kids so they don't lose their passion as they get older.