Disclosure of Material Connection: Some of the links in this post may be "affiliate links." This means if you click on the link and purchase an item, I will receive an affiliate commission. Disclosure in accordance with the Federal Trade Commission's 16 CFR, Part 255. This site is a participant in the Amazon Services LLC Associates Program, an affiliate advertising program designed to provide a means for sites to earn advertising fees by advertising and linking to Amazon.
Anaheim Ducks Fan Gift Ideas
These are some of the sportiest anaheim ducks fan gift ideas out there! Take a shot with one of these unique and one of a kind ducks hockey themed gifts! Let everyone know who their favorite hockey team is on the ice and in the stands, and don't forget to tell em' who sent you!
Score with These Anaheim Ducks Fan Gift Ideas
From the funny to the practical these are some awesome Ducks hockey gifts that just keep on giving. That being said, you're in store for some really unique gift ideas you can't find anywhere else. Take a look and see what inspires you, there just might be a goal of a find in here!
Ducks NHL Cart Bag
Did you know golf is one of the most popular secondary sports enjoyed by hockey players? Grab one of these awesome ducks branded golf cart bags to make sure your favorite fan is kitted out to the max!
Anaheim Ducks Two-Toned Gloves
These warm and cozy gloves score some real style points with Ducks fans too! Keep warm during your next home game at the rink with these fantastic branded gloves.
Vintage Ducks Pin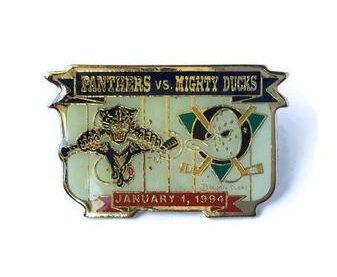 This is the ultimate vintage Ducks fan gift idea! Featuring the 1994 Ducks vs Panthers game, it's a memorable and collectable gift!
Mighty Ducks Snapback Hat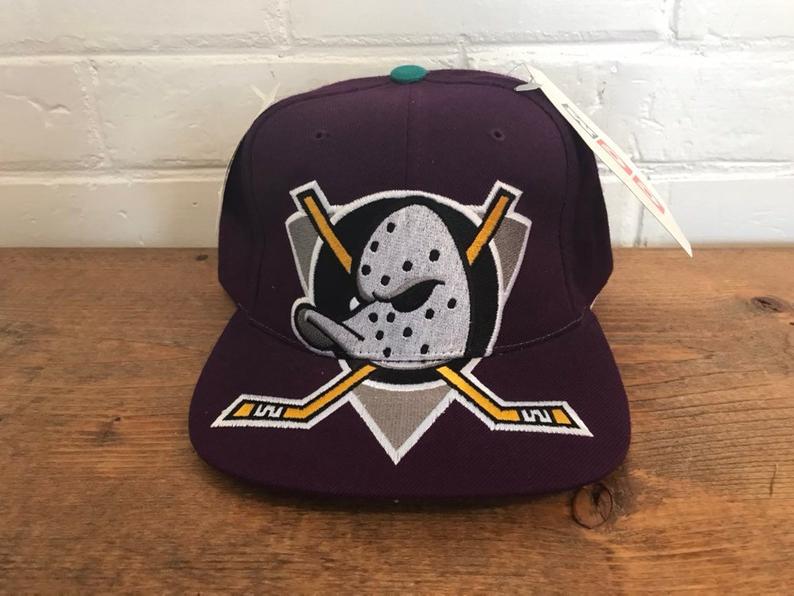 Stay stylish and true to your team with this retro mighty ducks cap. Whether you're preparing for the next game or representing your favorite team on the streets, this is one awesome piece of apparel.
Anaheim Ducks Dog Collar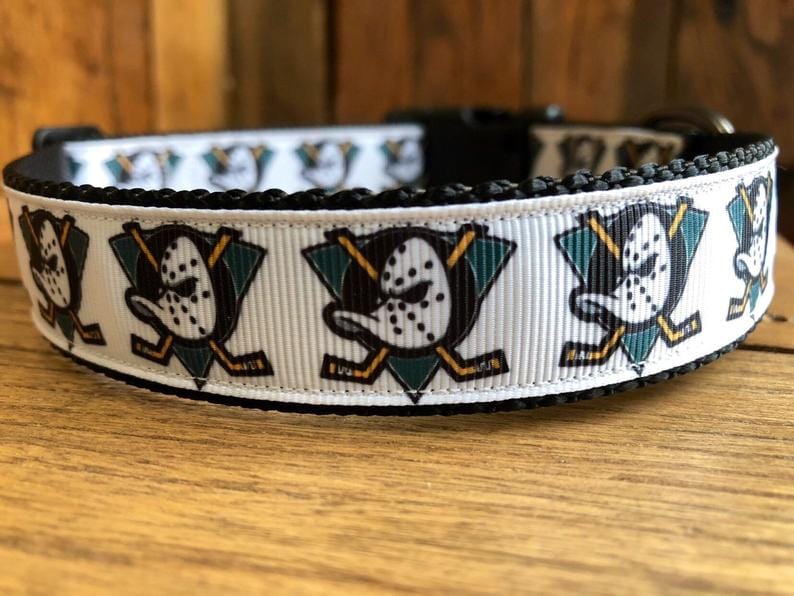 Who said the family dog couldn't join in on the fun? This is one head-turning Anaheim Ducks pet gift that will be a huge hit on social media!
Anaheim Ducks Mouse Ears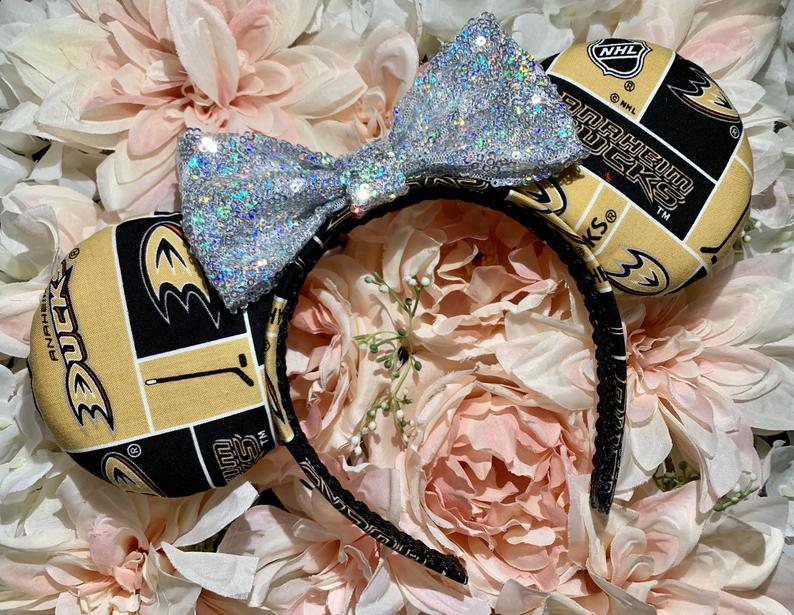 The Ducks represent Anaheim, what else is the city known for? Disneyland of course! Grab your favorite Duck's fan something any hometown fan would love to have! This is a great handmade ducks fan gift idea.
Men's Timex Ducks Watch
There's never a bad time to represent the Anaheim ducks with this stylish and savvy men's watch! Great for the office or the hockey rink, this is a great Ducks accessory gift for him!
NHL Ducks Branded Duffle Bag
This oversized duffle bag is the ideal bag for transporting your gear from the rink to home! It also makes for a great travel bag, so everyone knows who your favorite NHL team is!
Anaheim Ducks Pet Bandana
This bandana is an awesome pet accessory for the die hard anaheim ducks fans out there! Can't think of something special or funny for the Ducks fan who has it all? This could be the one!
NHL Ducks Mascot Ornament
Ring in the holidays right with this one of a kind Christmas tree ornament you won't find anywhere else! Your friends will have a real howl at this little piece of collectable Anaheim Ducks memorabilia.
Anaheim Ducks Pint Glass Set
This set of two pint glasses is a great way to outfit any Ducks fan's home bar! Pour your favorite beer into your favorite teams cup with these official NHL pint glasses!
Ducks NHL Brand Grill Set
A BBQ set for the true fans, this is exactly what he needs during game time! This is a quality BBQ set that makes a great practical gift idea for any Anaheim Ducks fan!
Ducks NHL Bop Bag
Ducks aren't living up to your expectations this game? Let a few too many goals through the net? Take out your frustration with this hilarious Duck's player bop bag that will bounce right back with every punch!
NHL Logo Beer Cozy Set
Featuring one zipper bottle and can cozy, this is a reliable Anaheim Ducks fan gift idea! Mandatory for sports fans of any team, a classic branded cozy set is both whimsical and practical, the perfect goal!
Ducks Baby Onesie and Booties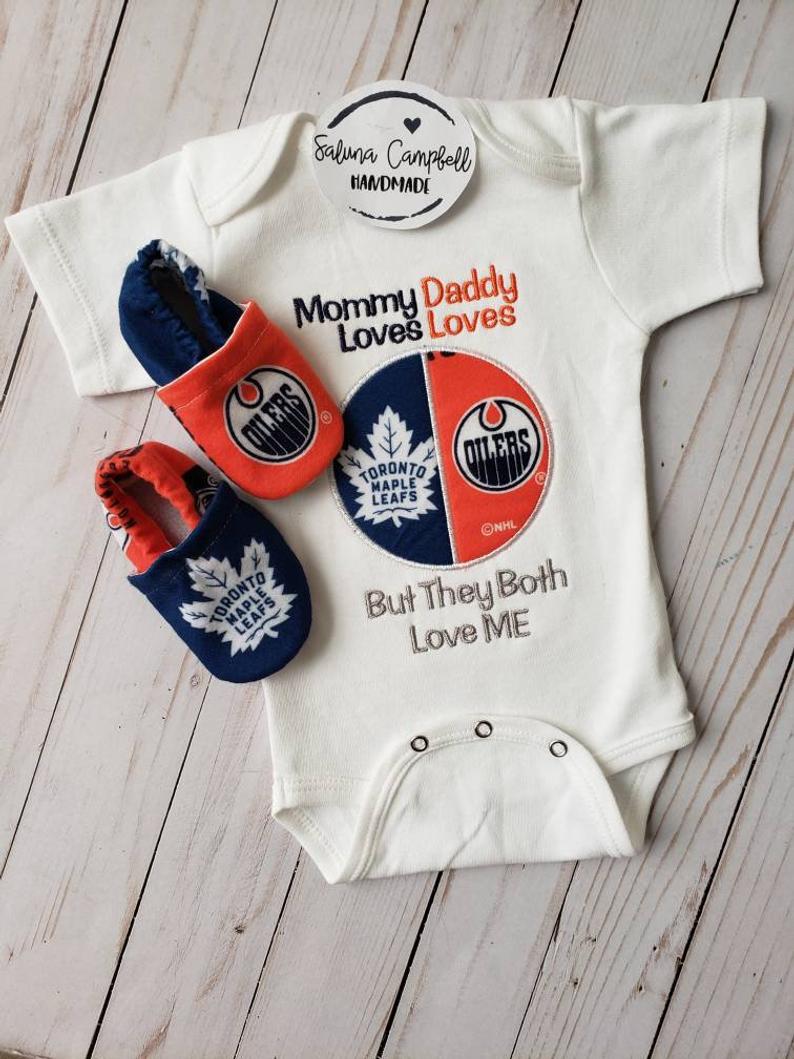 For the young Anaheim ducks fan who has it all, this onesie is a real hoot! It proclaims mommy and daddy's favorite hockey team all in one. This is one funny Ducks hockey gift for the fan who has it all, and a mini fan on the way!
Anaheim Ducks Art Print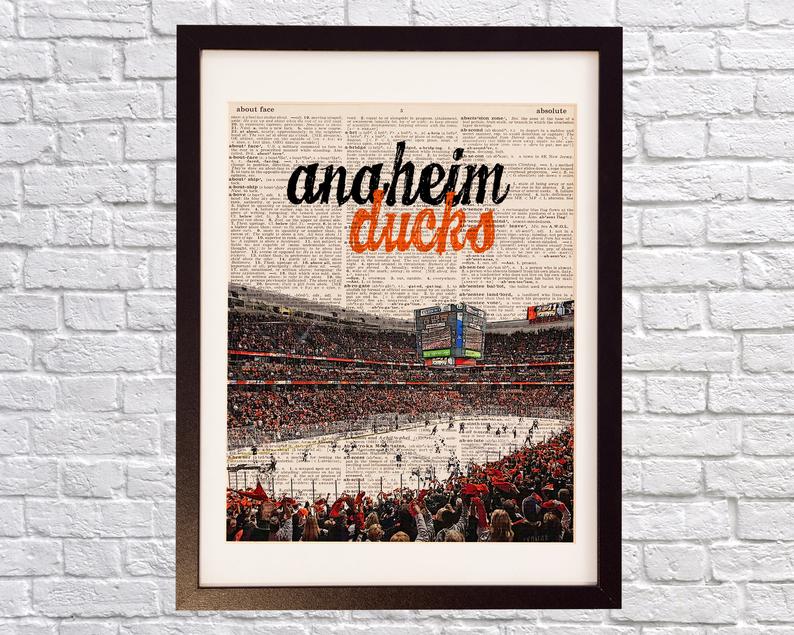 Spruce up your favorite hockey fan's man cave with this classy and stylish art print. It features The Pond! Any Duck fan would be proud to hang this eye catching print in their leisure space.
Anaheim Ducks Bikini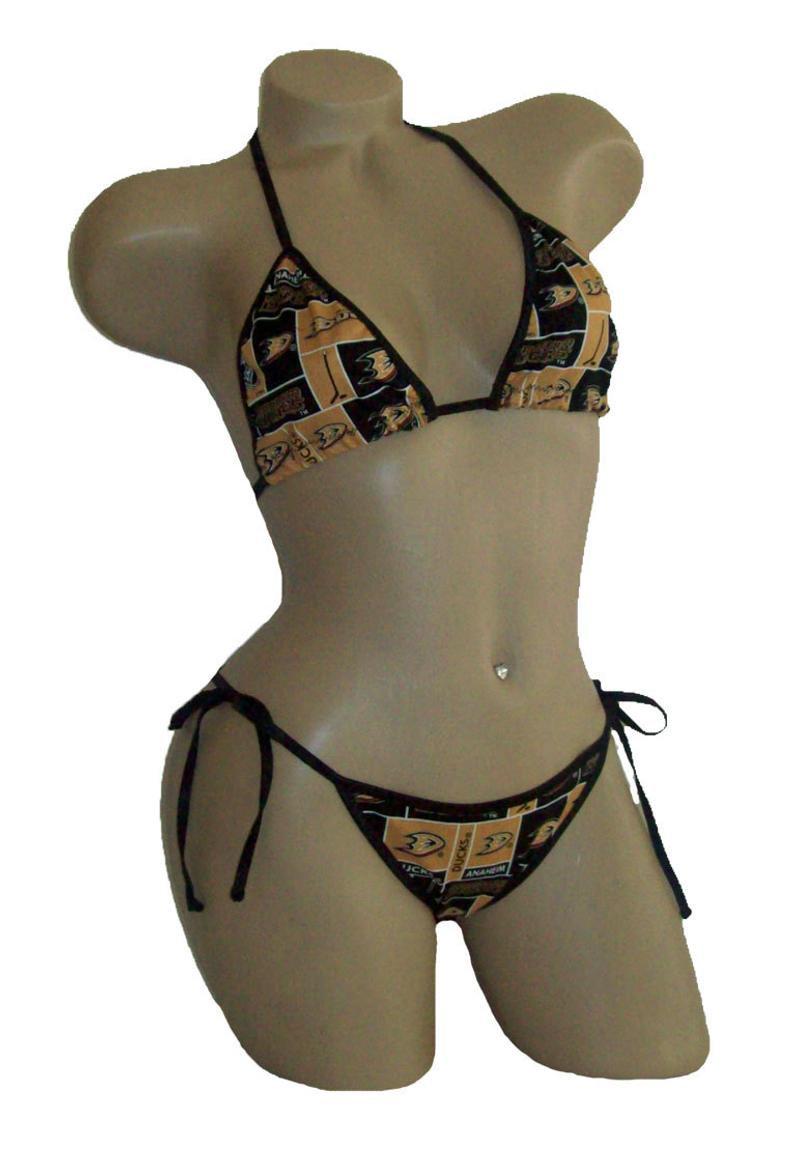 Now this is a unique gift idea for Anaheim Ducks fans! A custom made bikini, it features the iconic Ducks hockey logo print across each section. Just because you're at the beach doesn't mean you can't show your Ducks pride!
Anaheim Ducks Stadium T-Shirt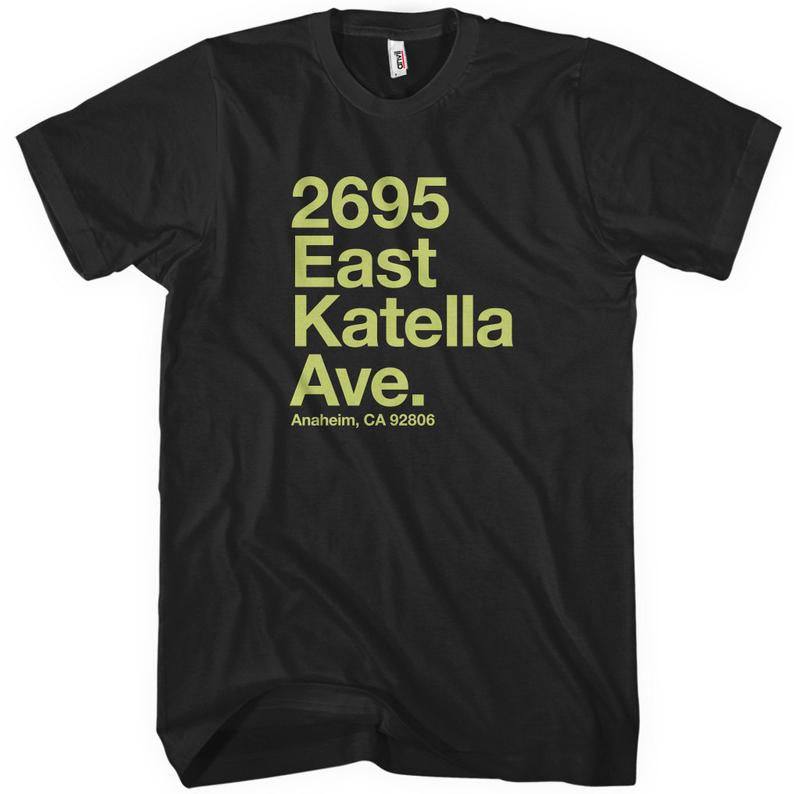 This custom T-shirt is a handmade piece you can't find in stores! Give the gift of style with this awesome T-shirt that features the address of the Duck's stadium located in Anaheim, CA!
Thanks for checking out these truly one of a kind gift ideas for Anaheim Ducks fans! Hopefully you'll get it to them before their next Ducks home game. One of the best parts about choosing out of these unique hockey gift finds is the inspiration to find something truly exclusive! Until next time, Go Ducks!