Disclosure of Material Connection: Some of the links in this post may be "affiliate links." This means if you click on the link and purchase an item, I will receive an affiliate commission. Disclosure in accordance with the Federal Trade Commission's 16 CFR, Part 255. This site is a participant in the Amazon Services LLC Associates Program, an affiliate advertising program designed to provide a means for sites to earn advertising fees by advertising and linking to Amazon.
Pittsburgh sports are bigger than ever, and with the Pirates picking up some new fans this season why not welcome them properly? These are our favorite Pittsburgh Pirates fan gift ideas to get you ready for the upcoming season in style! If you're looking for inspiration from your favorite franchise in the league, we've got you covered with the most unique collectibles, merch and player gear! Show off your new gear at the next game, or watch party!
Our Favorite Pittsburgh Pirates Fan Gift Ideas
Check out our list of Best Pittsburgh Pirates fan gift ideas below.
Pittsburgh Trivia Board Game
Put your true fan knowledge of Pittsburgh to the test with this ultimate fan challenge game, "You Gotta Know Pittsburgh!" It's packed with sports knowledge to challenge even the most loyal fans.
Pittsburgh Pirates Face Mask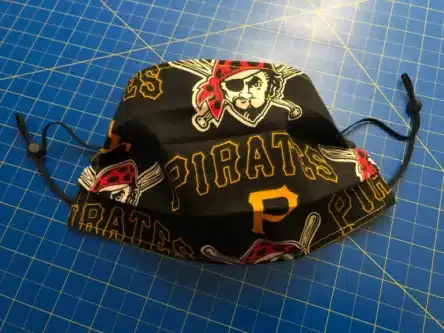 This facemask lets you show off your Pittsburgh pirates pride while keeping dust out of your nose and mouth! Great for yard work, or attending a game and being responsible by covering up your cold!
Pittsburgh Pirates Raise It T Shirt
This fan shirt depicts a pirates themed flag, great for celebrating the team on or off the stands! Go your day-to-day while showing off your Pittsburgh baseball pride!
Pittsburgh Pirates Cap
This adjustable ball cap says it all! A Pirates fan through and through, this is a great everyday wear or exactly what you need to round off that awesome gameday look!
Pirates Decals
Great for creative gifters, these decals can help you decorate just about any gift, laptop or car with some good old fashioned Pittsburgh Pirates team pride! Display it wherever you want people to know how dedicated you are to the team.
Pittsburgh Pirates '79 World Series DVD
This DVD chronicles the Pirates 79' World Series win, documenting the historic victory. It's yours, or your favorite fan's to own to honor the win!
Pittsburgh Baseball Bag
This is an official MLB sling bag. Do it in style with this branded bag and show off your love for the Pirates!
Pirates World Champions Series
This adorable little bobblehead celebrates the team's world series wins! He'd be a great desk ornament, as there's only 1,000 produced!
'47 Retro Pirates Hat
This hat comes straight out of the MVP collection! It features the throwback 50's era Pirates logo that has all of the vintage charm you could possibly imagine.
Pirates Lawn Chair
Perfect for those backyard BBQ and watch parties! Show off your love for the Pittsburgh Pirates with this lawn chair.
Which Pittsburgh Pirates gift idea sparked some inspiration for you? Let us know below. Thank-you for checking out our list!