Disclosure of Material Connection: Some of the links in this post may be "affiliate links." This means if you click on the link and purchase an item, I will receive an affiliate commission. Disclosure in accordance with the Federal Trade Commission's 16 CFR, Part 255. This site is a participant in the Amazon Services LLC Associates Program, an affiliate advertising program designed to provide a means for sites to earn advertising fees by advertising and linking to Amazon.
Geology is the study of rocks and minerals. Do you have a geologist in your life that absolutely rocks your world? Well these gift ideas for geologists are so awesome, they might just cause an earthquake in someone's life.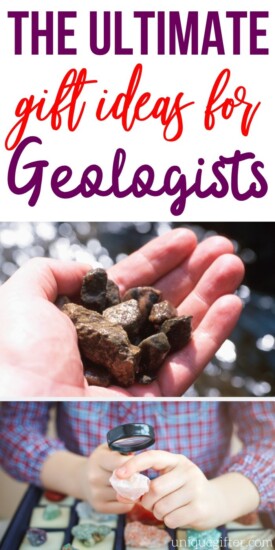 Gift ideas for Geologists
These geology inspired gift ideas would make great presents for a geologist's birthday, graduation, or to celebrate a holiday like Christmas. Or send this gift guide to your favorite geologist so they have some inspiration then next time they want to treat themselves to a geology gift.
Rock and a Hard Place Book
Have you ever been stuck between a rock and a hard place? Hopefully, the geologist you're shopping for hasn't either. But they will like this book that tells the tale of an American geologist's adventures in Africa.
Wait, I See a Rock Hoodie
Why do rock lovers have to stop and pick up every cool rock they see? If the geologist in your life acts this way, they'll probably wear this hoodie with pride. It would also be a fun gift idea for a geology professor.
Rock Pick
A hands-on geologist is going to need tools. Even if they're already decked out with the right equipment, it's nice to have spares in case something wears out or breaks.
Folding Magnifying Glass
Although a professional geologist probably already has all the optics they need, magnifying glasses like this are still fun gift ideas for geologists. They can carry it around when not at work just in case a cool rock comes their way.
Rucksack/Backpack
If the geologist in your life often goes out in the field then a sturdy backpack is a must. Give them an upgrade (or spare) with this canvas bag. There's plenty of pockets and storage for all their geology tools!
Funny Geology Shirt
A perfect gift for a geologist with a sense of humor. Do you get it? Tectonic plates make fault lines…
Rock on Geology Game
A neat gift idea to give to a geology loving family! Parents and kids can play together while learning all about rocks and minerals. This could also be a fun way to get the child of a geologist interested in their parents' work.
Geology Art Print Set
If you're trying to shop for a geologist that has everything, this set of art prints is the perfect solution. Frame them up and gift them so they're ready to hang in their home or office.
Funny Geologist Mug
Everyone loves mugs! This one gently teases the geologist in your life. It says "Never volunteer to help a geologist move" and the boxes are labeled with all varieties of rocks.
Amber Bracelet
These pretty bracelets are a unique gift idea for a geologist. The 'stone' is actually natural amber and it's set inside crushed pyrite which has a gorgeous sparkle to it.
Leather Field Case
Make going out in the field a little bit easier (and better looking). This leather field case is ready to hold all their geological findings or anything a geologist needs while working outdoors.
Geology Pencils
This set of pencils all have different sayings engraved on the sides. Some of them include "Don't take me for granite!" and "Of quartz I love geology". They'd be good as a serious gift or something for a white elephant party.
Ammonite Earrings
There's nothing quite as beautiful in the natural world as nautilus shells. In case you're wondering: yes, these are made from actual ammonite fossils.
Geologic Time Mug
Nothing tells the history of the world as accurately as what's buried in the earth. Geologists or any earth history enthusiast will love this mug that shows the history of the earth through layers of rock and fossils.
Safety Sunglasses
Being safe while out in the field is super important for geologists. Especially if they're digging through the dirt! You can still look stylish while being safe, though, and these Oakley sunglasses make it happen.
Timefulness Book
This book might be better given to a geology enthusiast rather than a geologist themselves, although a geologist might still enjoy it. It discusses how thinking like a geologist can have an impact on the world through an understanding of Earth's temporal rhythms.
Geology Art Poster
This geological history art print has a cool retro vibe to it that would look great in a geologist's home or office. It's also an instant download for a great last-minute gift idea!
All-Weather Geological Field Guide Book
There's nothing more depressing than having your notes get soggy while out on a dig. A book like this is super handy for logging important information for a geologist and the pages are both water and dirt resistant.
Hopefully, the precious gem in your life will love these gift ideas for geologists. Just make sure you check that they actually fieldwork before buying some of the more outdoorsy gifts – not all geologists go on expeditions!