Disclosure of Material Connection: Some of the links in this post may be "affiliate links." This means if you click on the link and purchase an item, I will receive an affiliate commission. Disclosure in accordance with the Federal Trade Commission's 16 CFR, Part 255. This site is a participant in the Amazon Services LLC Associates Program, an affiliate advertising program designed to provide a means for sites to earn advertising fees by advertising and linking to Amazon.
Dads are notoriously hard to shop for. They're pretty selfless and when they do have some extra cash they usually buy the things they want themselves. They also won't tell you when they don't like something, so I'm here with 10 things you should absolutely not buy your dad this Christmas to help.
10 Things You Should Absolutely Not Buy Your Dad This Christmas
If you're stumped for dad and planning on getting him a generic gift – stop! But don't worry, if you dad gift plans are on this list I've got you with alternatives gift ideas for dad.
Don't: Give dad a tacky mug

Sometimes there's a time and a place for tacky mugs but if you're giving your dad one because you just don't know what to get him now is not that time. I just watched my mom clean out her cupboard and her fiancée had like 6 novelty mugs from his kids he never uses. Don't do that to your dad.
Try instead: Some specialty coffee or tea

Depending on what dad drinks make his mornings a little bit better with some nice coffee or tea. It's great because it doesn't add more junk to his house and he might actually use it.
Don't: Gift dad generic BBQ accessories

OK we get it, dads like to BBQ. Well, they do, but that's not the point. They don't need novelty BBQ sets to do it.
Try instead: A great grilling cookbook

Yeah, most recipes are online, but there's something still nice about having a book. Get your dad a grilling cookbook that features his favourite ways to grill or types of meat.
Don't: Get dad an engraved watch

One of the most "dad" gifts of all time, the engraved watch is a terrible gift idea. There's only one time you get dad an engraved watch: when he specifically asks for a certain type of watch and you want to make it extra special. Otherwise, don't do it. Especially if he already has a watch he loves.
Try instead: A smart watch or engrave his current watch

If dad doesn't have a watch and you're thinking about getting one, he might enjoy a smart watch instead. Or, if he already has one, consider an upgrade for him. In my experience most dads love tech toys. Another option is just having his favourite watch engraved with a special message.
Don't: Gift dad a dress shirt

Want to take a guess at what the number one most returned gift is? Ding ding ding! It's men's shirts. They're so hard to size correctly. Just pass and get your dad something else.
Try instead: Fun dress socks

If your dad likes to dress nicely, but you can't gift him a dress shirt, nice socks are a great, sure fit substitute. They make so many kinds of dress socks, so there is something fun, or funny, out there that dad will love.
Don't: Get dad books he'll never read

My dad only reads one type of books: Bathroom readers. Unless your dad is an avid reader, by which all means get him something he'll love, you can probably skip getting your dad a book for Christmas.
Try instead: A magazine subscription

Unlike books, magazines are much easier to pick up and read. They can be taken into the bathroom or looked over with a cup of coffee. The best part is that there are so many options you're sure to find something your dad is interested in.
Don't: Give dad generic or cheap tools

Most dads like to have at least some tools, even ones that aren't very handy. And chances are your dad already has some. Generic and especially cheap toolsets aren't great gifts for dads.
Try instead: Tools he actually wants/needs

Brands matter with tools, so look around and listen to your dad to see what he prefers. Some great ideas when you don't know what dad needs are a high-quality screwdriver and tool storage bags.
Don't: Buy dad a tacky dad sign

He's probably going to laugh and hang it up, but that doesn't mean he'll love it. Spare your dad having to hang up a sign like this and skip it.
Try instead: Nice, custom dad signs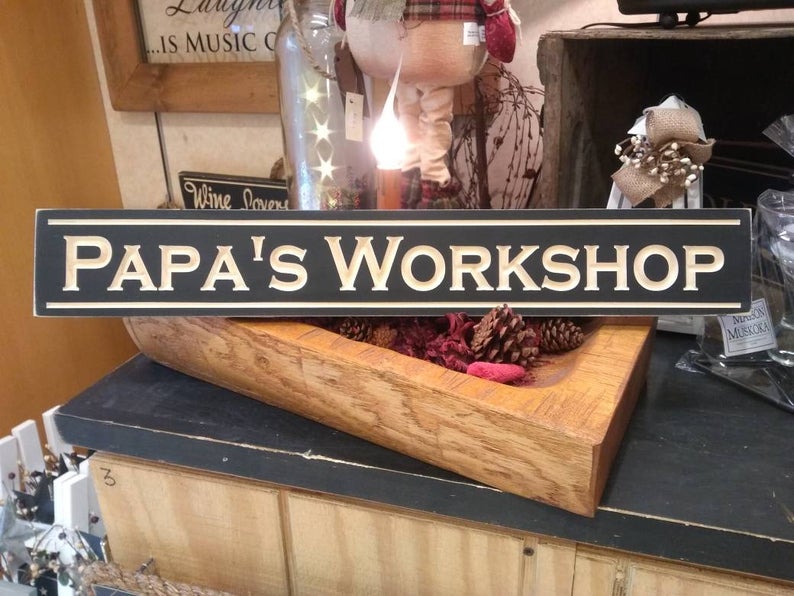 If you really want to get your dad some kind of sign to hang up, opt for something that's well made and stylish. Etsy's and craft sales are great places to look for these sorts of things.
Don't: Gift dad a DVD

Although it's nice sometimes to own a movie, there's something about being a dad that attracts DVD gifts. Don't add to his collection of film he's only watched once by gifting your dad yet another movie from the $5 bin.
Try instead: Buying a 1-year subscription to something

You can either pay for your dad's streaming service he already loves for the next year or buy him something different so he can have both. Either way, it gives a lot more entertainment than a DVD does without taking up shelf space.
Don't: Gift dad single-use small appliances

"Dad likes breakfast sandwiches/hot dogs/cake pops/cotton candy, so let's get him a [insert thing] maker for Christmas!" – You, probably, being wrong. These appliances are fun, but they end up collecting dust after they're used once or twice.
Try instead: Dad's favorite snacks

If your dad is like my dad, then he probably likes to eat snacks, and he wants them all to himself. Give dad all the treats he's not allowed to have most of the time and let him indulge a little. After all, it's Christmas!
Don't: Get dad something that gives him a job

Don't use Christmas gifts as a way to drop some subtle hints to your dad. Christmas is supposed to be fun! Don't give dad a Christmas gift that's super practical, makes him work, or is generally something he wouldn't be excited to find under the tree.
Try instead: Something fun!

All dads are different, so you decide what fun means to your dad. Whether it's a new Xbox, a cool board game, an excellent Lego set, sports equipment, tickets, etc., make Christmas fun for your dad through your gift-giving.
Hopefully, you're educated on the things you should absolutely not buy your dad this Christmas and instead are going to be the best kid ever! So what are you getting your dad for Christmas?