Disclosure of Material Connection: Some of the links in this post may be "affiliate links." This means if you click on the link and purchase an item, I will receive an affiliate commission. Disclosure in accordance with the Federal Trade Commission's 16 CFR, Part 255. This site is a participant in the Amazon Services LLC Associates Program, an affiliate advertising program designed to provide a means for sites to earn advertising fees by advertising and linking to Amazon.
Most of us might see raccoons as annoying, trash digging animals, but there are still plenty of people who like these animals. When I think of a raccoon, besides envisioning them digging through the trash, I see that commercial where the woman invites the raccoon in thinking it's her cat. Here are some ideas to get the creative juices flowing on a gift for that special person in your life who can't get enough of these animals…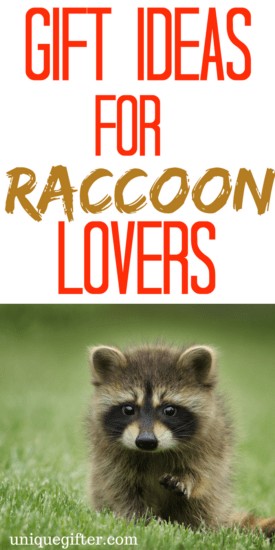 Raccoon Slipper Socks
Perfect way to get things done around the house without risking slipping on the floor and hurting themselves, is with the raccoon slipper socks that are slip-resistant.
Black Raccoon Tote Bag
Tote bags are handy for many reasons, and there's no reason they can't be cute. This black raccoon tote bag is both functional and attractive.
Raccoon in Pocket Shirt
Adorable little raccoon peeking out of the fake pocket in the shirt will be a hit with everyone who looks at the shirt, but especially your raccoon loving friend.
Raccoon Earrings
While mostly for fun, these raccoon earrings are great for all ages and to wear anywhere they go.
Raccoon Throw Pillow Case
Spice up their living room or bedroom decor with a raccoon throw pillowcase to show off their love of the animal.
Raccoon Gift Box Christmas Ornament
Ornaments of our favorite things, whether they be pets, objects, or animals in general, are always fun to have hanging on the tree and glancing at during that festive time of year.
Raccoon Stuffed Animal
No matter if they are a kid or an adult, a stuffed raccoon will go nicely sitting on their bed, dresser, nightstand, or couch.
Raccoon Stamp
Just think about it… they can sign their signature at the bottom of letters, or create elaborate pictures with a raccoon stamp like this.
Raccoon Print
Frame this raccoon print for them to hang up on their wall, and make their day!
"My spirit animal is a trash panda" Shirt
Raccoons get a bad rap, or do they? Some people call them trash pandas. If your friend loves raccoons, they may want to shed a positive light on them with this "My spirit animal is a trash panda" shirt.
Silver Raccoon Ring
Perfect with any outfit, as well as accompanying any other jewelry, the raccoon lover in your life will absolutely adore being able to wear this ring.
Raccoon Fondant/Cookie Cutters
These raccoon fondant cutters are great for creating raccoon cakes. If you are the cake master, you can create a cake with some raccoon fondant decorations on it, or if they are the cake master, then they can create some for themselves or others.
3-Piece Raccoon Sake Set
Does the raccoon lover in your life enjoy Japanese culture, then they will love to have this 3-piece raccoon sake set.
Raccoon Herb and Spice Grinder
Help them grind herbs and spices with a unique raccoon grinder to add to their kitchen gadgets.
Raccoon Dog Tag
Wearing this raccoon dog tag could bring them the confidence they need to tackle life's challenges, just by knowing that someone thought of them so highly to give them a gift that means something to them.
Raccoon Coasters
Setting their drinks on these raccoon drink coasters will make it more fun to be responsible and save the furniture from water damage.
Raccoon Handbag
A unique raccoon handbag is just what they need if they don't like carrying a purse with them everywhere. It's more casual and can hold much more than the standard purse.
Large Raccoon Mousepad
With easy maneuvering of the mouse, they can get more done on their laptop or computer with such a large raccoon mousepad.
Raccoon Vinyl Record Wall Clock
The gift of time is one of the most valuable gifts, and that says a lot about this raccoon vinyl record wall clock.
Hipster Raccoon Beer Glass
A hipster raccoon beer glass will make drinking beer more fun and an experience in and of itself.
As you can see, there are so many things you can get for that person in your life that loves raccoons, and they would love anything that you got them because you took the time to get them something with their favorite animal.