Disclosure of Material Connection: Some of the links in this post may be "affiliate links." This means if you click on the link and purchase an item, I will receive an affiliate commission. Disclosure in accordance with the Federal Trade Commission's 16 CFR, Part 255. This site is a participant in the Amazon Services LLC Associates Program, an affiliate advertising program designed to provide a means for sites to earn advertising fees by advertising and linking to Amazon.
If you're tired of boring wreaths, then you've come to the right place! I have compiled a list of the very best Inviting Christmas Wreaths for Your Home. Each one is stunning and welcoming. Guests will love how much beauty they have and will want their own! You will be impressed with the fact that these are super easy to make too! Gorgeous Christmas Wreaths You'll Fall In Love With.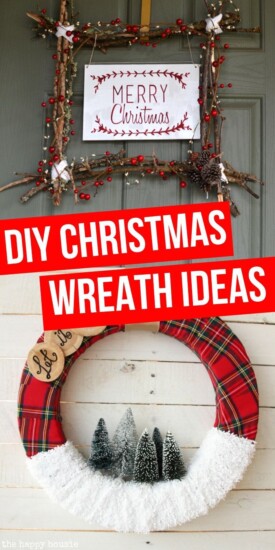 Gorgeous Christmas Wreaths To Decorate With
You can make as many DIY Christmas wreaths as your heart desires. Not only do they look incredible on your front door, wall, or mantle, they also make AMAZING gifts! Your friends, family, neighbors, co-workers, or anyone else you don't know what to buy for will love them. Each one has it's own set of instructions to guide you along the process.
Can I Sell Christmas Wreaths?
Yes, absolutely, you can sell these Christmas Wreaths. Make up a few and haul them to your local craft show or flea market. People will be more than happy to buy them, especially if they aren't into making things. Take your new-found skill and turn it into a profit.
You could set up a store on Etsy or sell them in the Facebook Marketplace too. It doesn't take a lot of effort to start selling them on your part. Just make them, and they will pretty much sell themselves.
What Kind Of Supplies Should I Have On Hand?
When It comes to making DIY wreaths or any kind of craft for that matter, I like to keep a few things on hand. While each wreath requires it's own list of materials, here are a few things I like to always keep in my craft room.
Do I Have To Be Crafty To Make DIY Wreaths?
No, you don't have to be super crafty to make these DIY wreaths. That's what's so great about them, they each have easy to follow directions to help you. You should have some basic skills like working with scissors and hot glue guns, but the rest you will learn along the way.
Keep in mind; you are always your own worst critic. If you don't feel confident about your work, don't worry, most of us don't. It's just the nature of the beast. Just keep crafting because you will get better and better each time you make things.
Crafting Party, Anyone?
I am not sure if you've heard about crafting parties, but they are a BLAST! Get some of your friends together, make some treats like cookies or dips, and bring some supplies. Then everyone can make a wreath to take home and hang. It's so much more fun than crafting by yourself. If you feel like someone who loves to throw parties like this, you should do it! Everyone will love it, and it's a great way to unwind during the busy holiday seasons. If you do host a party, please tag us on Facebook or Twitter with your work! We love seeing finished projects.
Not interested in making your own wreaths? No problem, take a look at these gorgeous pre-made wreaths!
Christmas Wreaths
These inviting Christmas Wreaths For Your Home are beautiful! You can give them as a gift, sell them, or keep them for yourself. They are a HUGE hit!