Disclosure of Material Connection: Some of the links in this post may be "affiliate links." This means if you click on the link and purchase an item, I will receive an affiliate commission. Disclosure in accordance with the Federal Trade Commission's 16 CFR, Part 255. This site is a participant in the Amazon Services LLC Associates Program, an affiliate advertising program designed to provide a means for sites to earn advertising fees by advertising and linking to Amazon.
Your PhD committee members have helped guide you in your research and making sure you are successful. As you are finishing up with them, or even in the middle of their guidance, giving them a gift is always a nice gesture. In this list, you will find many ideas of what to give them that they will enjoy and to show your thanks.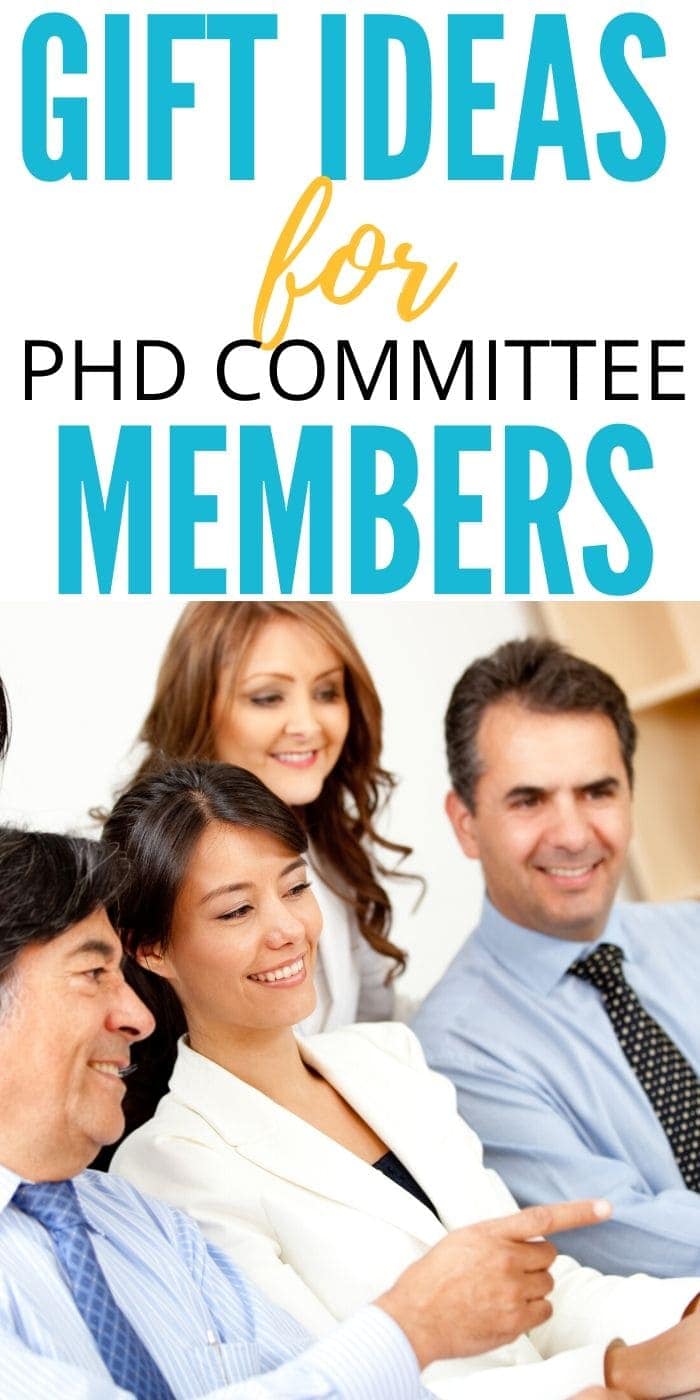 Best Gift ideas for PhD Committee Members
Shopping is so much easier when you're using a handy gift guide like this one. Check it out.
"Ph.inisheD." Shirt
If you are now "Ph.inisheD." with all the fun of a PhD committee, giving one or all the members this shirt is a great way to celebrate.
Miss. Mrs. Ms. Dr. Cotton Tote Bag
They are not a Miss, or a Mrs., or a Ms. first, they are a Dr.!
"You are enough" Watercolor Notebook
Remind them that they are enough and are an excellent guide with this "You are enough" watercolor notebook.
"Dangerously overeducated" Pullover Sweatshirt
Anyone with a PhD could be considered "dangerously overeducated." It is a compliment, not an insult, and something to be proud of.
Philosophy Definition Print
There is a lot of philosophy involved while they are guiding you, which is why this philosophy definition print makes such a wonderful gift.
"PhDiva" Mug
If one of the PhD committee members prides themselves on being a diva, they really need the "PhDiva" mug. Plus, it is colorful and eye-catching!
"I'm a doctor. To save time let's just assume that I'm never wrong." Shirt
They are a doctor, you must always assume that they are right and never ever wrong!
"The Dr." Wine Glass
Someone with a PhD needs a "The Dr." wine glass, of course.
"Doctor" Bracelet
Help them remind others that they are a doctor, with their very own "Doctor" bracelet proudly displayed on their wrist.
"So koalafied" Mug
They are just "so koalafied!"
"Eat sleep research repeat" Hoodie Sweatshirt
Life is just one big lump of eating, sleeping, researching, and repeating the whole process, that's why a pullover hoodie sweatshirt makes this quote even more perfect, it hides all the rough stuff.
Trinitrotoluene Necklace with Initial Charm
If they pride themselves on their knowledge of science, the trinitrotoluene necklace with their initial on a charm makes a great gift that they will find delight in.
"Don't make me use my PhD voice" Shirt
Never, ever, make them use their PhD voice. It is very dangerous.
"[donut] worry, I'm a doctor" Mug
No one around them should ever worry because their PhD makes them a doctor.
"So edu-cat-ed" Shirt
If they love cats, they will love the cat grad "so edu-cat-ed" shirt to wear.
"Data or it didn't happen" Poster
If there's no data, then it didn't happen. While on the other side, if there is data, then assuredly it did!
So many fun gifts for the members of a PhD committee. They have made such a huge impact on your life and they deserve a thoughtful gift.