Disclosure of Material Connection: Some of the links in this post may be "affiliate links." This means if you click on the link and purchase an item, I will receive an affiliate commission. Disclosure in accordance with the Federal Trade Commission's 16 CFR, Part 255. This site is a participant in the Amazon Services LLC Associates Program, an affiliate advertising program designed to provide a means for sites to earn advertising fees by advertising and linking to Amazon.
Gift ideas for a PhD defense are meaningful and thoughtful sentiments that the recipient will love. If someone you know is about to go through a PhD defense process, then getting them a gift to celebrate that step in their education is a great way to show you care. There are many ideas for this occasion, and lots of them are listed here. Imagine the look on their face when they see the gift you got them and how much you support them in their achievements.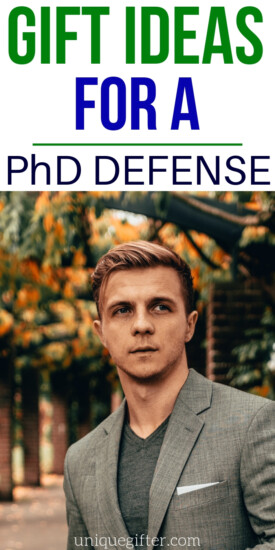 Gift Ideas For A PhD Defense To Celebrate!
Celebrate such a great time in your loved one's life! These presents are impressive.
"I just became a PhD. What have you done lately?" Mug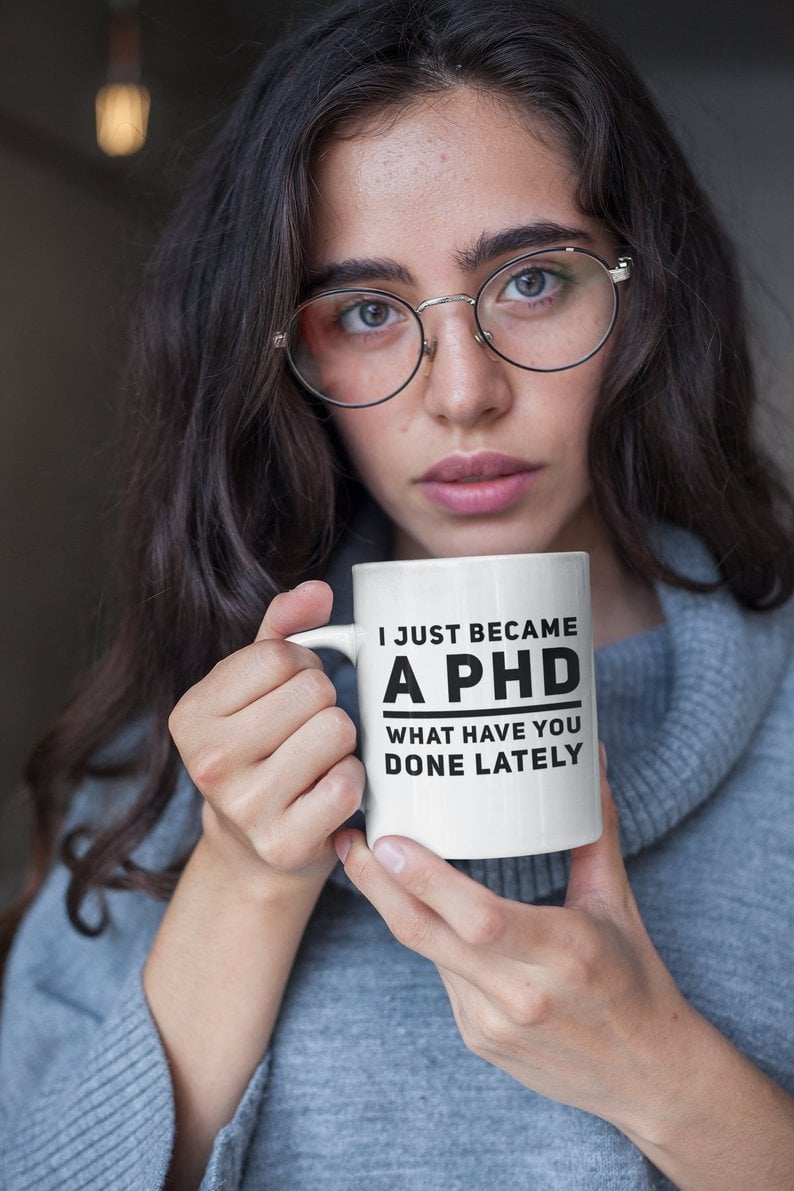 After they have finished their PhD defense and have become a PhD, this is the mug for them to celebrate with.
Funny PhD Checklist Shirt
Sometimes a little humor goes a long way, and if they are nervous, they will appreciate a laugh.
Personalized Graduation Christmas Ornament
When they are done, this ornament is something that will continuously remind them of how far they have come and all they have accomplished.
"The Dr." Wine Glass
"The Dr." wants a glass of wine!
"You are braver than you believe…" Burlap Quote Print
Remind them that they are braver than they believe, stronger than they seem, and smarter than they think, with this burlap quote print. Not only that, but they are loved more than they could possibly know.
"Congrats Doc" Wine Gift Bag
Congratulate them for a job well done with wine in this awesome "Congrats Doc" wine bag.
"Miss. Mrs. Ms. Dr." Tote Bag
Not a Miss, Mrs., or a Ms., but a Dr.!
"So koalified" Mug
After completing their PhD defense, they are "so koalified" and ready to take on the world.
"Things NOT to ask a PhD student" Shirt
These are the things that everyone should know not to ask a PhD student, or someone who has recently finished their education.
"Remember who you are" Candle
They always need to remember who they are, even as their life evolves.
"Just be you" Aluminum Circle
A PhD defense seems overwhelming, so remind them to just be themselves. They are valuable and wise just as they are.
"Confidence booster" Wine Glass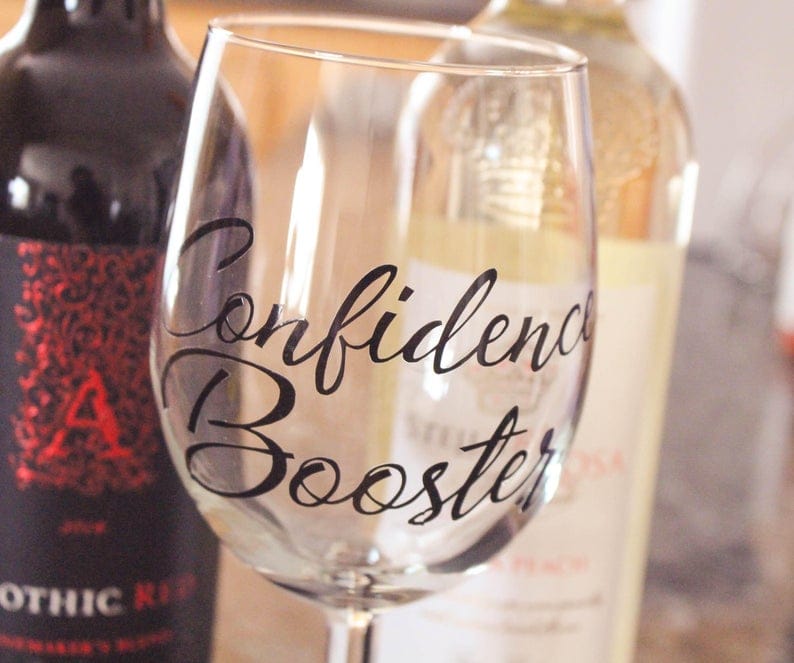 Wine is a confidence booster, after all.
"Pursue the dream that sets your soul on fire" Mug
Make sure they know that you fully support them in every step they take because you want them to pursue the dreams that set their soul on fire.
"Go-getter" Shirt
They are definitely a go-getter if they are facing their PhD defense.
"Always believe in you" Compact Mirror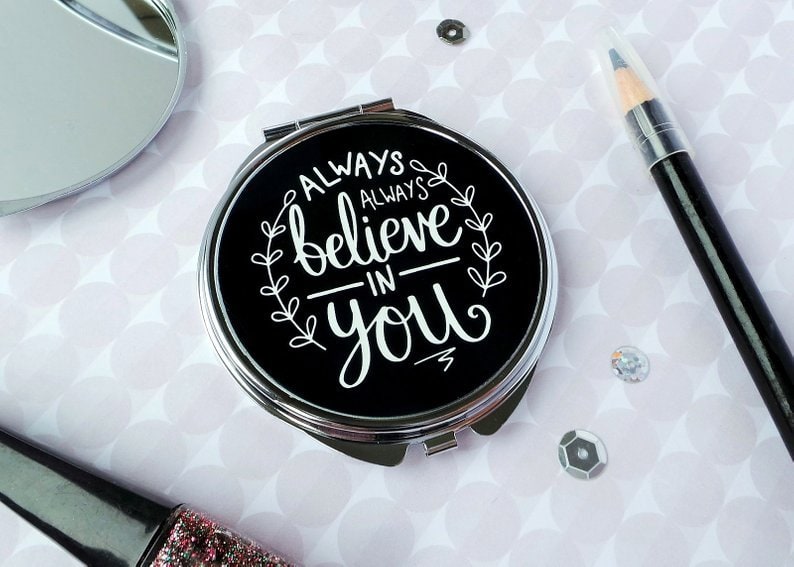 They must always believe in themselves, but sometimes they need to know that someone else believes in them too. This compact mirror with the quote, "always believe in you," will help them see that.
Custom Bracelet Cuff
Have their name, preceded by "Dr." put on this custom bracelet cuff, or a special quote, whatever you think they will like.
"Determined women get things done" Mug
Determined women power through life's challenges and get things done.
Peace-N-Harmony Rollerball
The Peace-N-Harmony rollerball will help them ease their nerves and face the PhD defense with a clearer head.
"Dr." Personalized Stainless Steel Water Bottle
Make sure they stay hydrated with their brand new "Dr." personalized stainless steel water bottle at hand.
"Living the dream" Shirt
They are surely living the dream. Don't ever let them forget that!
This terrific list of gift ideas for a PhD defense is sure to be loved! As they face their PhD defense, they may be nervous, worried, stressed, you name it! However, with a gift and a kind word from you, they will have more confidence and be ready to tackle the defense with determination.