Disclosure of Material Connection: Some of the links in this post may be "affiliate links." This means if you click on the link and purchase an item, I will receive an affiliate commission. Disclosure in accordance with the Federal Trade Commission's 16 CFR, Part 255. This site is a participant in the Amazon Services LLC Associates Program, an affiliate advertising program designed to provide a means for sites to earn advertising fees by advertising and linking to Amazon.
The Saints are one football franchise with as much history as they have adoring fans! These superbowl favorites are beloved for their passion and strategy. Celebrate the New Orleans Saints with these spectacular fan gift ideas!
New Orleans Saints Fan Gift Ideas
You'll find some inspiration to celebrate the New Orleans Saints with these awesome gift ideas!
New Orleans Saints Travel Mug
This metallic travel mug is perfect for those thirsty fans out there! Stay caffeinated during the game with this mug that makes no bones about who your favorite team is!
NFL Saints Comfy Pants
These comfy pants are all comfort, and all style. Show up to the tailgate with the same type of energy you want the Saints to play with: calm and composed.
New Orleans Saints Car Mats

These carpeted New Orleans Saints car mats are the ideal fan gift idea for car lovers! Get their favorite ride looking fresh and new with these stylish interior accessories.
NFL Saints Knives
These stainless steel steak knives aren't just good for carving up your favorite cut of meat. They also serve as awesome gameday cutlery!
New Orleans Saints Face Mask
Being afraid of catching something should not mean being unfashionable. It features a pocket for inserting a filter of your choice, too! This is the New Orleans Saints fan gift idea of 2020, if you ask me!
New Orleans Saints Ribbon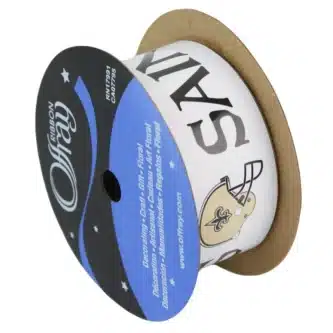 For the DIY and creative football fans out there! This spool of ribbon is the perfect choice for creative a Saints themed gift basket.
New Orleans Saints Fleece Hoodie
Every fan can always use a new piece of game gear! This stylish sweatshirt will keep you warm in the evenings and ready for post-game celebrations!
Retro New Orleans Tank Top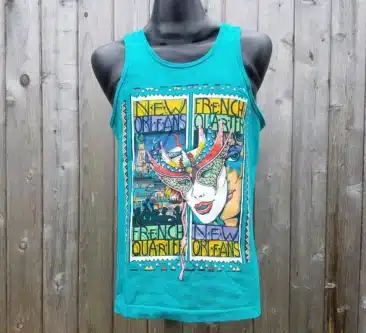 This tank top is a serious blast from the past! One of a kind retro pieces like this are great ways to celebrate the hometown of the Saints.
Vintage New Orleans Linen
This linen piece celebrates a retro styled New Orleans Saints logo and mascot! Take your kitchen to the next level during the football season with this awesome and functional linen.
New Orleans Saints Cufflinks
These are gorgeous polished Fleur De Lis cufflinks to represent New Orleans, and the Saints football franchise! Any New Orleans fan would love this classy and stylish gift idea.
Saints NFL Toothbrush
In auspicious gold, this Saints toothbrush is everything it should be. Gold. Cleans you teeth. What else could you ask for? This makes the perfect Saints gag gift!
New Orleans Saints Ring
Show up to the game with a stainless steel fan ring like this if you're afraid of losing your original one! Not only is it great as a multipurpose gift, but it also features the stylish Saints emblem on top!
New Orleans Saints Superdome Diagram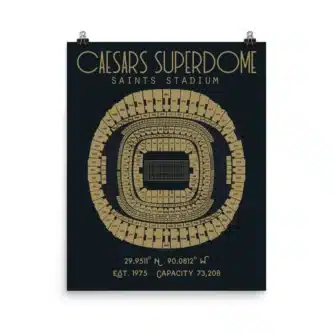 This printed piece of wall art features the iconic superdome in all of its glory! Not only that, it's stylized as a seating chart, in a retro theme.
Saints Plastic Hip Flask
7oz's of joy, this plastic hip flask is the perfect piece for enjoying your favorite drink around game time! It will soon become your favorite good luck charm.
NFL Saints Shot Glasses
These shot glasses are perfect for the kitchen, or the home bar! Suit out your game day spread properly with these custom Saints etched shot glasses.
Saints Cornhole Game
This cornhole set is perfect for half time during tailgate, or in the backyard! The ultimate BBQ game, it's an essential for any Saints gathering!
Saints Embossed Door Mat
Deck out your favorite fan's front stoop with this awesome door mat! It's custom made with the Saints logo and name, as well as the iconic flur-de-lis!
NFL Saints Moccasin Slippers
These moccasin slippers feature the Saint's iconic symbol! If you want to rock out on game day with some truly unique attire, this is the fan gear for you!
New Orleans Saints Flag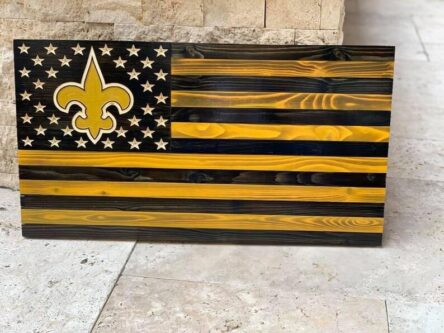 This wooden flag is styled as the star spangled banner, but with Saints colors and logo! Hang this outside of your place on gameday, or upgrade your tailgate game to the max.
Alvin Fun Enamel Pin
Celebrate your favorite fan's favorite player with this enamel pin of his face! Stylish and truly one of a kind, it would make the perfect addition to a New Orleans Saints gift basket!
New Orleans Beach Towel
Make a splash at the beach with this ultra soft New Orleans Saints beach towel! Perfect for any fan wanting to show off their fandom while they catch some rays.
Mercedes-Benz Superdome Stadium Sign
This wall sign is a great gift idea for football fans looking for a new way to decorate their fan space! Tap into that game day excitement, and team pride with this Mercedes-Benz superdome road sign!
New Orleans Saints Mug
My personal favorite, this beer stein is the ultimate home bar gift for Saints fans! It's an antique style, with authentic construction and quality. Not only that, you can customize it with yours, or your favorite fan's name!
These New Orleans Saints fan gift ideas are a great way to get inspired, and find something memorable for your favorite fan! What's the most interesting Saints gift you've ever received? Good luck and happy gifting!