Disclosure of Material Connection: Some of the links in this post may be "affiliate links." This means if you click on the link and purchase an item, I will receive an affiliate commission. Disclosure in accordance with the Federal Trade Commission's 16 CFR, Part 255. This site is a participant in the Amazon Services LLC Associates Program, an affiliate advertising program designed to provide a means for sites to earn advertising fees by advertising and linking to Amazon.
This may be a bit of a biased opinion, but The Office is probably the best TV series to come out in our lifetime. In fact, it's such a good show, there are 2 different versions of it for us to watch (US and UK)! That makes finding the perfect gift for any fan a difficult task though because there's so much merchandise out there and that makes it a bit overwhelming! But relax! We've done all the hard work for you!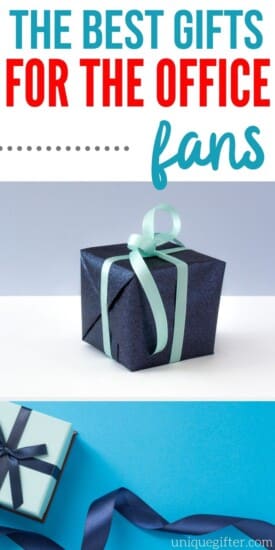 Gift Ideas For The Office Superfan in Your Life
Head to the break room and grab yourself a donut and some coffee! We're about to cover the best gift ideas that are guaranteed to please your loved one – whether they're a Dwight or a Michael!
Schrute Farms Sweatshirt
Your fan doesn't need to spend the weekend at this new bed and breakfast to take home a souvenir!
Customer Survey Coffee Mug
If your Office fan didn't make it to the America's Got Talent viewing party, go ahead and grab 'em one of these mugs so they don't feel left out!
Dwight Mermaid Pillow
This is the best version of this pillow fad and we'll fight you if you say otherwise. Trust us when we say your fan agrees.
Prison Mike Air Freshener
This car air freshener features one of the most memorable characters done by Michael Scott. Your fan will say "Yo, that's shizzle" when they open this up!
Dundie Award Trophy
Make your Office fan feel like the belle of the ball by giving them their very own Dundie award! You can customize what their award is for to make them feel extra special!
Just Poopin' Print
This print features one of the most hilarious one-liners in the show! Perfect for your fan's bathroom!
World's Best Coffee Mug
This is the mug to end all mugs. If your Office fan isn't technically a boss, you have the option to customize it to anything!
Kevin Malone Wall Clock
Buy your fan this hilarious wall clock featuring everyone's favorite accountant!
Michael Scott/Wayne Gretzky Quote Poster
This poster is a great way to keep up positive motivation in your Office fan's life and is sure to make them smile every time they see it!
Threat Level Midnight Poster
Get your fan a piece of Dunder Mifflin cinematic history with this poster of Michael Scott's very first movie!
Not Today Toby T-Shirt
Poor Toby's just trying to do his job, but that doesn't make him any less annoying. Your fan will agree with us on this one.
Catch You On The Flippity Flip Doormat
The best part about having guests over is when they leave. Let this doormat say goodbye to them for your Office fan!
Dunder Mifflin Office Floor Plan
This poster features the floor plans to your fan's favorite dysfunctional office! It has all the bits and bobs that really show the personality of this workplace.
Dwight, You Ignorant Slut Throw Pillow
This pillow features one of the most hilarious one-liners from the TV show and will look great on your fanatic's couch or bed! For a little more money the pillow is included in case you aren't sure if they have one.
Dwight Bobblehead
This exact replica of Dwight's bobblehead will be any fan's favorite for their desktop!
Creed Bratton Minimal TV Poster
Gift your fan this minimal art rendering of everyone's favorite "former" deviant from The Office!
Bears, Beets, Battlestar Galactica Decal
Add just the right amount of Dwight to your fan's laptop or vehicle with this BBB decal from their favorite TV show!
Jim Halpert Expressions Magnets
These magnets feature Dunder Mifflin's most sarcastic heart throb and Scranton's most beloved paper salesman!
The Office Themed Coloring Book
Let your Office fan feel like they're as good of an artist as Pam is with these coloring pages inspired by their favorite paper company!
The Office: The Complete Series
Grab your superfan the entire DVD collection of the best show in America just in case Netflix loses this TV show too!
Pam and Jim Teapot Keychain
There's no love story comparable to that of Dunder Mifflin's sweethearts Pam and Jim! Show your Office fan exactly how you feel with this adorable keychain!
Pam Beesly Funko Pop
Add the sweetest Funko Pop to your fan's collection with this mini Pam Beesly! Just look at those white sneakers!
The Office Plastic Signs
This gift pack includes two of the signs that you see during the beginning credits on The Office! Keep one for yourself, we won't tell.
It Is Your Birthday Banner
Some people aren't as excitable as others, and that's okay! Celebrate your fan's day as Dwight would with this factual birthday banner!
Schrute Farms Socks
This practical gift is perfect for any fan of The Office and definitely something you'd expect to receive from Dwight himself!
Stapler In Jello Enamel Pin
This pin is a nod to the first episode in both versions of The Office! Sure to make any fan smile!
And there you have it! The top gifts inspired by America's greatest paper supplier, Dunder Mifflin! We hope you've found the inspiration needed to make The Office fan in your life's special day even more special! We love hearing from our readers, so if you grabbed something off our list, give us a shout on Twitter (@ugifter) or Instagram (@uniquegifter) and let us know what you got!