Disclosure of Material Connection: Some of the links in this post may be "affiliate links." This means if you click on the link and purchase an item, I will receive an affiliate commission. Disclosure in accordance with the Federal Trade Commission's 16 CFR, Part 255. This site is a participant in the Amazon Services LLC Associates Program, an affiliate advertising program designed to provide a means for sites to earn advertising fees by advertising and linking to Amazon.
Fantastic Fallout Gifts
If you know someone that loves video games, there is likely a high probability that they are a fan of the massively praised Fallout series. Since its release in 1997, the Fallout games have gone on to spawn a slew of spin-off games and even tabletop releases! Considering the immense popularity of this franchise, there's bound to be a ton of merchandise to go along with it!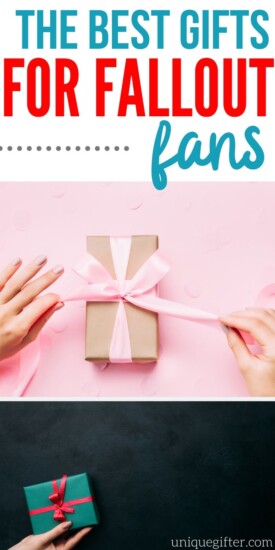 A Vault Of Awesome Gift Ideas
With all of these amazing things pertaining to the goliath video game series floating around, it's going to be hard nailing down that ideal gift, and that's why we're here to help! We've wandered the wastelands of retail to search far and wide to bring you the ultimate gifts to satisfy the fan in your life so you can relax! Get ready to browse through the best presents you can find with this list of 40 fantastic Fallout gifts! (And if they are too young for Fallout, check out these gift ideas for League of Legends fans.)
Vault Boy Bobblehead
Starting this list out the right way, this is the Loot Crate exclusive bobblehead of the iconic Vault Boy figure from the series! Donning his classic blue outfit on a Vault-Tec platform, the gift recipient is going to be overjoyed to get this fella!
Fallout Lounge Pants
Even when the gamer in your life is lounging around the house, they can still show off their love for the series! These solid black pants feature the Fallout logo with the instantly recognizable Vault Boy giving his classic thumbs up!
Nuka-Cola Jones Soda 12 Pack
Anyone who has played the series knows about Nuka-Cola considering the caps are used for currency in the series. Jones Soda comes together with the video game to bring this iconic line of soft drinks to life with this 12 pack! What a delicious gift!
Fallout Looksee Collector's Box
A trove of collectible gifts all in one neat little package! When you want to make a big impression with a gift, this is the one to pick up. Featuring collectible items ranging from decals to lanyards, it's sure to satisfy that Fallout craving!
Vault Boy Wallet
Considering he's essentially the mascot for the series, Vault Boy is a very recognizable and beloved figure! Multiple images of him adorn this wallet for that fan that likes to show off their love for the series with style!
Mr. Handy Poster And 3-D Model Kit
This is a double whammy of a gift! Besides the wooden 3-D model of the butler robot Mr. Handy, you also get a pretty snazzy, retro-styled poster to go along with it!
Pip-Boy Coffee Mug
Any Fallout fan would absolutely love their own Pip-Boy, and you can make that happen…..kind of. This awesome looking coffee mug is not only officially licensed; it holds a whopping 48 ounces of their preferred beverage!
Fallout Shelter Family Decals
There are plenty of Fallout fans out there with families, and we've got them covered as well! These awesome decals replace the outdated stick figure family decals and add some gaming flair to them! With five different sheets of decals for mixing and matching, it has families of all shapes and sizes taken care of.
Nuka-Cola Keychain
Nuka-Cola! As we've mentioned earlier on the list, this soft drink company is very well known to fans of the series, and this keychain would serve as awesome flair! Considering it's advertising a soft drink company, it's only fitting that it doubles as a bottle opener!
Fallout 4 Nuka-Cola Collectible Tin Tote
Created to resemble an old-school lunchbox, this one is a wonderful addition to a fan's collection! Featuring the Nuka-Cola artwork, it also includes an anti-rust coating so it won't end up looking like something out of one of the video games!
Vault Boy Fleece Blanket
Officially licensed by Just Funky, this awesome looking blanket features the familiar Vault Boy with his classic thumbs up pose! It's certain to look wonderful on a fan's bed or perfect for lounging around on the couch while they play the games!
Fallout Socks
If you've got someone who's a fan of stylish socks as well as the Fallout series, this is the perfect gift for them! With five different pairs included, they'll have plenty of choice throughout the week with designs ranging from Vault Boy to the dog you find in Fallout 4!
Fallout Playing Cards
Everyone should have a deck of cards laying around, and Fallout fans are no exception! Bringing a wonderful makeover to the timeless standard deck, these cards feature Vault Boy in several different outfits and poses.
Nuka-Cola Poster
Nuka-Cola gets another entry on the list, and it's not likely to be the last! Sporting the well-known art from the games, this poster gives off a retro vibe that would look perfect in a gaming room!
Monopoly: Fallout Edition
Monopoly is one of the oldest and beloved board games in the world, so it seems only fitting that it should be combined with one of the most popular video games of all time! This edition contains locations from all four of the Fallout games and includes 6 collectible tokens with a distressed finish!
The Art Of Fallout 4 (Hardcover)
Considering the wonderful and extremely immersive world that Fallout presents, it seems only natural that the designers would want to show off the art from the series! This hardcover delves into the fourth game in the series and showcases designs and concept art with over 360 pages!
Fallout Shot Glasses
Sometimes you just want to do some drinking with a geeky twist, and these shot glasses are absolutely ideal for that purpose! Just Funky brings this set of four shot glasses, each with a unique design, guaranteed to please even the pickiest of Fallout Fans!
Power Armor Funko Pop
The power armor is almost as iconic of design as Vault Boy himself, and it's only natural that there would be a Funko bobblehead to commemorate it! Every player loved jumping into this awesome armor and blasting away at baddies!
Sugar Bombs Cereal Bowl
Wandering through the grocery store in Fallout 4, you're bound to see a box of Sugar Bombs on the shelf, so any fan is likely to squeal with glee when they unwrap this gift! Featuring the logo from the cereal box, it's the fitting cereal receptacle for Fallout fans!
Fallout "Army Men" Style Figures
A nod to the figures that many of us had as children, these collectible Fallout figures resemble the Army Men that were popular for many decades. Whether they're kept in the bag for collection purposes or displayed proudly on a shelf, these figures are a must-have!
Operation: Fallout Edition
Another classic and beloved board game gets a Fallout makeover with this version of Operation! Operating on Vault Boy to remove items such as "dogmeat's breath" and "bottle 'knee-caps'," this one is sure to be a prized possession among fans!
Fallout 4 (PC/Xbox One/Ps4)
Just in case the fan in your life hasn't gained ownership of this masterpiece of a game, we've put it on the list! This award-winning game is guaranteed to provide hundreds of hours of entertainment and has earned a special place in gamers' hearts!
Pip-Boy 2000 MK VI Construction Kit
As we stated earlier, every Fallout fan has dreamed of owning their own Pip-Boy, and with this gift, you can seriously make that happen. This kit that is officially licensed by Bethesda themselves allows fans to craft their own Pip-Boy with working buttons and knobs!
Fallout Vault-Tec Backpack
We're fully aware that most fans of the game aren't about to be escaping from any vaults after a nuclear attack, but it's fun to pretend sometimes, right? This roll-top backpack makes that fantasy more immersive or can even be used for carrying things around for daily activities!
Mentats Tin
Everyone knows Mentats are for that boost to your perception and intelligence for a short period of time, so it's a pretty swell gift. Well…maybe there's no Mentats, but at least you're giving the gift of this awesome tin that has a rustic, weathered appearance!
Laser Pistol Replica
If you know someone who is looking to own their very own laser pistol, we've included it on this list as well! While it doesn't shoot lasers and it's only a replica, it's still pretty rad. It comes unfinished so you can do custom colors, or you can order it fully painted!
Fallout Perk Puzzle Poster
This sweet poster is 18×24 and lists the classic perks from the Fallout games! Featuring Vault Boy showing off all of the different attributes, this nifty puzzle even doubles as a poster!
Vault-Tec T-Shirt
This snazzy t-shirt presents style with a minimalist design! Featuring a weathered-looking Vault-Tec logo, we're sure the fan in your life will keep this one clean and ready to wear at any time!
Nuka-Cola Decal
For anyone that wants to show off their love for the series with the iconic Nuka-Cola logo! This decal is perfect for laptops, desktops, vehicles, or anything your fan wants to stick it to!
Brotherhood Of Steel Flask
For collectors that want anything involving fallout or anyone who wants to carry their drink in a nerdy fashion, we present this beauty of a flask! Sporting the Brotherhood of Steel emblem, including their words, "Ad Victoriam," this laser-engraved flask is sure to be a hit!
Vault 101 Insulated Lunchbag
Then fan in your life doesn't have to be a resident of Vault 101 to carry this nifty lunch bag, but they can certainly pretend if they like! Made with denim but with an insulated, waterproof interior, this lunchbag is also customizable with different aesthetic features!
Large Fallout Poster
When you want a Fallout poster, you'd rather go big, right? Any fan of the series would love a huge chunk of their wall to be dedicated to the series, and this poster makes that happen. Measuring in at 24×36, this monster of a poster featuring Fallout 4 art is certain to make any fan grin with delight!
Fallout Playmat
There are a lot of gamers that double as trading card game players, so we've also included this playmat on this list! Providing a silky smooth playing surface, it stands to protect players' cards from getting damaged from tabletops!
Fallout 4 S.P.E.C.I.A.L. Notebook Set
This awesome set includes seven different notebooks, each one featuring a different attribute used to level your character in the games themself. Perfect for any fan that's either in school or looking to add unique items to their collection!
Codsworth Funko Pop Figure
Everyone's favorite robot butler gets his own Funko Pop makeover! This fan-favorite from Fallout 4 makes his debut as a bobblehead with this figure, and we're certain your fan would love it on their Funko shelf!
Mounted Deathclaw Head
The last entry on our list is a doozy! Deathclaws are some of the most fierce creatures in the entire Fallout 4 game, and you can give the gift of your fan having one mounted on their wall. Anyone who is a fan of the game will seeth with envy when they come into their home and see this adorning their wall!
Well, we've definitely explored a vault full of amazing gifts with this list, and we're certain that there's something here for everyone. Did you find something that you can't wait to get that certain someone in your life? Maybe you found something that you're likely to hang onto for yourself? Give us a shout on Twitter (@ugifter) or Instagram (@uniquegifter) and let us know! Thanks for checking out 40 Fantastic Fallout Gifts!