Disclosure of Material Connection: Some of the links in this post may be "affiliate links." This means if you click on the link and purchase an item, I will receive an affiliate commission. Disclosure in accordance with the Federal Trade Commission's 16 CFR, Part 255. This site is a participant in the Amazon Services LLC Associates Program, an affiliate advertising program designed to provide a means for sites to earn advertising fees by advertising and linking to Amazon.
20 Gift Ideas for Supernatural Fans
We'll be the first to admit that shopping for a Supernatural fan is as intimidating as hunting down a nest of vampires. What can you get someone who's seen and done everything anyway? Follow along as we uncover the best gifts for the monster-hunting Supernatural fan in your life!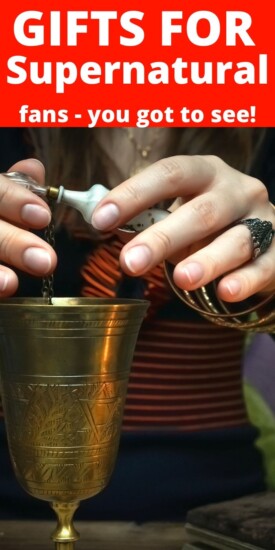 20 Gifts For Wayward Sons and Daughters
Pack your bags! We're going on a road trip to reveal the best Supernatural secrets on the web!
Four Horsemen Rings
Inspired by the best season in the TV show – your hunter can now hold the key to stopping the apocalypse too!
Salt and Burn Refillable Lighter
Dean and Sam Winchester have thrown more lighters into graves than most people own in their entire life. Give your Supernatural fan a lighter worthy of holding onto.
3D Printed Colt Replica
The first weapon designed to kill demons. Do we need to say more?
Anti-Possession Infinity Scarf
This silky anti-possession scarf is perfect to keep away not only demons, but terrible fashion choices too!
Rowena's Magic Hex Bags
Whether they're looking to put a harmless little curse on someone or hide from angels, any hunter needs to have one or two of these!
A Very Supernatural Hunter's Guide
This piece of art is great for hunters of all expertise! Just a quick reminder if they get stumped on their current case.
Full Scale First Blade Replica
Now your demon slayer can own a vital piece of history with this beautifully crafted first blade replica! We are not responsible for any curses attached to this weapon.
Bobby Singer Idjits Trucker Cap
When the solution to the problem is simple, yet it goes unnoticed, you've got to let your fan's inner Bobby Singer out with this trucker cap.
Impala Replica License Plates
These plates are an awesome gift for any Dean Winchester fans. Make their dreams come true and give them a huge piece of his heart!
John Winchester's Journal
The key to the safest possible hunting experience is learning from someone better. This journal is packed full of info for a TON of different monsters – some they may not even know exist!
Angel Blade Replica
We gotta be honest here. Not all angels are good guys. Protect your hunter with one of the few weapons that can, ahem, take care of this problem.
Castiel Funko Pop
Now your fan can have their very own dorky angel in their home! This Funko Pop even has his wings!
Supernatural Themed Necklaces
These necklaces are the perfect stylish accessory for a Supernatural fan who wants to sport a look they can really show off.
Supernatural Join the Hunt Mug
This awesome mug beckons fans to join the hunt with the Winchesters! Not only that, but this mug features some truly unique color changing properties as soon as you pour hot liquid, like tea or coffee into it.
Supernatural Sherpa Blanket
This super cozy and thematic Sherpa blanket features some iconic imagery from the series itself! Is there anything better to snuggle up with during your next re watch of the series?
Metal Bullet Whiskey Stones
These silver bullets aren't just suitable for slaying vampires, they'll also chill your spirits to perfection, without any of the melt that comes with ice cubes!
Supernatural Card Game
Why travel the country fighting demons when you can watch all your nightmares come true with this collector's edition of the most famous board game?
Anti-Possession Vinyl Decal
Dress your hunter's car or laptop up with protection with this vinyl decal! Comes in three different sizes for the perfect fit.
Now that we've traveled down lone highways and kicked some serious monster ass, there's only one problem left! Which is the perfect gift for your Supernatural fan?! These were our favorite picks, so you're sure to find something to excite them! Give us a shoutout on Twitter (@ugifter) or Instagram (@uniquegifter) if you grab something off our list and let us know what you got! We'd love to hear from you!