Disclosure of Material Connection: Some of the links in this post may be "affiliate links." This means if you click on the link and purchase an item, I will receive an affiliate commission. Disclosure in accordance with the Federal Trade Commission's 16 CFR, Part 255. This site is a participant in the Amazon Services LLC Associates Program, an affiliate advertising program designed to provide a means for sites to earn advertising fees by advertising and linking to Amazon.
20 Of The Greatest RPGs For The Gamer In Your Life
Role Playing Games are one of the most popular genres when it comes to gaming and it's for a good reason. The best RPGs catch your attention quickly and immerse you into the world they've created with ease. If you know someone who is a fan of the RPG genre and you're looking for that perfect gift in the near future, we have some ideas for you! First, check out our Dungeons and Dragons gift guide. And if you still need more, we've got you covered.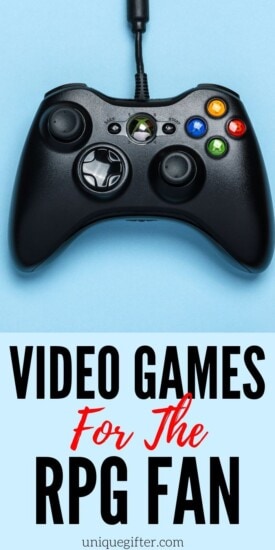 Your Quest For The Perfect Game Ends Here
We know that everyone knows how picky gamers are when it comes to their favorite pastime and it makes it intimidating when it comes to choosing gifts for them. Join us as we show you 20 of the greatest RPGs to give as gifts!
Skyrim (PC/Xbox One/Ps4/Nintendo Switch)
The fifth chapter in the Elder Scrolls series, Skyrim has been wildly successful since its release in 2011. With outstanding replay value, it's sure to keep the gamer in your life busy for hundreds of hours!
Witcher 3: Wild Hunt (PC/Xbox One/Ps4)
Coming in as the third part in the Witcher series, Wild Hunt has a beautiful, dangerous, and magnificently immersive environment. This game offers dozens of hours in the first playthrough alone as you join Geralt of Rivia on his arduous journey.
Dark Souls III (PC/Xbox One/Ps4)
Known for being one of the hardest games in the video gaming world, Dark Souls rocks gamers with its third installment. Think they have what it takes to tackle this game? It's sure to keep them busy for quite awhile. Not responsible for broken controllers!
Monster Hunter World (PC/Xbox One/Ps4)
Making its debut into online multiplayer, Monster Hunter World changed the entire series with this game. It's sure to keep your fan enthralled as they hunt monsters in the vivid world the game creators have designed.
Fallout 4 (PC/Xbox One/Ps4)
Set in the near future, this post-apocalyptic RPG is a favorite among gamers. The Fallout series has been widely acclaimed for years and this entry is no exception. If they don't have it yet? Definitely snag them a copy!
Diablo 3 (PC/Xbox One/Ps4/Nintendo Switch)
This game series is a legend among gamers. Even years after its release, the third game in the Diablo family is still wildly popular. Giving them this gift ensures that they will have hundreds of hours of entertainment. Guaranteed!
World Of Final Fantasy (PC/Xbox One/Ps4/Nintendo Switch)
Another game in this timeless series, World of Final Fantasy has been praised by critics and fans alike. This turn-based RPG is sure to keep them enthralled!
Dragon Age: Inquisition (PC/Xbox One/Ps4)
The Dragon Age games have a massive fanbase in the gaming community and Inquisition is no exception to the popularity of the games. With immersive gameplay and massive replay value, this is a must-have for any RPG gamer's collection!
World Of Warcraft (PC)
World Of Warcraft is a titan of the video gaming industry. The absolute most popular MMORPG for the past 15 years, it is truly a masterpiece of a game. Beware, you may not see them again after you give them this gift but rest assured that they'll be pleased!
Ni no Kuni II: Revenant Kingdom (PC/Ps4)
Ni no Kuni has some of the most breathtaking artwork seen in a game to date. With a unique playstyle and the magnificent graphics in this game, it's sure to satisfy even the most rabid RPG gamer!
Kingdom Hearts III (Xbox One/Ps4)
One of the coolest crossovers in gaming has returned for the third time! This game series combines the world of Final Fantasy with Disney characters to create a fun and magical experience that is sure to keep any gamer (or Kingdom Hearts fan) enthralled!
Tales Of Vesperia (PC/Xbox One/Ps4/Nintendo Switch)
Available on most consoles and PC, this tenth installment in this series is a fan favorite as well. With the definitive edition including upgraded HD graphics and previously unreleased DLC, it's sure to keep them busy!
Pokemon Ultra Sun/Ultra Moon (Nintendo 3DS)
We're sure that the gamer in your life has heard of Pokemon. Most people in the world have at this point! Pokemon Ultra Sun or Ultra Moon is one of the latest in a long line of these games. Boasting over 400 Pokemon, this is another game that will offer countless hours of enjoyment!
Pillars Of Eternity II (PC/Xbox One/Ps4/Nintendo Switch)
Another title that's available throughout all of the current generation consoles, Pillars Of Eternity II has had as much success as the first game. If they played and enjoyed the first game, they're sure to enjoy this one as well!
South Park: The Fractured But Whole (PC/Xbox One/Ps4/Nintendo Switch)
South Park brings its raunchy adventures into the gaming world again with their second RPG! With a hilarious, albeit mature, storyline and gameplay that's not only fun but easy to catch onto, we'd suggest this as a gift for any adult gamer!
Undertale (PC/Ps4/Nintendo Switch)
An indie RPG that has its inspiration drawn from the Earthbound games and the old television show "Mr. Bean", Undertale is quite the adventure. We're sure any gamer would be more than happy to take on this quirky adventure!
Bastion (PC/Xbox One/Ps4/Nintendo Switch)
Another RPG developed by an indie company, Bastion has unique gameplay that has made it so popular that it's been upgraded and released on current generation consoles, despite being released in 2011. If the gamer in your life has missed the boat on this classic tale, it's time to get them caught up!
Borderlands: The Handsome Collection (Ps4/Xbox One)
The Borderlands series has had a huge following since the first game's release in 2009. The Handsome Collection includes Borderlands 2 and Borderlands: The Pre-Sequel, chronicling the rise and fall of the antagonist: "Handsome Jack". Fully upgraded for the current generation consoles, this is a staple of any RPG collection!
Stardew Valley
Sometimes you just want to sit and relax and not have to worry about your life being in constant peril. Give your gamer the gift of the experience of a simple life with this beloved farm simulator. No green thumb required!
Final Fantasy XIV
One of the most popular MMORPGs on the scene at the moment, Final Fantasy XIV is definitely no slouch in the entertainment department. Leveling in this beautiful world that they've created is sure to draw your gamer in for a multitude of hours!
These marvels of modern gaming are sure to please even the pickiest of gamers and if you're a gamer yourself, we suggest you pick up a spare copy to enjoy! There's bound to be at least a couple in this list of 20 RPG games to scratch that gaming itch! Remember: There's always someone out there looking for that perfect gift so feel free to share this list and help your friends out in their search!