Disclosure of Material Connection: Some of the links in this post may be "affiliate links." This means if you click on the link and purchase an item, I will receive an affiliate commission. Disclosure in accordance with the Federal Trade Commission's 16 CFR, Part 255. This site is a participant in the Amazon Services LLC Associates Program, an affiliate advertising program designed to provide a means for sites to earn advertising fees by advertising and linking to Amazon.
Mortal Kombat. Everyone knows the name and most of us have played and enjoyed the games. We all know someone that is nuts about them and has likely played them from the first game to the last and these gifts are for that special someone in your life. In honor of a game franchise that's touched so many, these are the best gift ideas for Mortal Kombat fans!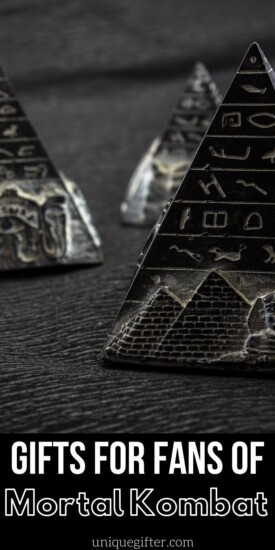 Awesome Gifts For Mortal Kombat Fanatics
It's not always easy to nail down that perfect gift when it comes to a loved one and that goes double if it's for something you know they're crazy about. We're hoping to take the pain out of finding that special present and we're pretty confident that we have you covered with this list of 40 gifts for Mortal Kombat fanatics!
Mortal Kombat 11
To open up this list the right way, we're going to include the latest video game in the franchise: Mortal Kombat 11. It's gotten rave reviews and is available for every current-gen console out there at the moment!
Scorpion And Sub-Zero Funko Pop Bundle
Two of Mortal Kombat's most popular characters and fearsome rivals come together with this Funko bundle! These two deadly warriors have never looked so cute and any person (let alone fan) would be happy to own this awesome set!
Mortal Kombat T-Shirt
This t-shirt is a must-have for a fan's wardrobe. Sporting the classic dragon logo, it's a simplistic yet insanely cool design!
Mortal Kombat Collection (Blu-Ray)
While we'll admit that the movies weren't the best ones made, they're still pretty nostalgic for many older fans. This Blu-Ray features the two movies that were released and also includes the fan-made realistic take on Mortal Kombat.
Sub-Zero Mask Replica
One of the most famous fighters in the Mortal Kombat series also owns one of the coolest looking masks and with this gift, the MK lover in your life can own it as well!
Scorpion Spearhead Bottle Opener
Players of the Mortal Kombat series have a healthy fear and respect for Scorpion's spear attack and there's a very good reason for it. Give the fan in your life an awesome nod to the game every time they crack open a cold one!
Mortal Kombat Color Changing Mug
Featuring the kings of fire and ice themselves, this mug is black when it's cool but quickly warms up to fierce art of Sub-Zero and Scorpion!
The Art Of Mortal Kombat (Hardcover)
This book is a must-have for any fan's collection! Originally only packaged with the collector's edition of Mortal Kombat 9, this hardcover is packed with concept art from the game series and is available for purchase separate from the game now.
Mortal Kombat Dragon Logo Keychain
A logo that has been an icon in the gaming industry since the '90s, give the fan in your life this instantly recognizable symbol of one of the most famous fighting games ever created!
Hooded Scorpion Robe
What better time to dress like the fiery ninja than after a steamy shower? This awesome robe will let any fan cavort around like Scorpion after getting squeaky clean!
Mortal Kombat 9 Poster
A poster from one of the earlier games featuring the available roster of fighters, this poster is bound to look spectacular on any collector's wall!
Mortal Kombat Stylus Pen
This snazzy pen doubles as a stylus for your fan's smartphone or tablet and gives a classy (albeit, obviously, nerdy) look without breaking the bank!
Mortal Kombat II Tin Sign
This retro fashioned sign would look great for any fan that's looking to create an arcade with a nostalgic and authentic feel. Made from tin and designed to look like the old school Mortal Kombat 2 sign, it's guaranteed to please.
Blue Chinese Fan
While not officially licensed, this blue fan encompasses the spirit of the character Kitana with style. Perfect for that much-needed pizazz for cosplay or for just capturing the spirit in a game room!
Mortal Kombat X Vol. 1: Blood Ties
This paperback is perfect for any fan looking to dive more into the lore of Mortal Kombat. Following the events that happened before the Mortal Kombat X game, it's ideal for any Mortal Kombat lover!
Shao Kahn Collectible Figure
A true collectible piece, this figure is officially licensed from Storm Collectibles and features the emperor Shao Kahn sitting upon his throne, complete with his hammer!
Kabal Mask Replica
This righteous looking mask brings a beloved character to life that's been around since the third installment of the game in the coolest way! Perfect for cosplay or for displaying with pride upon your fan's gaming shelf!
Kano's Cybernetic Heart Replica
Available in raw plastic or finished and painted, this replica breathes life into Kano's cybernetic heart from Mortal Kombat 11. Perfect to finish off that cosplay before the next convention!
Mortal Kombat Halter Top Dress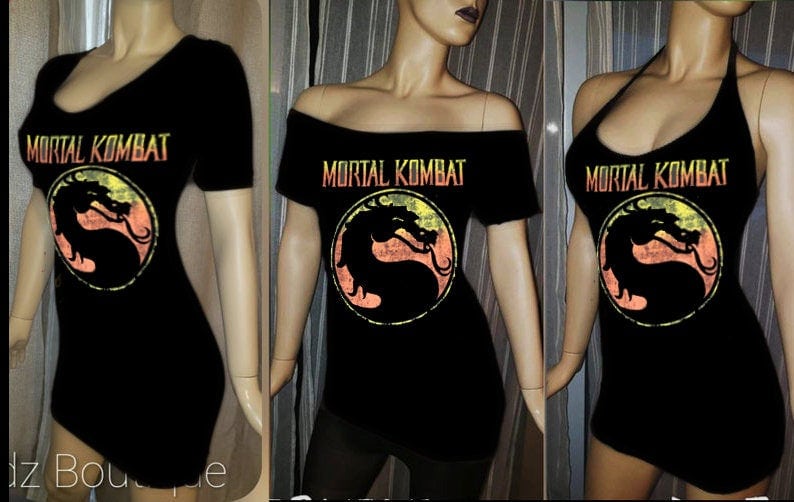 With millions of fans, we're sure that you know a chick that's looking to snazz up her geeky fashion game and this is the item for her! Fashioned from an older Mortal Kombat t-shirt, you get style and nostalgia in one wonderful looking package!
Shao Kahn's Helmet Replica
Anyone who has ever played the Mortal Kombat series knows how cool Shao Kahn's helmet looks and now you can give the gift of this awesome looking headgear. Available as raw plastic or finished to look as it is in the video game!
Mortal Kombat Pinback Buttons
This set of 7 buttons is perfect for a small but thoughtful gift! Featuring the original profiles for the fighters from the very first Mortal Kombat game, collectors are sure to get a kick out of these!
Mortal Kombat 11 Fleece Blanket
What keeps you warmer than a normal blanket? A blanket with the fiery ninja Scorpion featured on it! Designed with the cover art from the Mortal Kombat 11 game, this blanket is definitely a rad gift.
Vinyl Jade Sticker
This rad little sticker would be awesome for giving your gift recipients items a bit of MK flair! We're definitely fans of the anime type makeover that they gave Jade with these stickers.
Mortal Kombat Wax Seal Gift Set
Another wonderfully unique item on our list, this one is for the fan that loves to add a bit of an old school touch to things. This gift set allows them to create medieval style wax seals for letters and things only this set features a Mortal Kombat dragon logo stamp!
Ermac Bookmark
When the gamer in your life also enjoys having their nose in a book when their eyes aren't locked on a screen, you've got them covered with this nifty little bookmark! Featuring cute and original artwork, it would be right at home with the paperback that we featured earlier!
Mortal Kombat Bowtie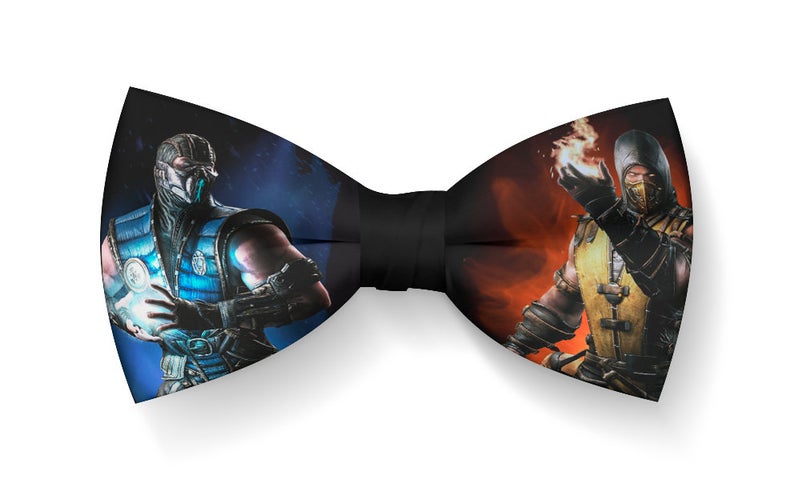 For the dapper looking fan that's looking to add some geeky pizazz to their wardrobe, this bowtie is bound to grab a couple of gazes!
Mileena Bust
This breathtaking bust is sure to please even the pickiest of collectors! Custom sculpted from high quality resin, the artist has really nailed the likeness of Mileena from Mortal Kombat X.
We've fought our way through Outlands and back to bring this massive list of gifts and we're certain that there are a few here that's bound to put a smile on that loved one's face! Did you find anything that you're going to snatch up right away or maybe something you couldn't live without yourself? Feel free to let us know on Twitter (@ugifter) or Instagram (@uniquegifter)!