Disclosure of Material Connection: Some of the links in this post may be "affiliate links." This means if you click on the link and purchase an item, I will receive an affiliate commission. Disclosure in accordance with the Federal Trade Commission's 16 CFR, Part 255. This site is a participant in the Amazon Services LLC Associates Program, an affiliate advertising program designed to provide a means for sites to earn advertising fees by advertising and linking to Amazon.
Gadget Gifts For Under 40
We all have that person in our life that adores gadgets. Whether they are useless or useful, that person has a ton of them and is always on the lookout for another to add to their collection. There's a plethora of odds and ends out there and we're more than willing to help you nail that perfect gift!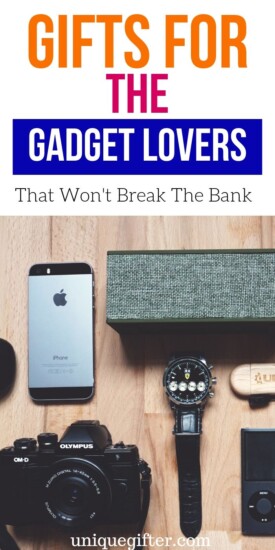 We've Got Gadgets And Gizmos Aplenty!
They've gotta have a technological wonder for every situation, right? We get it. We're here for it. If you've got that certain tech lover in your life that seems to have everything, we may have a thing or two to surprise them here. Join us as we help you find it with these gadgets under $40!
Bluetooth Audio Adapter
Wires? Who needs wires? The days of the auxiliary cable are nearly behind us and this will help with the transition. This fancy device helps turn just about any speaker into a bluetooth compatible sound machine!
Coin Mate Change Holder
In a world with pockets filled with the jingle of dimes and nickels, one gadget stands against the chaos of loose change! This gadget organizes and holds coins to keep them nice and neat in a purse or pocket.
Sunrise Alarm Clock
Help them rise and shine in style with this nifty alarm clock. It gradually imitates a sunrise, initiating light a half hour before the alarm goes off so it can slowly wake them up. Even includes a bluetooth speaker!
Tile Pro
Do they have a habit of misplacing things? We all lose something from time to time! This handy little device will allow any gadget geek to find it via the app with their smartphone! Also works in reverse and will help you find your phone by giving the device a quick double tap.
HyperCooler Coffee Chiller
Who doesn't love iced coffee? At the same time, who has time for those cold brewers that take a full day? This coffee chiller will chill your hot coffee within 60 SECONDS. With no dilution!
Lighted Fingerless Gloves
Whether they're working inside of a computer case or working outside at night, these gloves have them covered. Fingerless so that your hands can still be nimble, they cast light in dark places to make frustrating jobs far easier!
Elf Earbuds
Gadgets and geek go hand in hand most of the time! Scratch both of these itches with this deliciously nerdy Elf Earbuds. Designed to elongate the tips of your ears to appear to be elven, they're sure to be a hit!
Logitech Bluetooth Multi-Device Keyboard
Made to work with tablets, computers, and smartphones, this keyboard also has a toggle to switch between the devices as long as they are synced. A must have for gadget lovers! It even includes a stand on the keyboard for phones and tablets!
Ocean Wave Projector
Have a gadget lover with insomnia? Maybe this will help out a little. It projects lighted ocean waves on the walls to help provide a soothing environment for sleep. It has a speaker built in and even includes a remote control!
Smartphone Camera Lens Kit
This 3 in 1 lens kit for smartphones is a great addition to anyone's gadget collection! Sporting a 15x zoom, ultra wide, and a fisheye lens, it's great for any tech lover that is constantly snapping photos with their phone.
WiFi Auto Diagnostics Tool
Why is the service engine light on?! Help them find out with this awesome little dongle! It hooks into the onboard computer located in their vehicle and will let them know the reasons that darned light is lit up on their dashboard via their laptop or smartphone!
Crocodile Style Dashboard Phone Mount
There are many different types of hands free mounts for vehicles. There are also many different types of frustration that come along with them. This one makes things simple and keeps a great grip on their phone while also looking stylish!
Bagsmart Electronics Organizer
Having a lot of gadgets comes at a price. That price is space! Help them keep organized with this cool organizer! Designed to hold external hard drives, wires, and SD cards, it makes keeping track of things an absolute breeze. And don't let the name of this electronics guide fool you, there are plenty of ideas of stuff on it to buy to fill this up.
CableYoYo
Keeping your earbuds and your phone chargers in your pocket is a dangerous game. We've all dealt with the mess of tangles that comes with that territory. Help them take care of that problem with this innovative little gadget!
CozyPhones Headband With Speakers
Whether it's for sleep or on the go, this headband is a foolproof gift! This stylish headband that includes speakers, it will keep them warm and entertained on morning runs or give them soft music to help them sleep!
Cellphone Magnifier
Ever had that awkward moment where you want to show your friends that hilarious video and you end up holding your phone at an odd angle for 10 minutes straight? We all have. Save them from these situations with this fantastic gift! Magnifies your phone screen to twice the size!
WiFi Smart Plug
Definitely one of the coolest items on this list! This handy little plug can connect to wifi and add some serious utility to their outlet. They'll be able to control lamps, humidifiers and other objects via the app on their phone!
USB Powered 3D Death Star Lamp
What gadget collection wouldn't be complete without a 3D lamp? This one gives off the optical illusion of the Death Star from Star Wars for that geek chic. It's even USB powered so it can sit on their desk next to their PC!
Echo Input Smart Device
Got a friend that already has an awesome set of speakers but wants the power of Alexa? They don't have to replace their wonderful sound system with that tiny echo anymore! Help them out with this device that turns any speaker into an echo capable device!
Rocketbook Smart Notebook
Certainly a gift to impress even the most avid tech collector, this is one of our favorites on the list: A notebook that automatically backs up everything that you write and draw in it to the cloud! Completely reusable, you just wipe down the pages with a damp cloth. No more wasted paper or lost notes!
Echo Dot
Know a friend that hasn't jumped on the Alexa train yet? This is the gift for them. The 3rd gen Echo Dot speaker streams music, answers questions, sets alarms, and a variety of other things. An awesome gadget indeed!
Fingerprint Padlock
Have anything they need locked down? You've got the gift idea locked down! This padlock is capable of registering 15 different fingerprints (we aren't sure why so many people would need access to their locked goods though!) and is even bluetooth enabled!
Raspberry Pi 3
Everyone's heard of Raspberry Pi, right? Make your gift a memorable one with this. Essentially a mini computer and capable of endless projects, you'll definitely put a smile on a gadget lover's face with this present!
Oontz Bluetooth Speaker
Bluetooth speakers are not exactly a new thing. However, when you have a bluetooth speaker that is travel sized, sports 14 watts of power, can connect to another speaker of the same type (For dual speaker effect), and is splash proof? You've got yourself a bluetooth speaker worthy of a gadget lover's collection!
Gooseneck Tablet/Smartphone Holder
Capable of holding up tablets, phones, and even the Nintendo Switch, this is a useful little gadget. This stand can clip onto things and has a long flexible neck for different positions. Perfect for lying down and binge watching in bed!
Lumos Smart Bulb
Too bright? Too dark? Even light bulbs aren't exempt from this list of gadgets! This smart bulb has Alexa access, has over 16 million colors available, and is controllable from an app! They'll never have to get up to turn off the light again!
Retrobit RES 8-bit Console
Got a gadget lover that's also a Nintendo fan? We've got that too! This device is capable of playing classic NES games and is able to use controllers and other peripherals from the system itself. Definitely a cheaper option than buying an aged NES from Ebay!
Sugru Moldable Glue
This glue starts out moldable and soft but once it sets, it's tough as nails! Bonds to nearly every surface. They can use it to fix everything from frayed wires to tennis shoes. They can even use it to hang things around the house!
GOBY Gorillapod Tripod
This tripod is absolute perfection for the gadget loving shutterbug! With a fully flexible tripod that can wrap around things like tree branches and signposts, this is sure to help them nail that perfect shot!
Airzooka
Useful and useless gadgets, remember? This one is likely the most useless but definitely the most fun on our list! This cool gadget is capable of shooting gusts of air up to 20ft away! Perfect for pestering friends and family. Maybe even the person that bought them the gift in the first place!
Netgear WiFi Extender
Every home has some bad spots in the house when it comes to weak wifi. Help your friends and loved ones combat these with this wifi extender! We're sure they'll be thankful for the extra coverage when they don't have to deal with slow internet because of spotty reception!
iPhone Charger Bracelet
Yes, you read that title right. Not only is this a lightning charger for iPhones but it doubles as a stylish bracelet! Any gadget lover will be thrilled to unwrap this double threat gift! They'll never worry about having a charger on them again!
6 Port USB Charger
So many devices, so many outlets! Smash that problem and give them the gift of ease of access with this handy gadget! Every slot on this charger is capable of fast charging, so they don't have to trade speed for accessibility!
Matein Water Resistant Laptop Bag
Gotta have something to carry that laptop, wires, and gadgets around in, right? This is the perfect bag to give them. Not only does it look sleek and fantastic but it has added bonuses such as onboard USB charging and water resistance!
And that does it! We've offered so many different options for different walks of life here, so there's bound to be a gift that's just right for that person that you're looking to please. We've worked hard to offer you a selection of gifts here that is guaranteed to make them smile without making your wallet frown with these gadgets for under $40! Give us a shout out on Twitter (@ugifter) or Instagram (@uniquegifter) and tell us how much your gadget junkie loved their gift!