Disclosure of Material Connection: Some of the links in this post may be "affiliate links." This means if you click on the link and purchase an item, I will receive an affiliate commission. Disclosure in accordance with the Federal Trade Commission's 16 CFR, Part 255. This site is a participant in the Amazon Services LLC Associates Program, an affiliate advertising program designed to provide a means for sites to earn advertising fees by advertising and linking to Amazon.
We're all in this together! This Disney Channel Original Movie is a classic. It even spurred a spin-off series on Disney+! Millennials grew up with it and Gen Z still loves it, so it's a home run either way. Enjoy the spectacular 20 Best High School Musical Gift Ideas!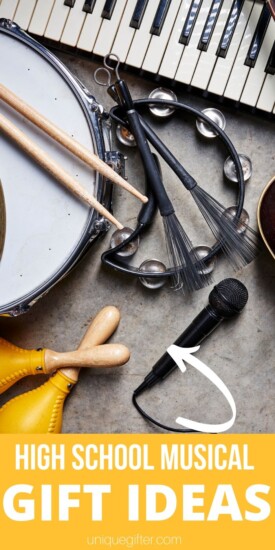 20 Awesome High School Musical Gift Ideas
High School Musical fans are going to go crazy for any of these presents. 
Custom HSM Baseball Jersey
Though they don't play baseball until the second movie, this gift isn't a strike. Hit the field or the parks with this bad boy!
"Once A Wildcat, Always A Wildcat" Sticker
Put it on your car, laptop, or basketball hoop! Show your Wildcat pride.
Wildcat Baseball Hat
Great for games when you're not sure who to root for. It comes in school colors: red and white!
"We're All In This Together" Charm Bracelet
It's not the necklace Troy gives Gabriela, but it's just as sweet. For the song that's constantly running through your head anyways.
HSM 2 Lava Springs ID Cards
Who needs a fake ID when you have your favorite characters? An interesting memento including some minor characters you might not get merch for otherwise.
Wildcats Spirit Jersey
I love the comfort and style of spirit jerseys and the are made for High School Musical. You'll be soaring and flying in this one!
HSM Mickey Ears
Every pair is a unique arrangement of florals- stunning! I love the classy look of these ears.
Wildcats Magic Band Pack
A cute way to store your Magic Bands for the parks! Can also hold jewelry and accessories.
"The Start of Something New" Button
This button brings me back to the beginning, literally! Show it off on New Year's Eve or keep it on your backpack all year.
HSM 3 Movie Collection
Don't call yourself a real fan unless you own all the movies! Just kidding, but it's an impressive collection to have.
"We're All In This Together" Ornament
Celebrate the holidays with a classic! It starts on New Year's Eve so that counts right?
Zac Efron Sequin Pillow
We all know the real reason we watch the movies over and over again. Surprise someone with this awesome pillow.
HSM East High Yearbook
This book gives a behind the scenes look at the cast! Never before seen images and superlatives.
HSM 3 Troy and Gabriella Dolls
Can I have this dance? Dressed exactly like their outfits in the movie, they are ready to take on the world!
HSM Mini Backpack
Mini backpacks are back in style too! Or I suppose you could let a kid enjoy it… up to you.
Wildcats Popsocket
An easy way to show your love of High School Musical every day! Good for taking selfies too.
Tin Lunch Box
Forget taking your lunch in a boring brown paper bag! This lunchbox is fabulous! 
Handheld Game
Take this handheld game anywhere you go. Great for traveling too. 
HSM Sleeping Bag
Slumber parties are even more fun when you are sporting your favorite movie sleeping bag. 
Disney High School Musical Sticker Sheet
Add stickers to notebooks, books, or anywhere else you want to show them off. 
These creative finds brought me back to a simpler time, that's for sure. I love the joy this movie brings to multiple generations. And hopefully, it will continue to do so for many more. Pass down the love with these fun gifts!