Disclosure of Material Connection: Some of the links in this post may be "affiliate links." This means if you click on the link and purchase an item, I will receive an affiliate commission. Disclosure in accordance with the Federal Trade Commission's 16 CFR, Part 255. This site is a participant in the Amazon Services LLC Associates Program, an affiliate advertising program designed to provide a means for sites to earn advertising fees by advertising and linking to Amazon.
Everyone always thinks to get teachers gifts, but school teachers are certainly not the only mentors in your kiddo's life. Soccer coaches have a stressful job, and in all honesty, a lot of them are volunteer-based positions anyway. So why not show them the same appreciation that your child's other mentors receive? The following are 20 gift ideas that any soccer coach is sure to cherish and appreciate! (We may or may not also have gift ideas for soccer fans too.)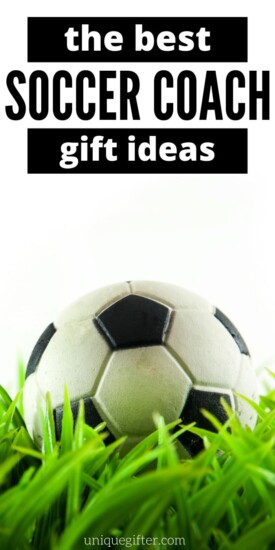 The Best Soccer Coach Gifts
Give your soccer coach a terrific gift to thank them for everything they do. They are going to greatly appreciate something so thoughtful!
Signable Soccer Ball
A signable soccer ball plaque is a great end of season gift for any soccer coach. Gather the whole team, and have them each sign their names, and even jot a quick thank you, if there's room.
Signature Photo Frame
If you want a send-off gift that's a little more personable than just signatures check out this frame that has space for both signatures, and a team photo.
Heartbeat Soccer Decal
Do you need a small gift, but aren't quite sure what the coach is into? How about this fun, heartbeat decal? This way your coach can choose where exactly she wants to place it.
Coach Notepad
Notepads are wonderful for various reasons. However, personalized notepads are even better yet. Plus, can one really ever have too many
notepads?
Crystal Soccer Trophy
Don't you think your coach deserves a trophy, too? After all, would your teammates receive their own, without the coach's help? Take a look at this awesome, mini, soccer ball trophy.
Soccer Scrapbook
How sweet would it be to gift a scrapbook packed with some of the season's most memorable moments? Have each player create their own page to add to the scrapbook, and maybe leave a page or two blanks, for the coach's own use!
Soccer Plays Clipboard
Sure, the coach can verbally repeat plays over and over again, but what's really going to make it set in is this plays clipboard. It has a dry-erase surface, and soccer field diagram to jot down play after play.
Soccer Coach Playbook
A dry-erase board can come in handy during practice, but when it's time for the big game this soccer coach playbook is likely going to get a lot more use.
Greatest Coach Keychain
Not only will this keychain keep Coach's keys handy, but he can also attach that frequently used whistle. Even if the whistle is used a little too often.
Soccer Ball Lanyard
If you are already getting your coach the keychain listed above, check out this soccer ball lanyard. It will keep both their keys and whistle nearby, at all times. Plus, it comes in a bright color, to help make sure that it doesn't get lost in the grass.
Soccer Cleats Art
This isn't your average artwork that most people have hanging around in their homes. No way. This is even cooler, and any soccer coach would love to possess this canvas decor.
Soccer Ball Pillow
Do you need a gift to compliment the previously mentioned soccer art? This is it right here! Choose from just a pillowcase, or order the pillowcase and insert together, so it's ready for lounging on!
Personalized Soccer Pen
Everyone loves a good pen to write with. However, personalized pens always seem to become favorites. Well, this personalized pen comes with its very own case!
Etched Beer Glass
Whether it's after a close game, or a super long, draining practice, sometimes it is nice to head home, sit down, and relax with a favorite beverage. Etched glass is sure to make that drink even tastier.
Coaster Set
You would never think coasters would be a fun gift, but pair these nice, soccer ball coasters with the coach's favorite beverage, and they are sure to be a hit!
Soccer Ball Bath Bombs
Not everyone drinks to relax. In fact, many find a nice, warm bath to be extra soothing. Especially after they've been chasing up and down the sidelines. Soccer ball bath bombs are just the perfect gift idea for sore, tired coaches.
Zip Up Sweatshirt
We all know that soccer goes on no matter what kind of weather Mother Nature kicks out as us. Gift your coach this personalized, quarter zip sweatshirt, to wear during those chilly practices and games.
Personalized Water Bottle
If you want to gift your coach a water bottle, perhaps consider one that will help keep his hands free. After all, chances are his hands are going to be full anyway. Fortunately, this stainless steel water bottle comes with a clip that can attach to a gear bag.
Each of these presents will bring a smile to your soccer coaches' faces!