Disclosure of Material Connection: Some of the links in this post may be "affiliate links." This means if you click on the link and purchase an item, I will receive an affiliate commission. Disclosure in accordance with the Federal Trade Commission's 16 CFR, Part 255. This site is a participant in the Amazon Services LLC Associates Program, an affiliate advertising program designed to provide a means for sites to earn advertising fees by advertising and linking to Amazon.
Probably, you know someone who is still bugged by the last world cup in Brazil. This person refers to the front yard as the pitch and is a full-on soccer nerd who has been enslaved by the football world. You are probably wondering what you can get him or her, and you have been googling some gifts for soccer fans' ideas without success.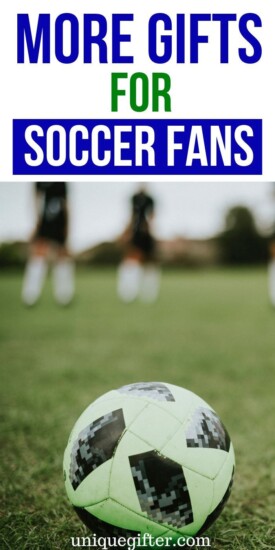 Below, you will find some great gifts for soccer fans.
Just one tip: Make sure you know the team of choice so you can pick one of these gifts for soccer fans.
1. Soccer Beanie
Just like the jerseys, this is an obvious item to include as a gift. Most football clubs have an accessories page where you can choose the item of choice depending on your team.
FC Barcelona Beanie
Buy Now
ARSENAL BEANIE
Buy Now
Chelsea Beanie
Buy Now
2. Water bottle
Off course, the bottle needs to be customized in line, with the team of choice.
Personalized Custom Water Bottle
Buy Now
3. Soccer Charm
Add them some item that they can hang on their neck because they believe it means good luck. A personalized soccer necklace is a thoughtful gift. They can add their name if they want. This item will also garner some compliments.
Engraved Soccer Necklace
Buy Now
4. Customized phone case
Everything they own should communicate their love for soccer.
Hybrid Shock Absorbent Case
Buy Now
5. Lanyard
This should come with the colors of the preferred team. A detachable buckle can be a lifesaver when used as a ticket holder or for hanging keys.
Manchester United Lanyard
Buy Now
6. Soccer ball alarm clock
A soccer alarm clock will mean that you care for them to wake up in time and watch the Premier League Kickoffs.
2015 Football Soccer Clock
7. Football Manager Game
This record-breaking series will give them the expertise of football management around the world and will better their argument when discussing matters football.
Football Manager 2015
8. FIFA 15
Need I say more? Soccer lovers will always do with a game of FIFA because it enables them to experience the emotion of the sport.
FIFA 15 – PlayStation 4
FIFA 15 (Ultimate Edition) – Xbox One
9. Soccer 360 Magazine
A magazine will keep them going by providing comprehensive coverage on matters football.
Soccer 360 Magazine
10. Soccer Jersey
Soccer fans will rarely feel complete without their team's jersey.
Manchester United Jersey
11. Premier league calendars
Once you identify the favorite team, you can go ahead and purchase a customized calendar. This gift will give them a chance to show team pride. When they flip the page every month, they will view an action photograph accompanied by a bold statement that will remind them of their love for the game.
Soccer Wall Calendar
12. Soccer Chair
A soccer-inspired chair is a plus gift. It is a charm.
Big Joe Soccer Bean Bag
13. Soccer Ball Cufflinks
This will be their subtle way to show the world that they are soccer fanatics.
Soccer Ball 3D Cufflinks
14. Soccer Ball Docking Speaker
They need to be psyched with the pre-game tunes, and this is a fun gift to let them do so.
Amethyst Innovations Soccer Ball Speaker
15. Fan Custom Pillow
Fans want to communicate a message that they support an individual team. Let them scatter some customized pillows around the house.
Soccer Plush Pillow
16. Soccer Key holder
Let them set their keys apart. They will be envied for their loyalty.
Soccer ball with keychain.
17. Soccer Gymsack
A customized gymsack will identify a fan with the team of choice.
Arsenal Gymsack
18. Soccer Scarf
Since you want them to practice their loyalty, induct them into the cult of the soccer scarf
Liverpool F.C. Official Scarf
19. Soccer books
Chances are high they like reading, and as the saying goes 'knowledge is power.'
Finding The Game By Gwendolyn Oxenham
The Ball Is Round – A Global History of Soccer by David Goldblatt.

The Miracle of Castel di Sangro by Joe McGinniss
Among the Thugs by Bill Buford.
How Soccer Explains The World: An Unlikely Theory of Globalization by Franklin

20. Soccer Videos
There are several, but settle on those that are entertaining.
Victory
ESPN Films 30 For 30: Soccer Stories
Shaolin Soccer
As a bonus, you can send them a unique soccer gift that is packed with game watching goodies.
Super Soccer Fan Sports Gift Basket
Other Bonus Gifts include:
Football boots, Season tickets, and the match-specific ball
More Gifts for Soccer Fans
Soccer, football Americano, foosball, no matter what they call it, someone you care about is a diehard soccer fan. So when you need to get them a gift, why not get them something soccer-related? Here are even more great gifts that any soccer fanatic is sure to love!
Soccer Coasters
These custom, handmade soccer coasters are a great gift. They are coated in epoxy, to give them an extra-long life!
Lego Soccer Grandstand
Who doesn't love legos? The soccer grandstand legos are a fun gift idea for soccer fanatics of nearly any age.
Soccer Whiskey Glass
For those evenings when their team just isn't playing very strong, or they simply want to indulge in a hard beverage.
Hot Cocoa Mug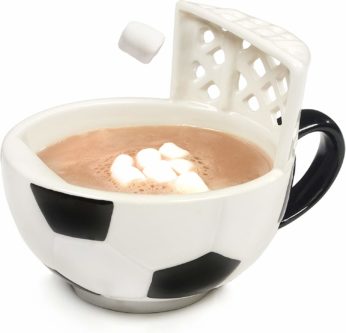 This is much more exciting than your average coffee mug. This mug has an attached soccer goal, to fling your marshmallows into!
13.5 oz Glass
Not only can this glass be used for just about any beverage, but it can also be personalized!
Wireless Soccer Mouse
What a great idea for the soccer-loving techie in your life!
Hover Soccer Game
This hover soccer game is soft enough that it can be played indoors on rainy days. Adults would even likely get a kick out of it! Pun intended!
Soccer Elastics
Do you have a little lady in your life who can't get enough soccer? If so, she is going to love pulling her hair up in these super cute, soccer elastics!
National Geographic Soccer Book
If your soccer fan is a youngster, National Geographic makes wonderful books. This book about soccer will not disappoint!
Inspirational Soccer Keychain
A keychain is a perfect gift for a teen who adores soccer and could use a little inspiration. Even adults could certainly get some use from this keychain!
Soccer Bracelet
Not only is this love soccer bracelet absolutely adorable, but it also comes in multiple colors, and even has the option to add earrings or hair elastics!
Wooden Puzzle
Puzzles are a great way to help pass time. Check out this awesome, three dimensional, wooden soccer puzzle! It even makes a great decorative piece!
Cupcake Toppers
Treat your soccer fan to some locally made, gourmet cupcakes, topped with these adorable cupcake toppers!
3D Barcelona Puzzle
Although a puzzle has already been mentioned, this 3D Barcelona puzzle is too cool, not to mention. Maybe you'll even want to include a note of encouragement, as this puzzle does look a bit tricky!
Soccer Mug
Every soccer fan needs a soccer ball mug! This one is sure to be a hit! And the best thing is, it isn't sphere-shaped, which would make it awkward to hold, and take up lots of space in the cupboard!
Barcelona Drawstring Bag
Whether the recipient is a kiddo who could use the bag to transport their clothes to a sleepover, or a teen or adult who could use this for a gym bag, it is sure to get frequent use!