Disclosure of Material Connection: Some of the links in this post may be "affiliate links." This means if you click on the link and purchase an item, I will receive an affiliate commission. Disclosure in accordance with the Federal Trade Commission's 16 CFR, Part 255. This site is a participant in the Amazon Services LLC Associates Program, an affiliate advertising program designed to provide a means for sites to earn advertising fees by advertising and linking to Amazon.
Jazz fans are full of character, and gifting for them should reflect that, too! These are some of the most interesting, and unique Utah Jazz fan gift ideas on the internet. Have a hard time gifting for NBA fans? Here's a tip: they love the latest, greatest and eccentric type of gift ideas.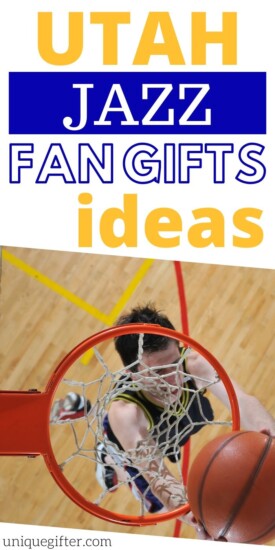 The Best Utah Jazz Fan Gift Ideas
In need of an all-star Utah Jazz gift idea to rock your favorite fan's world? Check these ideas out!
Jazz Chrome Team Emblem
Finally, you can deck out your ride the way you always wanted to! With an NBA team logo emblem, of course. This chrome emblem would look great on your car, bike, or laptop!
Utah Jazz Block Crew Socks
Thes large crew socks are everything Jazz, not to mention Jazzy. Seriously, these socks have some mean character! Perfect for strutting around the office or mowing the lawn.
Jazz Basketball Player LED Lamp
Now this is really something innovative. It's a 3D LED lamp, featuring a silhouette of a basketball player. If that wasn't cool enough, it can be customized with your favorite Jazz fan's name. This is the perfect personalized Utah Jazz fan gift idea!
John Stockton Player Plaque
Get the garage fitted out right with this awesome game room decor! This authentic John Stockton plaque commemorates one of the greatest Jazz players to hit the hardwood!
NBA Officially Licensed Belt
If you need everyone to know how serious of a Jazz fan you are, get tricked out with this fantastic belt! The buckle features the iconic Utah Jazz logo, making it perfect for work and game time!
NBA Pillow Pet Jazz Dog
Want to make a young Utah Jazz fan's day? This adorable dog plush comes with its own Utah Jazz player uniform and logo! Give them an NBA first birthday present they'll keep for a lifetime!
Straight Outta Utah Shirt
Wear it loud and proud wherever you go! This T-shrit encapsulates the Jazz fandom perfectly, Utah proud and strong! This T-shrit would be the ideal addition to a Utah Jazz fan gift basket idea!
Utah Jazz Cufflinks
Just because you spend all day in a stuffy office or coworking space dosen't mean you shouldn't be able to rep the Jazz! These cufflinks are perfect for casual and formal occasions. They also make the perfect Utah Jazz gift for men!
Utah Jazz Portable Charger
Don't let your battery die during the game! Stay charged, even at the court with this sleek, mini Utah Jazz logo adorned power bank.
Utah Jazz Baby Bib
This bib features the Utah Jazz logo front and center, with the phrase, 'Little Jazz Fan'! Your little one will grow up to be a true Utah basketball fan with this adorable, and practical Utah Jazz fan gift idea for infants!
Utah Jazz Face Mask
This face mask is a great way to promote your health on and off the court. Whether you're out at a fan event, or just saving others from your cold. This Utah Jazz branded facemask is a great way to stay safe out and about.
Utah Jazz Fan Mats
These are for the serious Jazz fans out there! (You know the ones!) These car mats come printed with 3D team logos, so everyone who steps into your vehicle knows where your NBA loyalties lie!
Utah Jazz Line Socks
These socks are about as trendy looking as they are comfortable! These knee-high men's socks are great for the gym or the court. They come with old-school Jazz colors and mountain design schemes.
Vintage 90's Jazz Shorts
Collectible pieces of history are perfect for NBA fans, Utah Jazz lovers included! If you've got a serious fan on your hands, hook them up with some awesome commemorative merch!
Utah Jazz Flag
That's right, a regular sized flag! Hang it outside your house, or on the back of your vehicle during gametime to show your true colors!
Vivant Smart Home Arena Diagram Poster
This awesome print is ideal for a Utah Jazz fan's game space or man cave! Get them set up with this classy piece of decor that won't go out of style anytime soon.
'Northface' Style Utah Jazz Shirt
This T-shirt is a color and shape mockup of the iconic 'north face' logo design. Instead, it features the colors and name of the Utah Jazz's beloved red tone jerseys! Any true Jazz fan will recognize the design immediately, making this T-shirt an easy Utah Jazz fan gift idea.
Retro Utah Jazz Cap
This cap is all the retro you need in your life! In eclectic blue and purple, it features the old school Utah Jazz logo in all of its vintage glory!
Utah Beer Cap Map
Celebrate the state that the Utah Jazz call home! This beer map is the perfect way for your favorite Jazz fans to track their favorite craft brews from the state!
Karl Malone Throwback Jersey
Throwback Jerseys are a classic collectible item in the NBA fandom! If you want a safe bet Utah Jazz fan gift idea, a jersey from the legendary #32 is a good place to start!
Utah is a wonderful place to visit, and a great place to enjoy some good basketball! What's the most interesting Utah Jazz gift you've ever seen? Good luck, and happy gifting!