Disclosure of Material Connection: Some of the links in this post may be "affiliate links." This means if you click on the link and purchase an item, I will receive an affiliate commission. Disclosure in accordance with the Federal Trade Commission's 16 CFR, Part 255. This site is a participant in the Amazon Services LLC Associates Program, an affiliate advertising program designed to provide a means for sites to earn advertising fees by advertising and linking to Amazon.
Raiders fans know what they want, and that's a fourth superbowl title! Fuel the thirst for victory by commemorating the team with some awesome merch, gear and collectible items. These are the best Oakland Raiders fan gift ideas if you're trying to find that something special.
Our Favorite Oakland Raiders Fan Gift Ideas
Check out these awesome Oakland Raiders fan gift ideas inspired by one of the teams with the most passionate fan base out there!
NFL Raiders Flag
This isn't just any old ordinary flag! It's a mockup of the Star Spangled Banner in glorious Raiders colors, even featuring the logo! Fly it during the game for good luck.
Oakland Raiders Car Mats
Know a Raiders fan who drives Uber? This might just be the perfect Raiders accessory for ridesharing, that way you can show off your pride to everyone who steps in side your car!
Raiders Knife Set
These knives come with an iconic Raiders logo and color design, making them perfect for whipping up pre-game snacks and spreads!
Raiders Timex Watch
This is a classy and functional men's watch featuring the Raiders logo on the face. No matter what time of day, show off your love for the Raiders in a timeless way!
Raiders Replica Superbowl Rings
These rings commemorate the Raider's 3 superbowl wins in modern football history! They're replicas that make for a pretty awesome collectible for the die hard fan!
Oakland Raiders Leggings
Talk about unique! She'll love these incredibly comfortable Raiders color print leggings to wear at the stadium.
NFL Raiders Bowling Shirt
Yup, that's right! Turn some heads at the bowling alley with this truly incredible men's Oakland Raiders colored and themed bowling shirt.
Oakland Raiders Insulated Tumbler
This drink tumbler is ideal for game time drinks, keeping things purely fan loyal and convenient! Grab one for your favorite Oakland Raiders fan for the perfect gift idea.
Oakland Raiders Cap
This classic style NFL cap is the perfect way to show off your favorite team throughout the year.
Raiders Facemask
This is a custom made Raiders print facemask so you can act responsibly when you're out and about with a cough. They're also perfect if you want a little more privacy, too.
Tales from the Oakland Raiders Book
This is a collection of some of the greatest stories ever told about the Oakland Raiders! Gift it to your one fan who's a total Raiders fanatic.
Raiders Replica Helmet
This helmet is exactly the kind of collectible piece that makes for awesome football fan home décor! Hang it up in your office or game space for the perfect touch.
Raiders BBQ Tools Set
This 3 piece set is everything dad needs to get cooking during halftime! Get him set on the grill with these awesome Raiders branded grill tools.
Raiders Pantone Wall Print
Ever try to get the Raiders colors just right? Luckily, this art print is a stylish and classy reminder in the form of the official Pantone color codes for the Raiders grey and black!
Raiders Mug
This beer mug is a classic stein-style vessel featuring the Raiders logo prominently front and center! Gift it to your favorite Raiders fan who loves their beer.
Raiders Alameda County Coliseum Print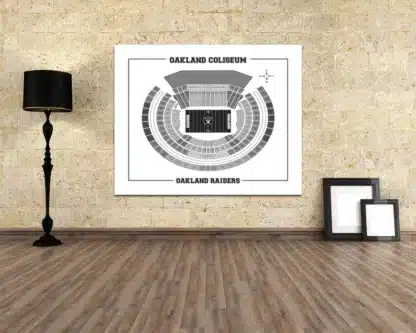 This art print celebrates the rich heritage of the Alameda county stadium in an incredible, eye catching retro design you've just got to see for yourself.
Bluetooth NFL Raiders Speaker
This Bluetooth speaker is a heavy-duty speaker to use for listening to the Raiders game, or football podcasts on the go! It has their logo, making it perfect for pumping music at tailgate parties too!
Raiders Can Cooler

No tailgate party is complete without drinks! This Raiders can cooler can hold up to 24 cans.
Raiders Can Cooler
What better way to show off your love for the Raiders than this high quality Oakland Raiders beach towel.
Hopefully you've found the perfect inspiration in these Oakland Raider fan gift ideas! What inspired your gifting this football season? Let us know if any of your picks score a touchdown! Happy football season!