Disclosure of Material Connection: Some of the links in this post may be "affiliate links." This means if you click on the link and purchase an item, I will receive an affiliate commission. Disclosure in accordance with the Federal Trade Commission's 16 CFR, Part 255. This site is a participant in the Amazon Services LLC Associates Program, an affiliate advertising program designed to provide a means for sites to earn advertising fees by advertising and linking to Amazon.
Rawr. These bears aren't scary but they definitely are proud. Whether you're buying for someone else or yourself, these bear pride items are perfect gifts.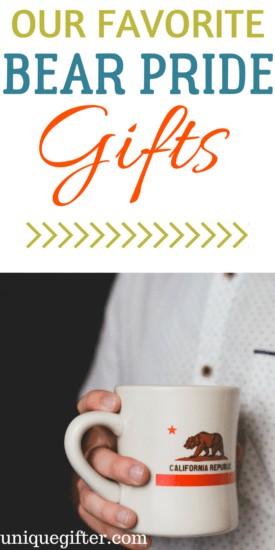 Bear Pride Gifts
Keychain
Simple, manly lego coloured for the bear pride flag and woven together.
Bear Pride Flag
Nothing says pride like a flag waving proudly. What's better about this one is it also has a paw print in the corner to help people recognize this less known LGBT symbol.
Mug Cozy
So their coffee stays snuggly wuggly warm.
Beared For His Pleasure Shirt
This shirt will make them do a double take. Loud and proud, that's what it's about!
Goat's Milk Soap
These soaps have an earthy, outdoorsy scent so they can get bear-y clean.
Bear Pride Vest
They can add this patch to a hat, coat, bag, or whatever they want to show of their asexual pride.
Cub Cuff
Cubs need some love too! These leather cuffs simply say "cub" so they can show their pride in style.
Bumper Sticker
Another more subtle one – this bumper sticker has the bear pride flag in the background with bears in the front.
Pride Ring
This simple ring pulls some of the colours from the bear pride flag. Classy and fashionable.
Feed Me To The Bears Shirt
Perfect for the non-bears who still want to show their bear love.
Bear Pride Pendant
This handmade pendant uses perforated holes to string the pride flag colours through.
Trinket Box
This bear pride box is hand painted. What they do with it is up to them although the etsy listing seems to have a few ideas.
Leather Flag Bracelet
A real leather bracelet that has each colour of the bear pride flag attached in strips. Masculine jewelry at its finest.
Pint Glass
They can enjoy a pint of their favourite beer with this bear pride drinking glass. The glass features a decal of a bear paw with the pride flag colours inside of it.
Bear Pride Belt
This custom leather belt will proudly hold up his pants while he dances the night away, hunts in the wilderness, or whatever his plans are.
Crochet Scarf
Sometimes bears get chilly too – add an extra layer with this fashionable crocheted scarf. It's nice and wide to keep even the strongest bears warm.
Love Photo Frame
This handmade photo frame is the perfect gift for a bear in love. Put a picture the happy couple inside the heart for a nice, personal gift.
Metal Bracelet
This bracelet uses the colours of the bear pride flag and weaves them together in an interesting and fashionable design. Cool!
Bear License Plate Holder
Show your bear pride off everywhere you go with this license plate holder.
Christmas Stocking
Now even Santa Claus will see your (or their) bear pride! This stocking is done in the flag's colours with some bling added on. Stuff it with goodies for a great Christmas gift.
Hurray for showing your support, love, and pride for the bear community!