Disclosure of Material Connection: Some of the links in this post may be "affiliate links." This means if you click on the link and purchase an item, I will receive an affiliate commission. Disclosure in accordance with the Federal Trade Commission's 16 CFR, Part 255. This site is a participant in the Amazon Services LLC Associates Program, an affiliate advertising program designed to provide a means for sites to earn advertising fees by advertising and linking to Amazon.
'Tis the season for gift-giving and cheer. Teachers can help their students to join in on the festivities with a cool Christmas gift to kick off the Holiday fun. Check out these Christmas Classroom Gifts for 2nd Grade Students. Fun toys to make each classmate feel special as they head off for the holiday school break.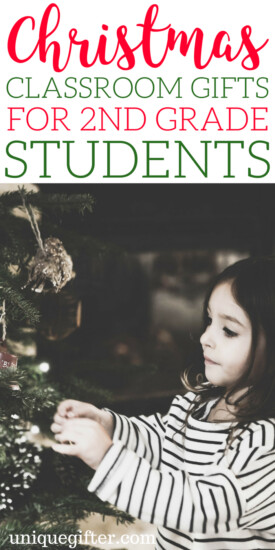 Fun Christmas Classroom Gifts for 2nd Grade Students
Book
Children can keep their brain's active over winter break by reading this classic Rudolph the Red Nosed Reindeer Book.
Elf Plush Toy
Children can have their very own elf on the shelf, thanks to this adorable Elf Plush Toy.
Snowman Glasses
Nothing screams "cool" quite like a pair of Snowman Glasses.
Secret Message Pen
Secret Message Pens are a fun way to share messages with your buddies.
Bookmarks
Of course, the kiddos are going to be doing tons of reading over Christmas break. *Wink Wink* For that reason, Bookmarks would be a totally appropriate classroom Christmas gift.
Ceramic Figurine Kit
With this Ceramic Figurine Kit, children can make a few Christmas gifts of their own for their loved ones.
Pencil, Stamps, and Stickers Set
This Pencil, Stamps, and Stickers Set is sure to help keep kids busy over Christmas break.
Oral Hygiene Set
After all the yummy holiday treats, we want children to know that their oral hygiene is still a high priority. This gift helps you do just that.
Snowman Jump-Ups
These Snowman Jump-Ups are sure to excite the kids. They can enjoy this toy both indoors and outdoors.
Stretchy Snowmen
Stretchy Snowmen can be a lot of fun for children to play with. These Snowmen can be stretched to their max, and still, return to their original shape.
Snowman Slime
There is something about slime that children just cannot seem to get enough of. This Snowman Slime will definitely be a gift that your 2nd graders enjoy.
Jingle Bell Necklaces
Children love making noise, and these Jingle Bell Necklaces help them to do just that in a cheerful manner.
Emoji Keychain
Emojis are vibrant and fun, and perhaps that is why children like them so much. These Emoji Keychains would be a simple, yet exciting, gift.
Snowman Notepads
Gift the kiddos something that they can doodle on over Christmas break.
Christmas Light Bulb Necklace
You students' faces are sure to light up when they receive these fun Christmas Light Bulb Necklaces.
Puzzle Balls
These Puzzle Balls are a unique way to help keep the little ones' brains active over break.
Slap Bracelets
Slap bracelets are such a fun accessory. Kids especially seem to love these.
Jingle Bell Bracelets
There is nothing more festive than these super cute Jingle Bell Bracelets.
Activity Book
Students will certainly appreciate having these Activity Books on hand during their downtime.
Yo-Yo
Yo-yos are a fun party favor that just never seems to go out of style. For this reason, they make a great classroom Christmas gift.
No student will feel left out when it comes to opening a gift this Christmas. They are sure to be filled with Holiday Cheer as they open up one of these awesome gifts.