Disclosure of Material Connection: Some of the links in this post may be "affiliate links." This means if you click on the link and purchase an item, I will receive an affiliate commission. Disclosure in accordance with the Federal Trade Commission's 16 CFR, Part 255. This site is a participant in the Amazon Services LLC Associates Program, an affiliate advertising program designed to provide a means for sites to earn advertising fees by advertising and linking to Amazon.
This ooey gooey spooky bleeding bundt cake is the ultimate Halloween dessert! It will leave your guests screaming for more this Halloween season. This fluffy cake with just enough ooze is sure to be added to your regular baking list every Halloween season. Make it yourself or have your kids help. Believe us, they will get a total kick out of how bloody "disgusting" this cake looks! Continue reading for our bleeding bundt cake Halloween recipe below.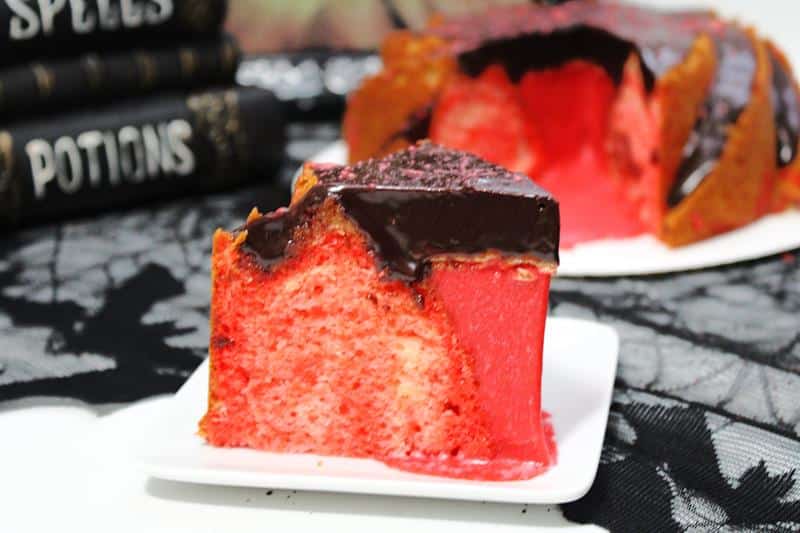 Bleeding Bundt Cake Halloween Recipe

Don't be afraid to dive into this recipe, it may seem complicated but we promise it's a lot easier than you think! It's as easy as using your favorite vanilla cake mix and adding some red food gel coloring to help create the bloody look. Creating a delicious but simple ganache with both regular chocolate and white chocolate to give it the perfect topping and filling.
It might seem a little overwhelming if you're a beginner baker, but this spooky Halloween cake is more approachable than you might think! We broke the steps down to ease your mind and help you create this masterpiece.
This cake won't disappoint! Check out the full instructions and ingredient list below.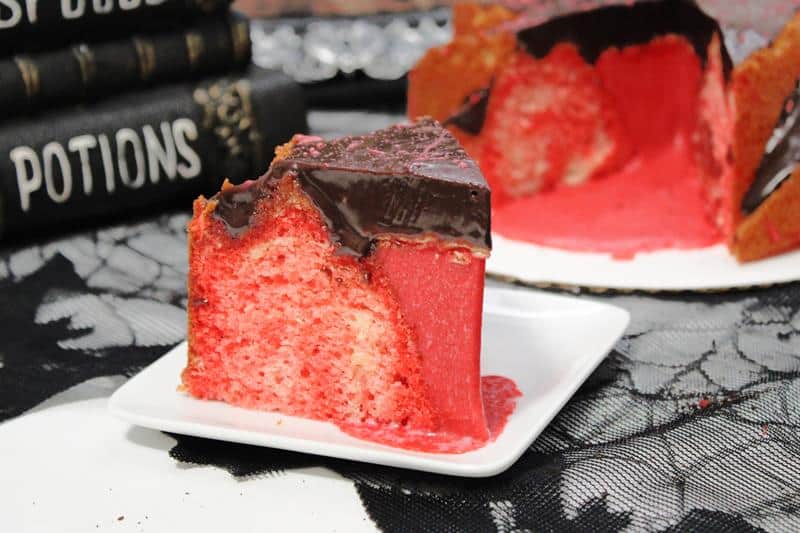 Personalize This Fun Halloween Cake Idea

Wanting to mix it up? Try adding green coloring to make it a slimy monster cake! Simply replace the red gel coloring in the cake with green, and red food coloring in the white chocolate ganache to green food coloring! Super simple switch, but a whole different cake theme entirely.
You can also use this as a chance to break out some of those creative Halloween baking decorations, too! Now, I'm not saying 'clean out' your decoration kit to make room for new ones, but what a happy accident that would be! Spooky Oreo gravestones, sugar skeleton bones and bats could add even more fun character to this creepy cake recipe.
Ingredients for Cake and Ganache:
White cake :
2 Vanilla cake mix
6 large eggs
2 C whole milk
1 C unsalted sweet cream butter, melted and cooled slightly
Red gel food coloring
Red white chocolate ganache :
1 1/2 cups heavy cream
3 cups white chocolate chips
Red food coloring
Chocolate ganache :
1 cup heavy cream
1 1/2 cups dark chocolate chips
1 stroopwafel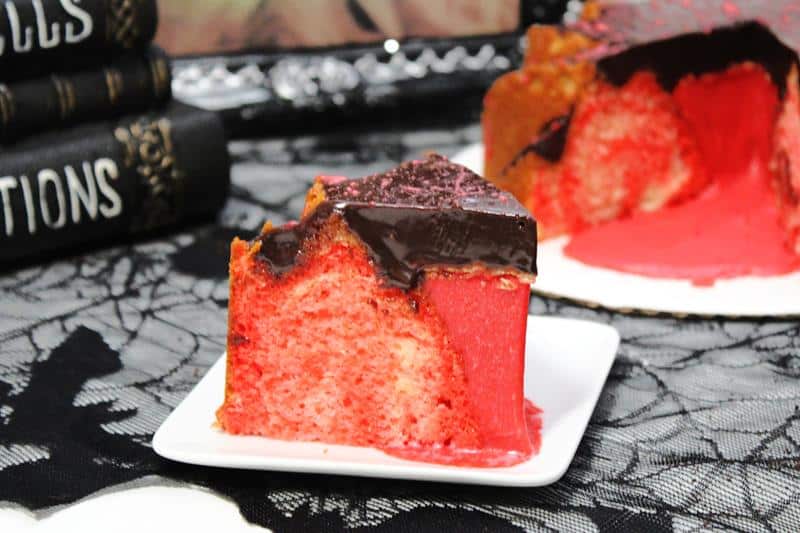 Directions for Making Bleeding Bundt Cake Halloween Recipe:
Preheat oven to 350 degrees and spray a 9in 12 C bundt pan with pam baking spray
Using a large bowl and hand beater, beat the cake mix, eggs, milk and butter until combined and smooth
Divide the cake batter into two bowls
Mix in about 4-7 drops of red gel food coloring into one of the cake mix bowls
Pour about ¼ of the none colored cake batter into the bundt pan
Drop dollops of the red cake batter on top of the other batter and swirl lightly with a butterknife
Pour another ¼ of the none colored batter on top of the other batter
Drop more dollops of the red cake batter on top and swirl some more
Repeat until all the batter has been combined into the bundt pan
Bake in the oven for 25-35 minutes or until a toothpick comes out clean
Allow to cool in the bundt pan for 15 minutes before flipping over onto a flat serving platter
Using a small pot, bring the 1 ½ C heavy whipping cream to a rolling simmer
Whisk in a few drops of the red gel food coloring and whisk until combined. Add in a few more drops of red to get the correct shade of red for blood
Pour the hot heavy whipping cream over the 3 C white chocolate chips and let sit for a few minutes before whisking until smooth
Allow to cool for about 10 minutes while occasionally whisking to avoid a crusting on top
Once the cake has cooled completely, pour about ¾ of the red white chocolate ganache into the center opening of the bundt cake
Carefully and slowly place the stroopwafel over the center of the bundt cake
Allow the red ganache to set for about 10 more minutes
Using a small pot, bring the 1 C of heavy whipping cream to a rolling simmer and pour over the dark chocolate chips
Allow to sit for 5 minutes before whisking until smooth
Pour the chocolate ganache over the entire cake, making sure the center is completely covered
Reheat the leftover red chocolate ganache and mix after every 15 seconds until the ganache is
thin and runny
Using a fork, dip it into the red ganache and doing a flick motion with your wrist, create a splatter
look all over the cake
Allow to set for 15 minutes before enjoying~
Bleeding Bundt Cake Halloween Recipe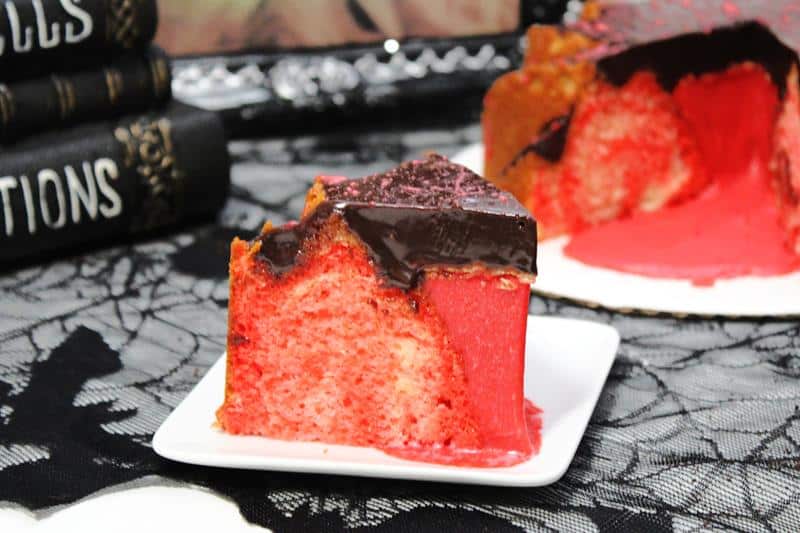 Ingredients
White cake :
2 Vanilla cake mix
6 large eggs
2 C whole milk
1 C unsalted sweet cream butter, melted and cooled slightly
Red gel food coloring
Red white chocolate ganache :
1 1/2 cups heavy cream
3 cups white chocolate chips
Red food coloring
Chocolate ganache :
1 cup heavy cream
1 1/2 cups dark chocolate chips
1 stroopwafel
Instructions
Preheat oven to 350 degrees and spray a 9in 12 C bundt pan with pam baking spray
Using a large bowl and hand beater, beat the cake mix, eggs, milk and butter until combined and smooth
Divide the cake batter into two bowls
Mix in about 4-7 drops of red gel food coloring into one of the cake mix bowls
Pour about ¼ of the none colored cake batter into the bundt pan
Drop dollops of the red cake batter on top of the other batter and swirl lightly with a butterknife
Pour another ¼ of the none colored batter on top of the other batter
Drop more dollops of the red cake batter on top and swirl some more
Repeat until all the batter has been combined into the bundt pan
Bake in the oven for 25-35 minutes or until a toothpick comes out clean