Disclosure of Material Connection: Some of the links in this post may be "affiliate links." This means if you click on the link and purchase an item, I will receive an affiliate commission. Disclosure in accordance with the Federal Trade Commission's 16 CFR, Part 255. This site is a participant in the Amazon Services LLC Associates Program, an affiliate advertising program designed to provide a means for sites to earn advertising fees by advertising and linking to Amazon.
They already have all the practical stuff that I'd normally give. There's only so much canned food and kitty litter they can stockpile, and the same goes for cat toys. And, philosophically, while a gift for their cats is also for their enjoyment, it's not truly a gift for the human who tends to them. Among the adults, we keep the gifts quite small because no one wants to be overwhelmed with knick-knacks or get involved in a Christmas gift one-upping war. I've been on the hunt for unique presents that will complement what they already have and am now sharing the bounty of our research with you now in hopes that you too will win the "best gift" trophy without looking like you were trying too hard.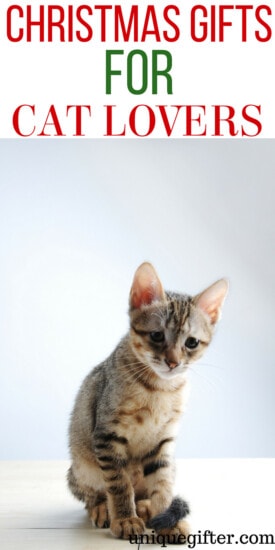 The Perfect Christmas Gifts for Cat Lovers
Cat-Ice cream Patch
This stack of cat-scoops is 4 inches tall and almost 2 inches wide and can be sewn or ironed on most fabrics. We use these iron-ons for decoration and for covering up holes torn into pants knees.
Cat Ring Holder
Ring wearers can loop their rings onto this helpful cat's tail instead of losing them somewhere behind the sink or dresser.
Earrings
Are nine leopards leapin'…or was that lord? Whatever it is, these black cat earrings are excellent for the pierced ear set.
Paws Off Glass Markers
Lay claim to your glass, whether it be fizzy soda or chilled wine, with the cat of your choice.
Bookends
These nonskid bookends will keep your books from falling over, and keep a couple sets of eyes on your other possessions.
Salt & Pepper Shaker Set
Most people already have salt & pepper shakers but anyone who doesn't is fair game for this kissing noses set.
Smart Phone Stand
In a world of smartphones, this stretching cat can support most iPhones and Androids. Physically propping them up, of course.
Toddler Beanies
These beanies may run a little on the large side if they can fit "up to age 3" but from experience, I can assert that beanies of any size are cute on pretty much any baby.
iPhone SE Case
This case fits the smaller iPhone models (5/5S/SE) and there's just something entertaining about the camera port placement just over the cat's eyebrow.
Printed Tattoo Stockings
For the more adventurous dresser, who has experience with garters because these probably won't stay on without them, these fun patterns have a cat peeking over your knee or twining around your leg. Very true to life.
Over-The-Door Hooks
Some doors aren't strong enough to mount hooks on in rooms that don't have enough wall space to add wall-mounted hooks, hangers, or towel bars. Enter the over the door hook! Bonus points for helping a cat finagle entry into the bathroom over the door instead of under it.
Geometric Cat Print
This bit of art looks as good in a nursery as it does on a bathroom wall or entryway.
Insulated Stainless Steel Flask
This double walled vacuum insulated cat thermos keeps liquids hot for up to 6-8 hours and cold for up to 12-16 hours. It comes with a cleaning brush and a coffee spoon.
Tea Infuser
These infusers are food grade silicone and easy to wash. I have the walrus-shaped infuser and it makes me laugh every time I perch it on the lip of my mug.
Refrigerator Magnets
Magnets attached to the backs of resin cats: funny and fun. Just store them out of reach of small children and vengeful cats who won't tolerate intruders in their domain.
Silicon Pouch
This silicon pouch is washable and the perfect size for keeping cat treats in your pocket or bags at all times. This endorsement was not paid for by everyone's cats.
Tea Mug with Fish
For longer steeping teas, this fish in the cat's belly is just the ticket. Fill half the fish with tea leaves to allow them to steep properly.
Silicone Cat Lamp
This silicone cat night light is reminiscent of Baymax from Big Hero 6 and exudes the same comforting kind of presence.
10000mAh Battery Bank
Power, with ear indicators! A full battery fully lights up the ears, an empty battery flashes the ears. This charging pack holds 2-4 charges for phones, and a full charge for an iPad mini.
Bowl and Soup Set
A few rice and soup bowl sets, a simple dinner, what more do you need? These are the only cats we allow on the table.
What's the best cat-related present you've ever given or gotten?