Disclosure of Material Connection: Some of the links in this post may be "affiliate links." This means if you click on the link and purchase an item, I will receive an affiliate commission. Disclosure in accordance with the Federal Trade Commission's 16 CFR, Part 255. This site is a participant in the Amazon Services LLC Associates Program, an affiliate advertising program designed to provide a means for sites to earn advertising fees by advertising and linking to Amazon.
There's nothing like sitting down with a warm drink and a good book, maybe nestled by the fireplace. These art prints are for book lovers everywhere; they can bring a little bit of literary charm into the room even when the pages have to be closed. These amazing prints are by Wisdom Supply Co, who make beautiful modern artwork out of your favorite books.

Moby Dick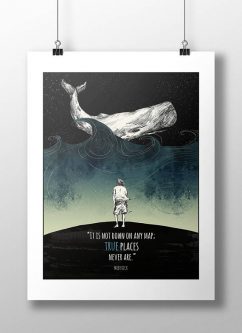 "Call me Ishmael" and I'll take you away on a fantastic adventure. This print really helps capture the surreal voyage that is Moby Dick.
Age Appears Quote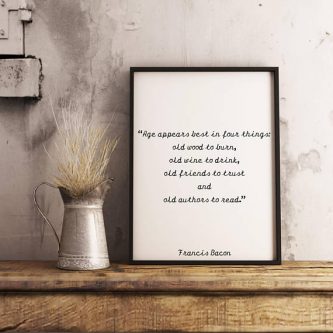 Who says you have to be young to be a book lover? This art print highlights the important things in life that really matter as we age.
Peter Pan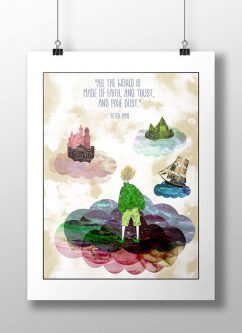 Peter Pan never wants to grow up and with this art print you won't have to either. It's full of childhood whimsy that will make any fans of the book, or even the movies, quite happy to receive as a gift.
Turned Her Brain Quote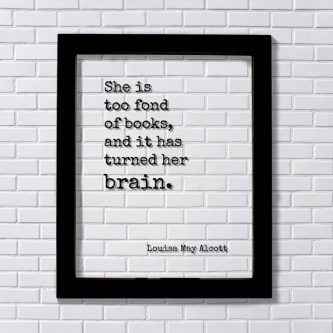 This one's for the feminists and rebellious women on your gift list. The quote says "She is too fond of books and it has turned her brain" which really explains a lot about the well read women in my life.
Wizard of Oz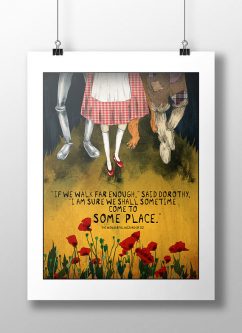 The Wizard of Oz is a timeless story that has been delighting book lovers for over a century. Go on a journey with Dorothy and all her friends with this colorful art print.
C.S. Lewis Quote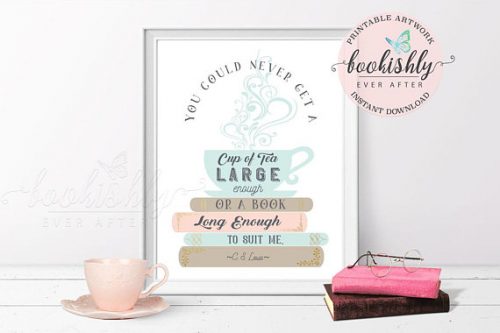 This quote from C.S. Lewis is one of the more popular ones when it comes to the subject of loving to read. It's nice to see authors promote their own love of reading, and even nicer for book lovers to use that to promote theirs by hanging this art in their home.
Frankenstein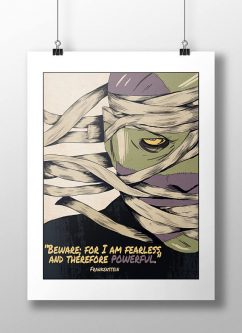 I might be a little biased here because I absolutely love the history behind this book, but this Frankenstein art print is really cool. It's nice to see some more masculine-looking products available because not every book lover favors flowers and pastels. A strong quote for someone strong in your life.
J.K. Rowling Quote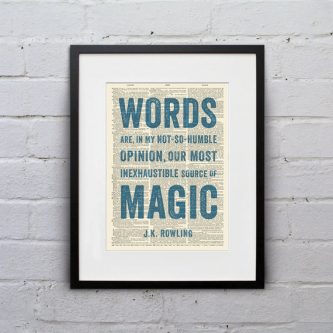 Another print with a popular author's quote, this one by Harry Potter creator J.K. Rowling. It's great for a reader or a writer, but the way the put the quote on top of pages is a really cool way to recycle old books.
Anne of Green Gables Print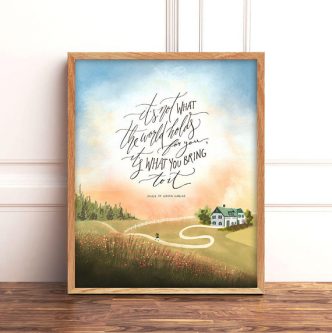 I'm Canadian so it wouldn't be right to omit Anne of Green Gables from a list of great art prints for book lovers. This series has delighted people for generations and this gorgeous print can bring some small-town inspiration to anyone's life.
Alice in Wonderland
This art print does some really cool things with color and, in my opinion, captures the whimsy and surrealism of Alice in Wonderland quite well. Full disclosure: I received a copy of this print from the shop owner and the quality is stunning printed as well.
A lot of these prints also have framing options so your gift arrives ready to give. Or just get one for yourself! I can't wait to frame and hang up mine.