Disclosure of Material Connection: Some of the links in this post may be "affiliate links." This means if you click on the link and purchase an item, I will receive an affiliate commission. Disclosure in accordance with the Federal Trade Commission's 16 CFR, Part 255. This site is a participant in the Amazon Services LLC Associates Program, an affiliate advertising program designed to provide a means for sites to earn advertising fees by advertising and linking to Amazon.
It's important to pick the right gifts for a hairdresser. After all, they're much more than just someone who cuts hair.
Your hairdresser.
Your therapist, really.
Say Thank You With Gifts for a Hairdresser
Christmas is a great time to say thank you to them for all of the extra services they provide. Plus, you can go get yourself a nice head massage to relax a bit this December.
1. I Will Cut You Tote Bag
This tote bag will let your friend take her gear to work in style and with humor. It comes in twelve different colors, so you can be sure to find her favorite one.
2. Hairdresser Double Walled Tumbler
Talking to clients can really make your friend thirsty! This double-walled tumbler can hold hot or cold drinks, plus the lid helps keep her drink protected from getting anything in it.
Editor's Choice Best Hairdresser Christmas Gifts
Give them something thoughtful and hilarious to wear over the holiday season! Check out these fun and unique Christmas sweaters!
3. Hair Dresser Clock
This small but unique clock is a great conversation piece for a hairdresser's station, plus it lets her make sure that she stays on schedule.
4. Hairdresser Infinity Scarf
A subtle yet stylish black and white infinity scarf. Plus, it will add a pop to a simple outfit, especially for hairdressers who can only wear all black clothing.
5. Distressed Black Box Sign
All you need is love…and great hair. This could be a hairdresser's motto! This sign can be hung up or freestanding.
6. Hair Salon Theme Stretch Bracelet
This bracelet is featuring a pair of scissors, hairdryer, brush, and comb. This is sparkly, eye-catching, and a little dainty, so it would make a great accessory for your friend on her days off.
7. Scissors Vintage Cadet Cap Hat
Even hairdressers aren't immune from bad hair days! This cap comes in four different colors and is sure to dress up even the most basic ponytail.
8. Scissors Earrings
These cute dangle earrings are shaped like scissors and feature a row of rhinestones on one of the blades. They'll make a great addition to any hairdresser's jewelry box!
9. Salon Theme Cookie Cutter Set
Give your friend a quirky set of cookie cutters shaped like a mirror, a hairdryer, and a hairbrush. Include a jar of dry ingredients and instructions on how to make cookie dough, and you'll have a hairdresser best friend for life!
10. All In One Foot Spa
If cookies don't win over your hairstylist, then this gift is guaranteed too! Any hairdresser who spends at least 8 hours a day on her feet would love to have a massaging foot spa to soothe those aches and pains.
11.Moisturizing Lotion
Wearing gloves and shampooing clients can really do a number on hairdressers' skin. Give her a bottle of moisturizing lotion to make sure her hands stay as soft as your freshly conditioned hair.
12. Leopard Print Apron
Every hair stylist needs an apron to protect her clothes and to hold small hair accessories. This apron has a subtle leopard print design and is chemical proof, making it fashionable and functional.
13. Breath Strips
Sometimes being up close and personal with clients can be a little unpleasant. Your favorite hairdresser can keep breath strips at his station for those times when he feels like his breath is not-so-fresh, or when she may want to make her interactions with clients a little more fragrant.
14. Hairdresser Necklace
Let your friend advertise her career in and out of the salon. This necklace has plenty of sparkles and an adjustable chain.
15. Larabar 16 Flavor Variety Pack
Every hairdresser has busy days when taking a lunch break seems like a joke. She can keep a stash of bars in her station and not have to worry about keeping anything refrigerated or leaving her clients under the dryer for too long while she heats up a meal.
Editor's Choice Christmas Gift for Hairdressers
With everything she's got to listen to in a week, I'm sure your hairdresser will put these to good use. These gorgeous crystal stemless wine glasses are a thoughtful Christmas gift for your hairdresser to enjoy!
16. Heat Resistant Tool Bag
If your friend does work outside of the salon, then he'll love having this heat resistant tool bag that lets him throw in his styling tools and go.
17. Hairdresser Decal Sticker
A decal sticker that would look great in the salon or at home. Comes in three different sizes with seven color options.
18. Orthotic Shoe Inserts
Give your friend relief from being on her feet all day with these orthotic shoe inserts that are available for women's sizes 6-10. You can't go wrong with gifts for a hairdresser than makes them more comfortable at work!
19. Best Hairdresser Ever Sticker
You already know that your friend is the best hairdresser ever, now the world needs to know! Give him this decal that will go on a car window or any other smooth, clean surface.
20.Business Card Holder
This cardholder is made from an actual pair of scissors. This is definitely a unique way for your friend to display her cards at her station!
21. Hair Salon Wall Clock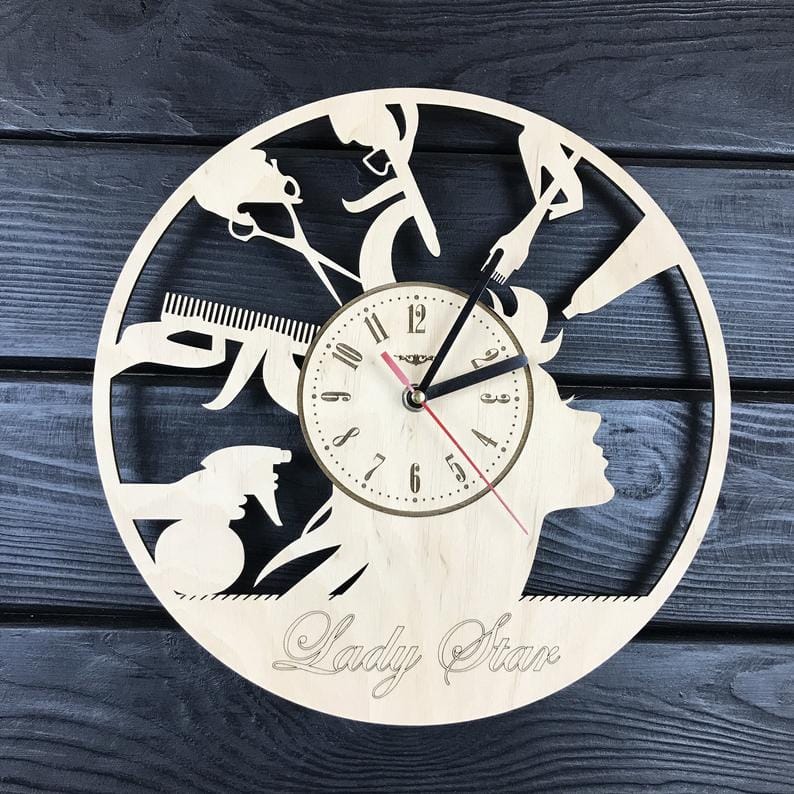 It's always nice to have a wall clock, so you know what time it is and so do your customers. This clock is fabulous, and your hairdresser is sure to love it.
22. Hair Stylist Necklace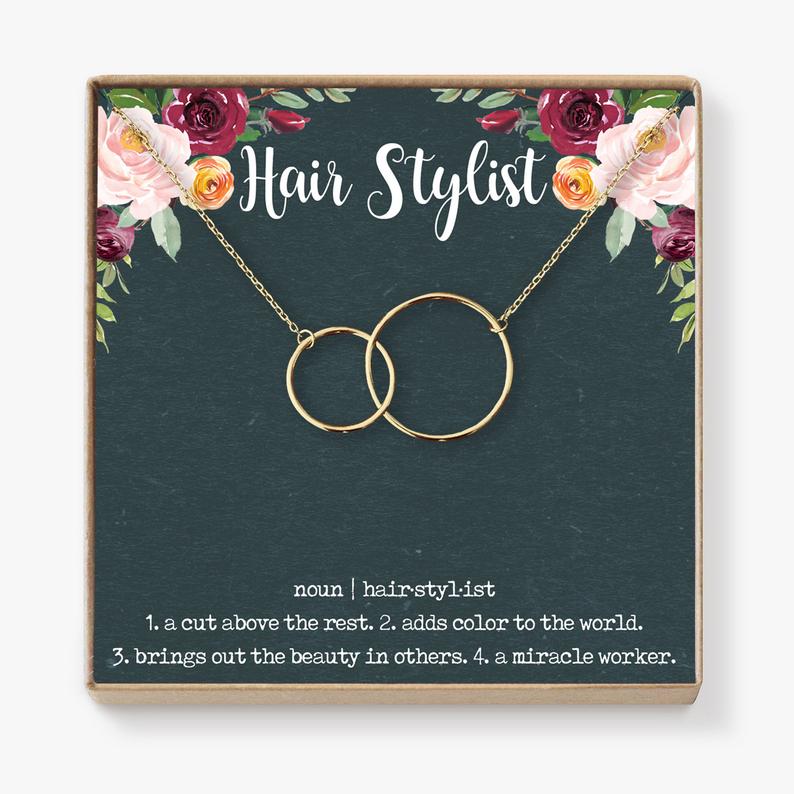 Not only will you be giving your hairdresser a beautiful necklace, but it also has the definition of a hairdresser too. She is going to think this is an awesome gift idea.
23. Hairstylist T-Shirt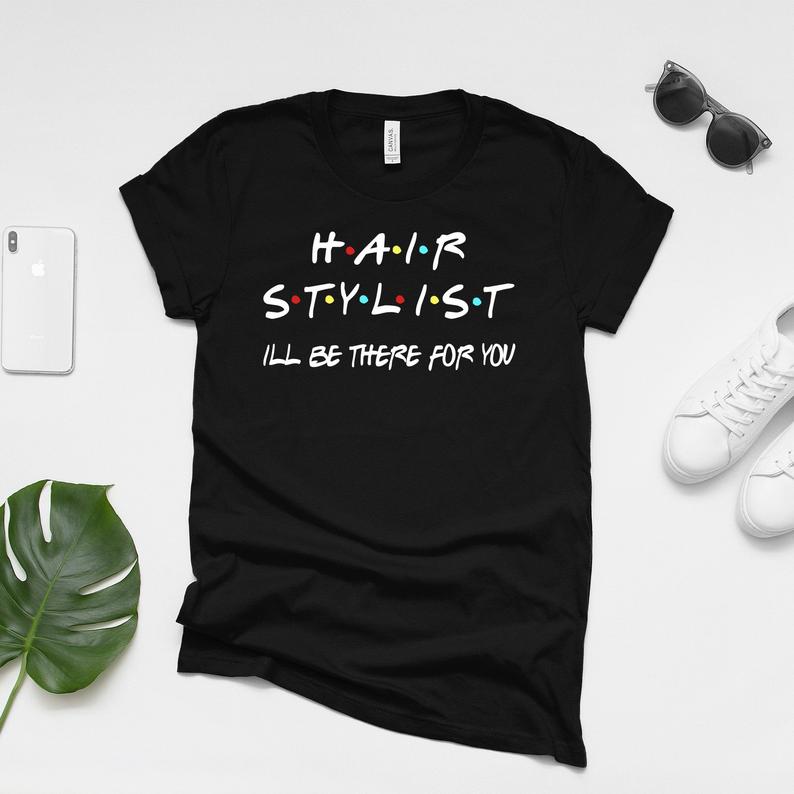 Does your hair stylist happen to be a fan of the show Friends? If so, this shirt is beyond perfect!
24. Bobblehead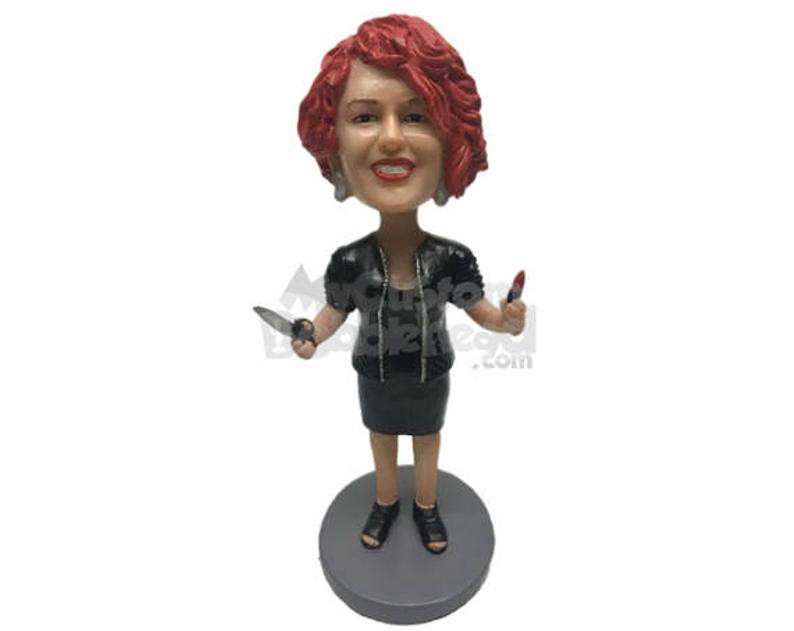 Bobbleheads are never going to go out of style. This creative and unique gift is ideal for Christmas!
25. Salon Art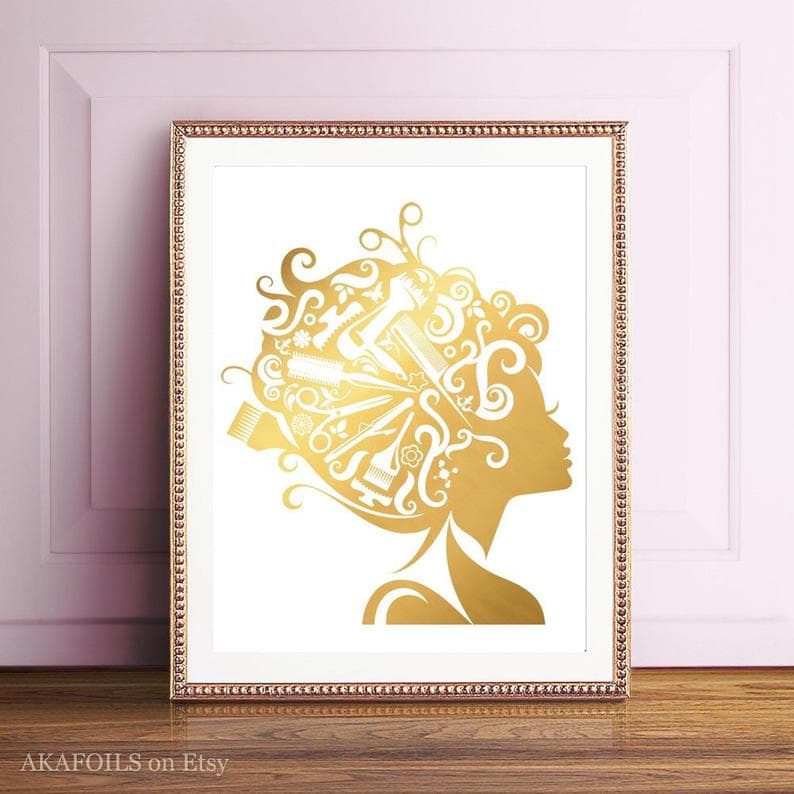 They have TONS of options to choose from, including gold, pink, lilac, and black. Anyone would love this art in their studio.
26. Anti-Fatigue Mat

When you are a hairdresser, you are on your feet most of the day. These mats are terrific for helping prevent body fatigue.
27. How Hairdressers Swear Coloring Book

Looking for an excellent way to allow your favorite hairdresser time to relax? Coloring in this hilarious book is going to be a hit.
28. Wine Glass

Give this funny wine glass with a bottle of wine, and you will have a wonderful present. You can't go wrong.
29. 219 OMG Salon Moments

Your hairstylist is going to laugh like crazy when she reads these true stories. Each one is funnier than the next.
30. Shiatsu Neck And Back Massager

Relaxing with a neck and back, massager takes the stress away after a busy day. Your hairstylist can't help but enjoy this present.
31. Head Of A Lady Plant
Not only does this plant look impressive, but it will also be fabulous in any salon. It's durable, and you can even give it a haircut once in a while. 
32. Giant Wooden Scissors

These scissors are impressive! Decorate the salon or home with them, and they are a great focal point in any room.
33. Echo Dot

Listening to some good old music just makes the days go faster. Plus, it will help those quiet times when business is slower.
34. Thank You, Box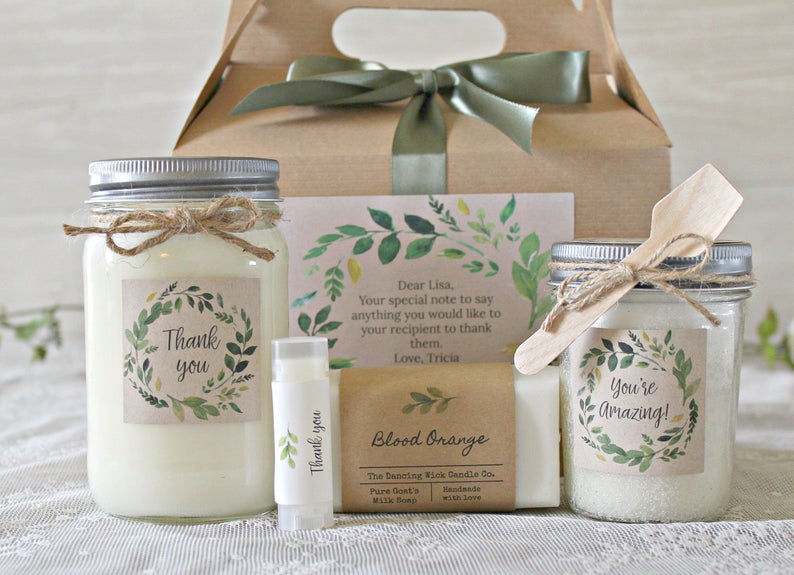 If you aren't sure what to get your hairdresser, don't worry! This thank you box has a little bit of everything in it.
35. Keychain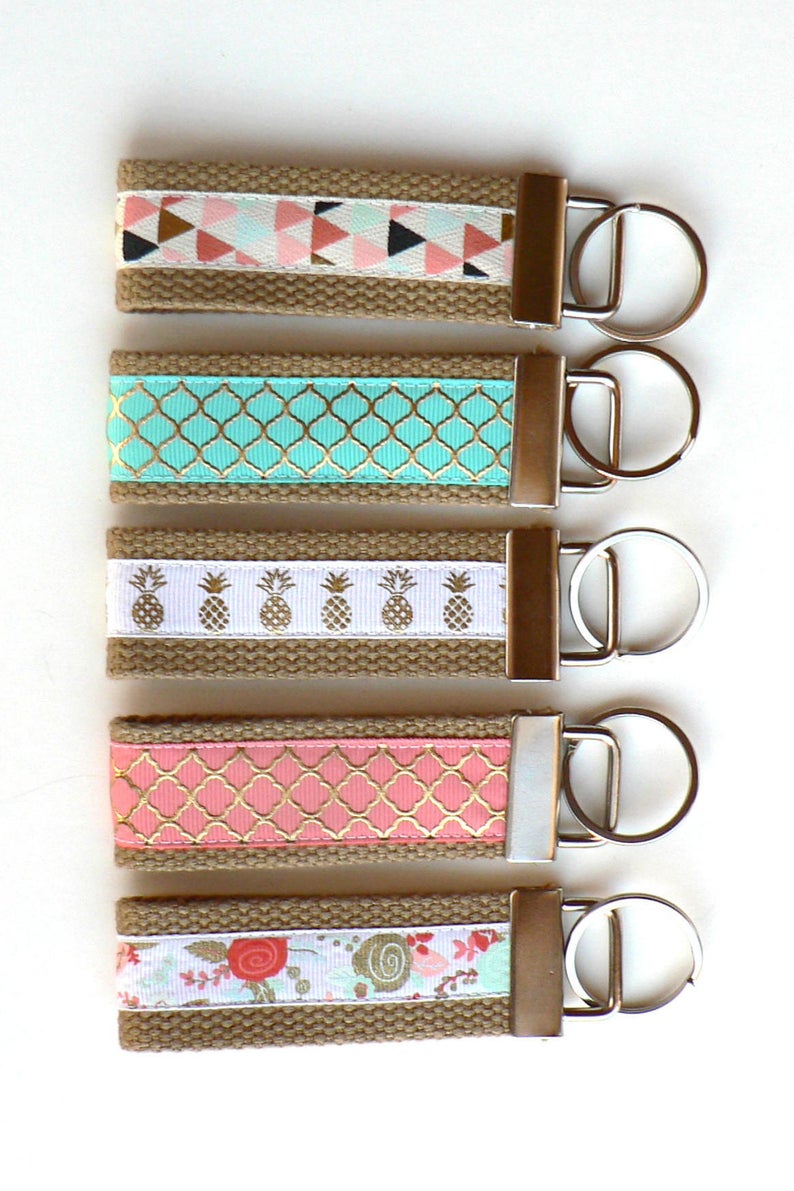 These keychains are adorable and inexpensive. They have several different designs, including pineapples.
36. Monogrammed Weekender Bag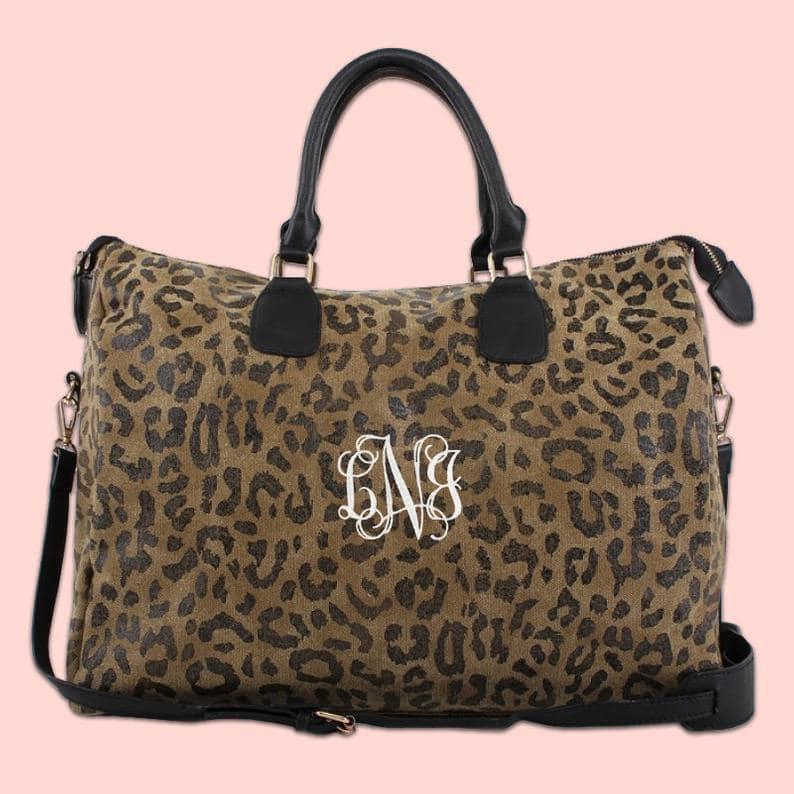 Getting a custom gift that has been monogrammed is thoughtful and always appreciated.
37. Heart Letter Necklace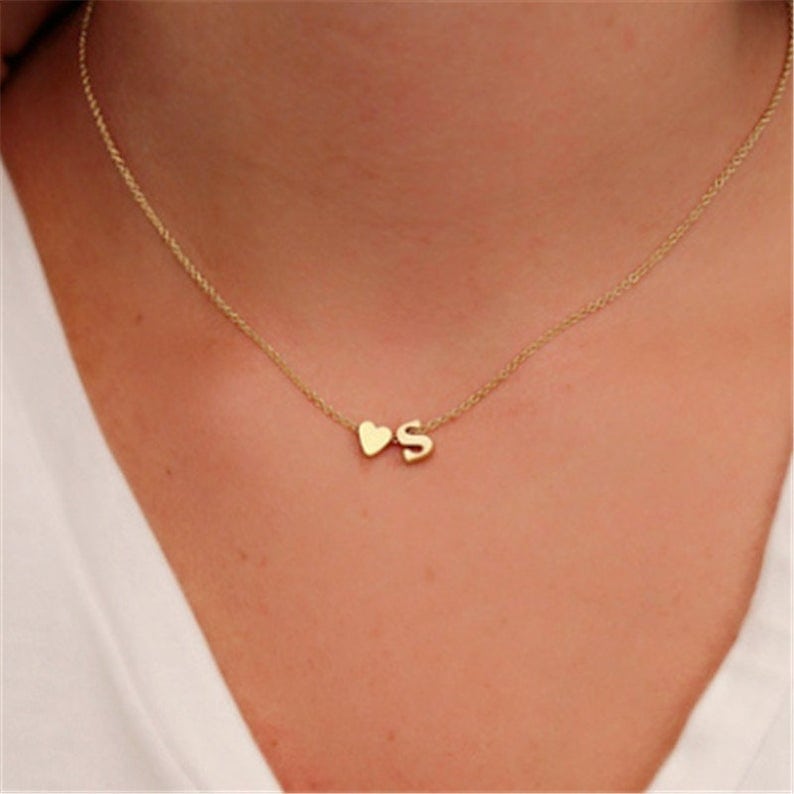 Choose between gold and silver and whatever initial you are looking for. It's dainty and stunning.
38. Hairdresser Keepsake Ornament

This ornament has scissors and will bring a smile to your hairstylist. Plus, it will look lovely on most trees too.
39. Hair Stylist Earrings

These earrings have some bling and look gorgeous. They are perfect for a Christmas gift idea.
40. Gourmet Chocolate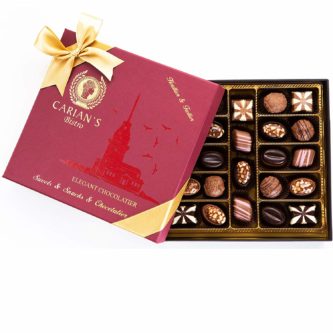 Gourmet chocolate is always a thoughtful gift for your friends! If your hairdresser is a chocolate fanatic, this will be a huge hit. 
Do you have any ideas for gifts for a hairdresser to share?
PS: We also have some excellent gifts for a cosmetologist to check out.