Disclosure of Material Connection: Some of the links in this post may be "affiliate links." This means if you click on the link and purchase an item, I will receive an affiliate commission. Disclosure in accordance with the Federal Trade Commission's 16 CFR, Part 255. This site is a participant in the Amazon Services LLC Associates Program, an affiliate advertising program designed to provide a means for sites to earn advertising fees by advertising and linking to Amazon.
Sometimes things in pop culture transcend generations. It may start off as something for kids but teens also find Minions cute and funny. That doesn't mean they want kids' toys, though – so instead here's a list of teen-approved Minion gifts that will satisfy better than a banana. These gifts fit perfectly with the Despicable Me movies! Just in time for the third Despicable Me movie, give your teen a gift they will love.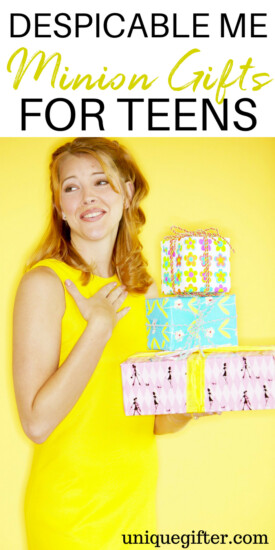 Silly and Fun Despicable Me Minion Gifts for Teens
Minion Hat
Minion hats are a great gift for all ages and that everyone will like. This one will also keep them nice and warm during the winter.
Headphones
Watching the Minions movie on your portable device gets even better with Minion headphones. They're not pricey so get them a few pair for when your teen inevitably misplaces them.
Minion Slippers
Teen feet stay snuggly warm with Minion slippers. What's great is they're homemade so you can order them in any teen's shoe size.
Minion Pjs
These cute pjs are not as childish as some of the other Minion products.
Minion Fidget Cube
Teens love playing with these fidget devices. They'll especially enjoy the Minion keychain that comes with it.
Minions Notebook
Instead of Keep Calm and Carry on" this one says "Keep Calm and Love Minions". It's a great place for your teen to keep their secrets or just to use in the classroom to take notes.
Chemistry Mug
It uses elements from the periodic table to create the Minions' favourite word – BA-NA-NA. (Barium – Sodium – Sodium)
Mini Figures
Instead of getting just one Minion minifigure blind box, get them a whole case! This will get your teen well on their way to completing their collection.
Wall Clock
What time is it? Banana time. This cool clock is made from a repurposed vinyl LP.
Belt
Teens can show off their unique personality with a Minion belt. These seatbelt style belts are really popular with young people, especially with trendy character designs.
Minion Cookies
These cookies would be a fun addition to a teen's "grown up" birthday party, or as something they can hand out to their friends. If you live far away you can also have a box of cookies delivered as a fun surprise.
Funny Minions Shirt
You can get all kinds of style options for funny Minions shirts, like this one. Just look for something that suits your teen's sense of humour.
LED Light
Instead of a boring desk lamp, Minion loving teens can spend their evening studying under the patient glow of this LED 3D Minion light.
Minion Duct Tape
Teens always manage to find uses for duct tape. Sometimes they're fixing things, usually it's to make some kind of DIY project. Either way they're going to love this roll that's covered in Minions.
Minions Planner
Here's a more practical gift for your teen – a planner. Minions cheer them on as they write in all their important appointments, assignments, and other obligations.
Minion Pillow
Teens love stuffed toys and pillows on their beds. Make their room extra cozy with these cute handmade Minion pillows. Grab their favourite or one of each!
Minion Ball Cap
Ever have the sun in your eyes and think "if only I had a cap that also had a Minion on it?" Well, now your teen never will face this kind of problem.
Perler Bead Kit
Even if your teen isn't very crafty Perler beads are a fun and easy project. This kit contains everything they need to make their own Minion.
Minion Bath Bomb
Being around Minions isn't usually supposed to be a relaxing affair but this bath bomb makes an exception. It has a nice peaches and cream scent so your teen can enjoy some time to relax and think about Minions.
Minion Quilt
The Minion gift to surpass all Minion gifts! This queen sized quilt is handmade and pieced together with 2106 squares.
If you want to be really unique with your Minion gift giving a throw in a bunch of yellow bananas to give your teen a laugh and potassium-rich snack.