Disclosure of Material Connection: Some of the links in this post may be "affiliate links." This means if you click on the link and purchase an item, I will receive an affiliate commission. Disclosure in accordance with the Federal Trade Commission's 16 CFR, Part 255. This site is a participant in the Amazon Services LLC Associates Program, an affiliate advertising program designed to provide a means for sites to earn advertising fees by advertising and linking to Amazon.
Letters are important to learn from a young age. That is why preschools, daycares, and other schools usually have a letter theme week to learn about a specific letter. If you kid is learning about a particular letter in school, and that letter happens to be W right now, then you came to the right place.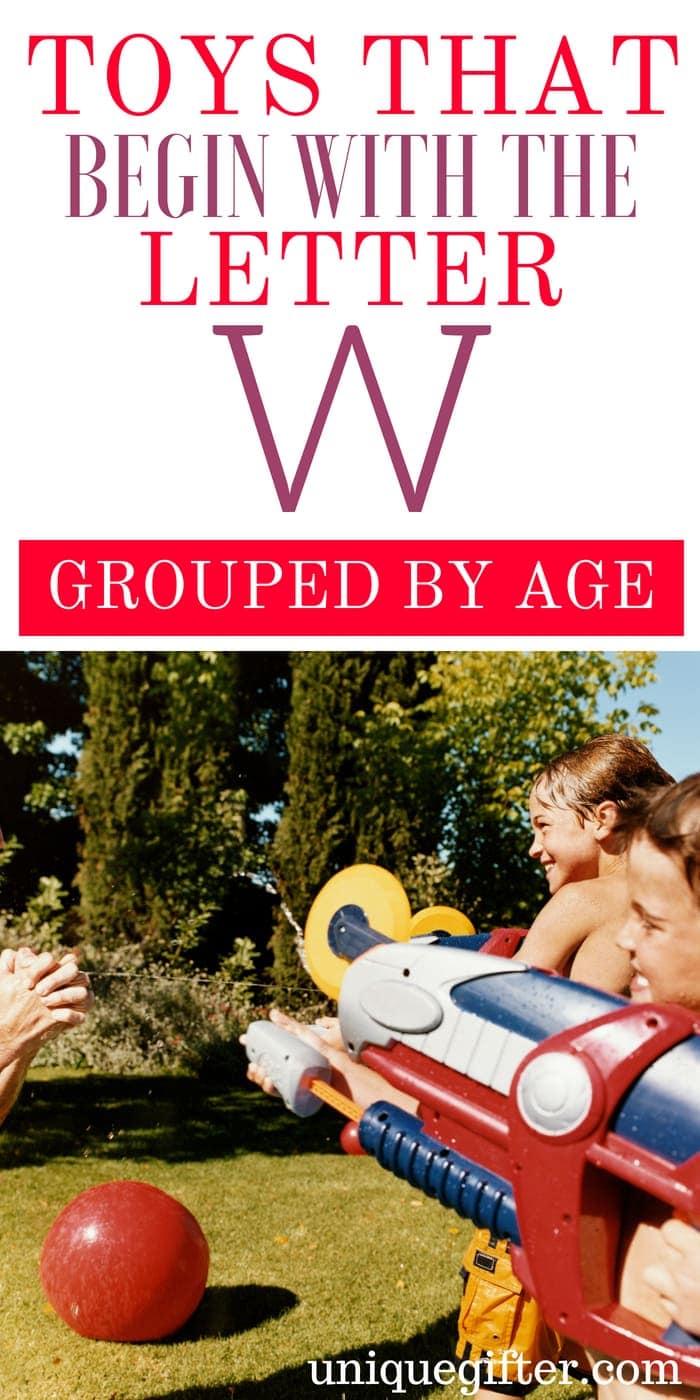 If your child is having a themed day at school, or you are teaching them about certain letters at home, this list is for you to help represent the letter W. There are so many incredible words that start with W, such as wolf, wallet, and wood. Help your kid learn more about letters with this list at your fingertips.
Find more toys for the rest of the alphabet:
Toys that Begin with the Letter W Ages 2-5
Waterfall Discovery Wall
This waterfall discovery wall will teach them about waterfalls, gravity, and water in general, all while they play.
Wacky Wash
They can wash their toys, ride-on toys, and more inside this Wacky Wash!
Winone Pull Back Cars
Pull back cars are super simple, yet super fun to play with.
Wooden Scooter
This sturdy Wave wooden scooter will last them a long time, even beyond age 5.
Waterproof Light-Up Bath Toy
Every toddler needs a waterproof light-up bath toy to make bath time more fun for everyone.
Workbench with Realistic Tools and Electric Drill
While originally meant for age 3+, children who are only 2 can play based on maturity level and supervision. They get to learn about tools and fixing things on their terms.
Weather Bath Time Toys
Bath toys that are all about weather!
WaterWheel Activity Table
As toddlers explore water and other elements, being able to play with it on their level and their terms is important, and this water activity table allows them to do just that.
Whistle Necklace
Whistles may be a bit annoying to the adults in their lives, but they are fun to make noise with.
Whisper Ride Cruiser Push Car
When the family goes on a walk, this Whisper Ride cruiser push car is the spot to be.
Woody Costume from Toy Story 2
Your kiddo can now be Woody from Toy Story, anytime they like.
Western Meadowlark Plush
Learning about birds is fun, and the Western Meadowlark is often overlooked. Raise their awareness of this cool bird with a plush toy to play with.
WolVol Musical Press and Crawl Activity Toy
Musical toys are always all the rage. Kids love music and making noise!
Wooden Beads Maze
Keep them occupied moving the beads around on this wooden beads maze toy.
Wagon for Kids
Wagons are another great mode of transportation for when the family goes on a walk or other kind of adventure.
Western Cowboy Gun Set
Let them dress up as a western cowboy and use this cowboy gun set to feel more like a cowboy.
Wooden Daily Cognitive Calendar Clock
Careful with the pieces for children under age 3, but this wooden daily cognitive calendar clock is a great way to get those wheels turning and growing in their head, all while they have fun and play.
Walking and Barking Puppy
Little kids love walking and barking puppy toys. They are so realistic!
With time Drawing Board
Buy Now

Drawing is something that can always keep them busy to some degree.
Toys that Begin with the Letter W for Ages 6-8
Wall-E Plush
Wall-E was not only a cute movie, but Wall-E himself was adorable too.
Wall Climbing Stunt Remote Control Car
How cool is this remote control car? It can climb walls!
Wander Wallet
Sometimes the best toys are ones that aren't actually toys, and something they can actually use in real life and learn more about life and responsibilities.
Warm Fuzzy Toys Shark Tub
Nothing could be better than a warm fuzzy tub of toy sharks! I know my nephews, who are six and seven, absolutely love sharks!
Wild West Cowboys and Indians Toy Plastic Figures
If they love to play cowboys and indians, they need this set of Wild West plastic figures.
Wash and Dry Toy Dish Set
Another awesome way for your children to learn about life and responsibilities is washing and drying toy dishes. They can do some actual dishes as well, but this way they can get practice on their own too, without potentially breaking actual dishes.
Wikki Stix Big Count Box
The amount of fun they can have with Wikki Stix is unlimited! They are great for projects and crafts, educational or otherwise.
Water Drawing Mat
Children are always drawing on anything they can get their hands on, why not a water drawing mat? It is especially great for warmer weather.
Wooden Building Blocks Set
Build castles, towers, and more, with these wooden building blocks.
Water Pong Bounce
They can have hours of play with their very own water pong bounce. While it may be more of an older kid game, it can be fun for younger children too.
Walkie-Talkies for Kids
Walkie-talkies have always been a great way to communicate with friends and family members who are a short distance away, but who they can't be with all the time.
Wet & Dry Slide with Slip Mat
While they may be on the bigger end for this activity, they will still have a ton of fun playing on it.
Wooden Cutting & Cooking Pretend Play Set
Help your child learn how to cook and prepare food!
Webshooter Spiderman Play Set
If they love Spiderman, they are sure to love this webshooter too.
Wonder Woman Logo Shield Banner Fabric Poster
Wonder Woman is an excellent hero, and this fabric poster may not technically be a toy, it is something fun they can hang up on the wall.
Wear so Many Headbands Set
Your child can "wear so many headbands" with this set at their fingertips.
Wood Slide Whistle Toy
A noisy toy, but fun at the same time.
Warp Game
Games are a wonderful way for your kids to spend time, learning to play with others and learn strategy is a good experience for them.
Wild Kratts Tortuga Play Set
This Wild Kratts Tortuga play set will have them having a blast if they love the Wild Kratts show.
Wild Republic Jumbo Wolf Plush
Jumbo stuffed animals are great for cuddling and using for pillows, and this wolf plush just may help them feel protected as well.
No matter what your kid is interested in, there is something that starts with the letter W for them here in this list!

As you can see, the letter W is a blast! Wolves are fun, and so is the Wild Kratts show and Wonder Woman.
Toys that Begin with the Letter W for Ages 9-12
Wolves, wheels, wild, and more fun words for your preteen to discover in the form of toys. Your kiddo may be older now, but they are still very much into toys and having fun. There are so many ideas here, you will have a hard time choosing what you think they will enjoy the most when it comes to toys that begin with the letter W.
WWE Winged Eagle Championship Belt
If they are into wrestling or WWE, they will love this WWE winged eagle championship belt to enhance their pretend play.
Wild Kratts Toys Creature Power Action Figure Set
Buy Now
For the Wild Kratts lover, this creature power action figure set is where it is at!
Walk & Talk Minion Stuart Figure
Buy Now
Walk and talk minions are just plain awesome!
WowWee Fingerlings Baby Unicorn
They can take this little WowWee fingerlings baby unicorn everywhere as it rides on their finger.
Walkie Talkies
Buy Now
You can't have a list of toys that begin with the letter W, without good old fashioned walkie talkies to stay connected with their friends!
Watch Ya' Mouth Family Bundle
Buy Now
One of the more popular games these days is the Watch Ya' Mouth games, and it is something they can do with friends and family.
Wildlife Wonders Wolf Figurine
Do they think wolves are cool or scary?
Web Spider Action Figure
Buy Now
Wow! This is enough to scare anyone afraid of spiders, but if they are fascinating to your kiddo, they will love pranking others with it!
WikkiStix Primary, Neon & Nature Colors
Buy Now
They can mold these WikkiStix into anything they want. Imagine the creativity they will display.
Wave Rider Ride-On
This wave rider ride-on is great for the pool.
Web Tree Swing
Buy Now
They might be the only one with a web tree swing in their yard, which will make them even cooler to their friends.
West Wind Horse Stable by Breyer Classics
Buy Now
If they love horses, they will certainly enjoy playing with the West Wind horse stable.
Wild West Roundup Card Game
Buy Now
Another interactive game to play with their friends and family is the Wild West Roundup card game.
Wet Head Game
Buy Now
While this game is aimed at 6-9 year olds, it can certainly be fun for any age!
Whale Ride-On Float
Buy Now
If the wave rider wouldn't be their thing, then they might enjoy riding on the whale ride-on in the pool instead.
WWE Elite Collection Braun Strowman Action Figure
Buy Now
Whether or not they have a WWE championship belt already or not, they could definitely add this Braun Strowman action figure to their collection either way.
Wood Slide Whistle Toy
Buy Now
They can annoy you and have fun at the same time with a wooden slide whistle toy.
Waypoint Geographic 12" Globe
Buy Now
Give them wanderlust with their very own Waypoint geographic globe.
White Georgie Dog Stuffed Animal
Beware, they will want to take their white Georgie dog wherever they go now!
Wind Power 2.0
Buy Now
They can learn more about wind power with this kit to explore and discover with.
In my opinion, W is one of the most fun letters for toys! This list is a perfect example of that.