Disclosure of Material Connection: Some of the links in this post may be "affiliate links." This means if you click on the link and purchase an item, I will receive an affiliate commission. Disclosure in accordance with the Federal Trade Commission's 16 CFR, Part 255. This site is a participant in the Amazon Services LLC Associates Program, an affiliate advertising program designed to provide a means for sites to earn advertising fees by advertising and linking to Amazon.
While the Easter egg hunt will keep your kids occupied on Easter morning, they're still going to have to sit through a big Easter dinner with family. And no matter how well-behaved your kids are, they're probably going to need some additional entertainment during that long meal. Here's some fun ways to keep kids entertained at Easter dinner so everyone has a great time.
If you're looking for fun ways to keep your kids quiet and still during your holiday meal, you're in luck! These 10 fun ways to keep your kids entertained at Easter dinner are sure to do the trick.
Coloring and Drawing
This tried-and-true kid entertainment option never disappoints. If you have an art-lover at home, make sure to bring plenty of crayons or markers to keep them occupied during dinner. Including Easter-themed coloring books or printable coloring pages in their Easter basket is a great way to get your kids excited about coloring during Easter dinner.
Or you could print out an Easter-themed coloring placemat to keep them entertained at the table during dinnertime.
Printable Games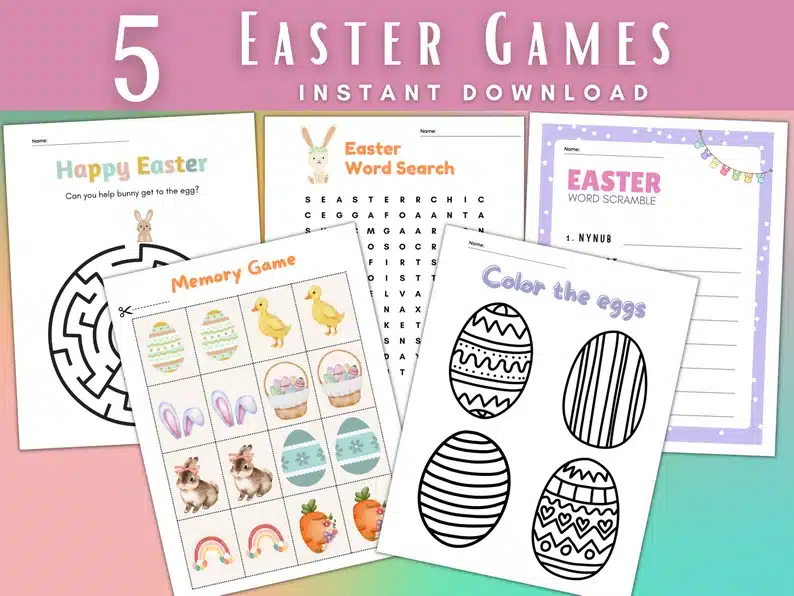 Search the web for printable games for kids, and you'll find hundreds of amazing options for keeping your kids occupied at the dinner table. You can even find holiday-themed games that bring in an Easter theme to the after-dinner entertainment.
If you're wondering what types of games to search for, consider these:
Easter Books
Books are another great option for keeping the kids entertained during dinner. They're the perfect choice when you need the kids to sit quietly in their seat while the adults eat and talk.
When deciding the types of books to add to your kid's table, think about the ages of the children and the things they're interested in.
In addition to adding seasonal books, consider including books featuring subject matter and characters the kids like to keep them engaged for a longer period of time.
Assign Jobs
Do you have helpers in your family? Put them to work during Easter dinner to make sure they stay occupied. Assign each kid an easy job they can take care of before, during, or after dinner.
Kids can handle a variety of great jobs at dinner, including:
Putting ice in glasses
Passing small dishes, like rolls or cookies, around to guests
Taking coats from guests as they arrive
Drying dishes when dinner is over
Reusable Stickers
There is no doubt that kids love stickers, but cleaning stickers off the table after Easter dinner is over isn't much fun. Instead of giving the kids sticky stickers and worrying about where they're going to stick them, try passing out reusable stickers instead.
These fun stickers can be stuck on and removed from most smooth surfaces, making them a great way to keep the kids entertained without making a mess.
Small Toys
Keeping small toys on hand is another easy way to make sure your kids are quiet and still during Easter dinner. Make sure the toys you bring are something that will keep their hands and minds busy for a while.
Building toys, like Legos or small blocks, are a great option. They're small enough to carry in your purse but can provide endless amounts of entertainment for the little ones when dinner is over.
Travel Games
On top of being the perfect size to fit in your child's Easter basket, travel versions of popular board games and toys are another great option for keeping the kids entertained.
From travel-sized Battleship to a mini Etch-a-Sketch, these little games are great for keeping those little hands and minds occupied when they're finished eating Easter dinner.
Give them Space
If you would rather the kids leave the table entirely after dinner is over, set up a kids-only room in the house where they can go after they're finished eating dinner. You could also send them outside with walkie-talkies for some semi-supervised fun.
In addition to giving the kids a chance to hang out without worrying about making too much noise, this tactic also gives the adults a chance to talk while the kids play.
Set up the room with kid-friendly toys and games, a fun craft they can do on their own, or board games they can play together.
Watch a Movie
If the kids finish eating dinner before the adults, have a mini-movie theater ready for them. Turn on a cute kid-friendly Easter movie in another room of the house and let the kids sit back and relax while enjoying the story while the adults finish eating.
If you want to make it extra fun, set up a projector outside or in an indoor space that you don't normally watch movies. It will keep the kids occupied for longer!
Make Crafts
Set up a craft table with supplies to create a cute Easter craft when the kids are done eating. Just make sure that the craft is simple enough for the kids to tackle on their own. Or else an adult will need to supervise as the kids put the project together.
Whether you set out a variety of craft supplies and let the kids use their imagination to create their own project or you give them instructions for creating a particular craft is up to you!
Hopefully these fun ideas serve as helpful ways to entertain your kids at Easter dinner. I suggest taking a few items off this list so kids can pick and choose what they do and stay occupied for longer. Happy Easter!